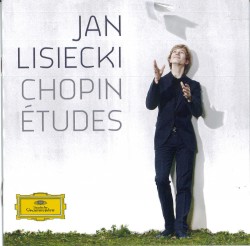 Chopin - Etudes
Jan Lisiecki
Deutsche Grammophon 4791039

Young male pianists all too often try their audiences with a few years of brash playing where speed and volume overshadow their muse. Although impressed with divine keyboard technique, one nevertheless waits patiently for music to emerge – which it eventually and thankfully does.
More rarely, however, comes a young man for whom impeccable technique is merely a tool in the search for music's kernel of meaning. This is Jan Lisiecki.

Since his early public appearances 5 years ago (in his mid-teens) this young Polish-Canadian has somehow managed to avoid this testosterone trap. He is capable of the most ethereal pianissimos, a blazing and accurate technique and breathtaking power at the keyboard.

The two dozen Etudes of Chopin's Op.10 and 25 seem the perfect repertoire for Lisiecki at this point in his career. His playing shifts convincingly from transparent lightness to earnest melancholy. His tempi and dynamics feel more understood than learned. His own comments in the CD notes reveal a young mind with a remarkably mature interpretive grasp of Chopin's music. He thinks with his heart.

As impressive as his playing is his recording technique in which each of the Etudes was recorded as a complete "take." Technology today offers performers digital perfection with undetectable manipulations of speed and other values, but Lisiecki wanted his audience to have the real thing, start to finish. He allowed no edits. This speaks to a commendable honesty in performance. We should anticipate many years of truly extraordinary recordings from this young man. But we might also hope that his gift finds expression in teaching… we need such mentors.