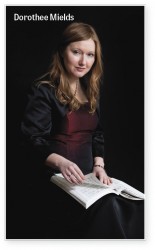 On April 28, Tafelmusik will present "Zelenka and Bach," a concert which features Jan Dismas Zelenka's Missa Omnium Sanctorum. The German singer, Dorothee Mields, was engaged to sing the soprano solo but a decision was made to open up the other solo parts to a competition. The winners were Kim Leeds, mezzo, Jacques-Olivier Chartier, tenor, and Jonathan Woody, bass-baritone.
Leeds and Woody are American. Leeds has sung a great deal, mainly Bach, in the Boston area. In June and July she will be performing at the Oregon Bach Festival in Eugene in concerts that include the world premiere of James MacMillan's Requiem. Woody has a music degree from McGill and is now based in New York City. While a specialist in baroque music, he has considerable experience in the performance of modern works, including singing a part in an opera by Darius Milhaud and a collaboration with the Rolling Stones. Chartier is the only Canadian of the three. He is also the only one whom I have heard previously: earlier this season he sang the tenor arias in the Ottawa Bach Society performance of Bach's B Minor Mass. He was very good. The concert, which will be repeated on April 29, 30 and May 1, will include Bach's Cantata No.202 (Weichet nur, betrübte Schatten), in which Mields will be the soprano soloist.
Bryn Terfel: Like many, I first became aware of the Welsh bass-baritone, Bryn Terfel, in 1989, when he was a finalist in the BBC Singer of the World Competition in Cardiff. He did not win the main event – Dmitri Hvorostovsky did – but was awarded the Lieder Prize. Initially he was especially noted for his Schubert lieder, for Welsh songs and for some of the main Mozart baritone roles, including Figaro, Masetto and (a little later) Don Giovanni. In recent years he has moved to Wagner (Wolfram, Wotan, the Dutchman, Hans Sachs). He has sung both the title role and that of Ford in Verdi's Falstaff. He will make his Koerner Hall debut on April 24 (with the pianist Natalia Katyukova). The first half of the concert will feature Welsh songs but it will also include Jacques Ibert's Chansons de Don Quichotte; the second half will give us songs by Schubert and Schumann.
Finno-Ugric Synergy: Finnish and Hungarian are not Indo-European languages. Instead they form part of a family called Finno-Ugric. This probably indicates a common origin for the two peoples. In an imaginative move, Mazzoleni Songmasters have put the two together with music by Liszt and Bartók on the one hand and Sibelius and Saariaho on the other. The singers will be Erin Wall, soprano, and Stephen Hegedus, bass-baritone. The pianists are Rachel Andrist and Robert Kortgaard. Of special interest is Saariaho's Changing Light, in which the violinist Erika Raum will perform with Erin Wall; at Mazzoleni Concert Hall, May 1.
Lunch for All Seasons: The free lunch-time concerts in the Richard Bradshaw Auditorium at the Four Seasons Centre will resume on April 19 with Clémentine Margaine, mezzo, and Stephen B. Hargreaves, piano. Subsequent recitals will be given by Russell Thomas, tenor, and Michael Shannon, piano on April 21; Simone Osborne, soprano, and Stephen B. Hargreaves, piano on April 26; artists of the COC Ensemble Studio and the Atelier lyrique de l'Opéra de Montréal on April 28; Anita Rachvelishvili, mezzo, and David Aladashvili, piano on May 3; and Ambur Braid, soprano, with Steven Philcox, piano, in a celebration of Canadian art song, May 5.
QUICK PICKS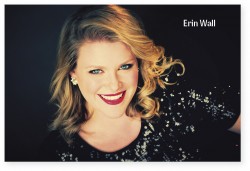 A staged and costumed program of romantic opera, "The Art of the Prima Donna," with music by Bellini, Donizetti, Verdi and others, will be given on Apr 1 at Walter Hall.
Carla Huhtanen will be the soprano soloist in Abigail Richardson-Schulte's setting of Alligator Pie by Dennis Lee; with the Toronto Symphony Orchestra at Roy Thomson Hall, Apr 2.
Pandora Topp will be the singer a program of Piaf songs at The Extension Room, Apr 2.
Leslie Fagan, soprano, Christopher Mayell, tenor, and Peter MacGillivray, baritone, will be the soloists in a program that includes Carmina Burana by Orff and Psalm of David by Dello Joio at Toronto Centre for the Arts, Apr 3.
Kati Agócs will be the soprano soloist in a newly commissioned piece by her, with the Cecilia String Quartet at Walter Hall, Apr 4.
Carla Huhtanen, soprano, will sing in a program of new works by Höstmann, Newsome, Scime and S. Wilson with the Array Ensemble at Array Space, Apr 5.
Ilana Zarankin and Robin Dann will perform in a Women's Musical Club concert, "Dannthology," given by Steven Dann, viola, with family and friends at Walter Hall, Apr 7.
Essential Opera presents four sopranos (Erin Bardua, Maureen Batt, Maureen Ferguson and Julie Ludwig) in a program of contemporary operas by Uyeda, Raum, Höstmann, Pidgorna, Estacio and Heggie at Heliconian Hall, Apr 8.
Darlene Shura, soprano, Jacqueline Gélineau, contralto, Asitha Tennekoon, tenor, and John Holland, baritone, give a free performance of Bach's Easter Oratorio at Heliconian Hall, Apr 10.
Leslie Bouza, Carla Huhtanen, Michele DeBoer and Laura Pudwell will be the singers in a concert devoted to the music of Steve Reich in honour of his 80th birthday at Massey Hall, Apr 14.
"At the Ball: Social Dance through the Ages" showcases works by Purcell, Dan Godfrey and Joplin, as well as items from the Playford and Lowe collections. The singer, at Heliconian Hall, is Paula Arciniega, mezzo, on Apr 15.
Scaramella presents a concert of works by Purcell, Melani, Bach, Merula and Odorico at Victoria College Chapel, Apr 16. The singer is the soprano Dawn Bailey.
Gallery 345 presents Beth Anne Cole singing Gershwin, Apr 17.
Castle Frank House of Melody presents works by Offenbach, Puccini, Verdi, Gershwin and others that will be sung by Cara Adams, soprano, Patricia Haldane, mezzo, and Justin Welsh, baritone, Apr 23.
Jessika Whitfield, soprano, and Matthew Whitfield, piano, will perform a free concert at Metropolitan United Church, Apr 28.
Mira Solovianenko, soprano, and Andrew Tees, baritone, will be the soloists with the Oakham House Choir of Ryerson University on Apr 30. The major work to be performed is Carl Orff's Carmina Burana (Part 1).
Charlotte Burrage, mezzo, and Clarence Frazer, baritone, will sing at Metropolitan United Church, May 1.
On May 3 and 4 Krisztina Szabó, mezzo, and Aaron Durand, baritone, will perform with the Talisker Players in a program that includes works by Purcell, Gluck, Burry, Mahler and Bernstein.
Julia Morson, soprano, and Rashaan Allwood, piano, will give a free recital at Metropolitan United Church on May 5.
And beyond the GTA: Sheila Dietrich, soprano, Carolynne Davy, mezzo, and Chris Fischer and Lanny Fleming, tenors, will be the soloists in a program of works by Handel, Monteverdi and Mondonville at St. George's Anglican Church, Guelph, Apr 9.
Jennifer Enns Modolo, mezzo, Bud Roach, tenor, and David Roth, baritone, will be the soloists in the Spiritus Ensemble performance of two Bach cantatas, Christ lag in Todesbanden and Erfreut euch, ihr Herzen, in Kitchener, Apr 10.
Georgian Music presents Marie-Josée Lord, soprano, and Hugues Cloutier, piano, performing works by Granados, Rodrigo, de Falla, Bernstein, Porter and others in Barrie, Apr 24.
Jeffery Concerts presents Krisztina Szabó, mezzo, and Benjamin Butterfield, tenor, in a concert that includes Janáček's The Diary of One Who Disappeared and Zigeunerlieder by Brahms, Apr 30 at Wolf Performance Hall, London.
Hans de Groot is a concertgoer and active listener who also sings and plays the recorder. He can be contacted at artofsong@thewholenote.com.