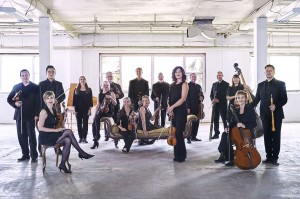 George Frideric Handel was ten years old and living in Germany when Henry Purcell died in England in 1695. While it is highly improbable that the two ever met in person, Purcell's legacy and uniquely English form of Baroque music undoubtedly influenced the 27-year-old Handel when he settled in London in 1712.
Over the two decades that followed, Handel established three London-based opera companies and a reputation as a musical and dramatic genius, mainly through his composition and presentation of Italian opera to the English nobility. In 1736, Handel composed Alexander's Feast, his first work in the English language, with a libretto by Newburgh Hamilton based on John Dryden's 1697 ode Alexander's Feast, or the Power of Music, written to celebrate St. Cecilia's Day. Handel's oratorio, which was an overwhelming success, is an important work in his career: its positive reception encouraged him to make the transition towards writing English choral works (including Acis and Galatea and the famed oratorio Messiah). And with a Tafelmusik debut presentation of this work running February 22 to 25, Toronto audiences now have the chance to experience this pivotal work for themselves.
Alexander's Feast displays a clear and unmistakable indebtedness to the 'English' musical tradition, with an homage to the music of Henry Purcell. Purcell published his own Ode for St. Cecilia's Day in 1684, one of many odes written during his career, as well as composing a Te Deum and Jubilate Deo for the same feast day. The musical parallels between Handel's Alexander's Feast and Purcell's own St. Cecilia's Day compositions are abundant, so much so that certain passages of Alexander's Feast could seem like pastiche – if not outright plagiarism – but for the unmistakable elements of Handel's style that masterfully and seamlessly assimilate all of these references. It is Handel's genius and compositional tastefulness that enable him to borrow, synthesize, and adapt the stylistic traits of Purcell and combine them with distinctly Handelian musical ideas and gestures to create something exciting and new.
Handel's score for Alexander's Feast is indeed an ode to music: a mixture of styles and forms that incorporate elements from opera and oratorio (arias, recitatives, and choruses), as well as three concertos (one for harp, one for organ, and a concerto grosso) dispersed within the drama – perhaps in reference to Handel's tradition of performing concerti, usually on the organ, between acts of his operas. On the Tafelmusik stage, those concertos will be performed by Julia Seager-Scott, harp, and Neil Cockburn, organ.
On Wednesday evening I had the opportunity to hear Tafelmusik's final working rehearsal of Alexander's Feast with the chorus and orchestra, which was an illuminating experience. Deliberately refraining from any preemptive listening or score reading, I approached the rehearsal with fresh ears and an open mind, and the music and its interpreters did not disappoint.
Led by conductor Ivars Taurins, it was fascinating to witness the orchestra and chorus exploring Alexander's Feast together, refining and coordinating finishing touches, discovering familiar patterns and ideas in a relatively unfamiliar work. Compared with other Handel works such as Messiah or the Concerti Grossi, for example, Alexander's Feast is relatively unknown, but the musical material is still familiar, quintessentially Handelian in its genetic coding, the same way one can know Bach, Mozart or Beethoven after only hearing a few bars.
One of the most striking features of Tafelmusik, whether in rehearsal or performance, is their attention to tuning. In this rehearsal setting, both chorus and orchestra warmed the air with purely-tuned intervals and shimmering chords, creating that bright sound that is so characteristic of and unique to Renaissance, Baroque, and occasionally Classical HIP ensembles. Even in rehearsal, it is rare to hear a misplaced note, interval, or chord – these professionals are so in tune with one another, both literally and otherwise, that the slightest disagreement in tone or temperament is rectified immediately, their constant communication manifested in swaying heads, bows, and bells, and in glorious sound.
And this was just a rehearsal! We are immensely fortunate to have an ensemble of Tafelmusik's calibre in residence here in Toronto and I encourage you to attend a performance of Alexander's Feast at Koerner Hall this week. Whether a fan of English or German music – Purcell, Handel, or both – this unique and innovative work is sure to entertain and inspire, an all-in-one program containing sublime vocal, choral and orchestral music. For those who only know Handel through his early operas or later works like Messiah, Alexander's Feast is a fine opportunity to meet the composer as a younger man, well on his way to being regarded as one of the greatest composers of his time.
Tafelmusik's presentation of Handel Alexander's Feast opened on Thursday, February 22, and runs until Sunday, February 25 at Koerner Hall, Toronto.
Matthew Whitfield is a Toronto-based harpsichordist and organist.