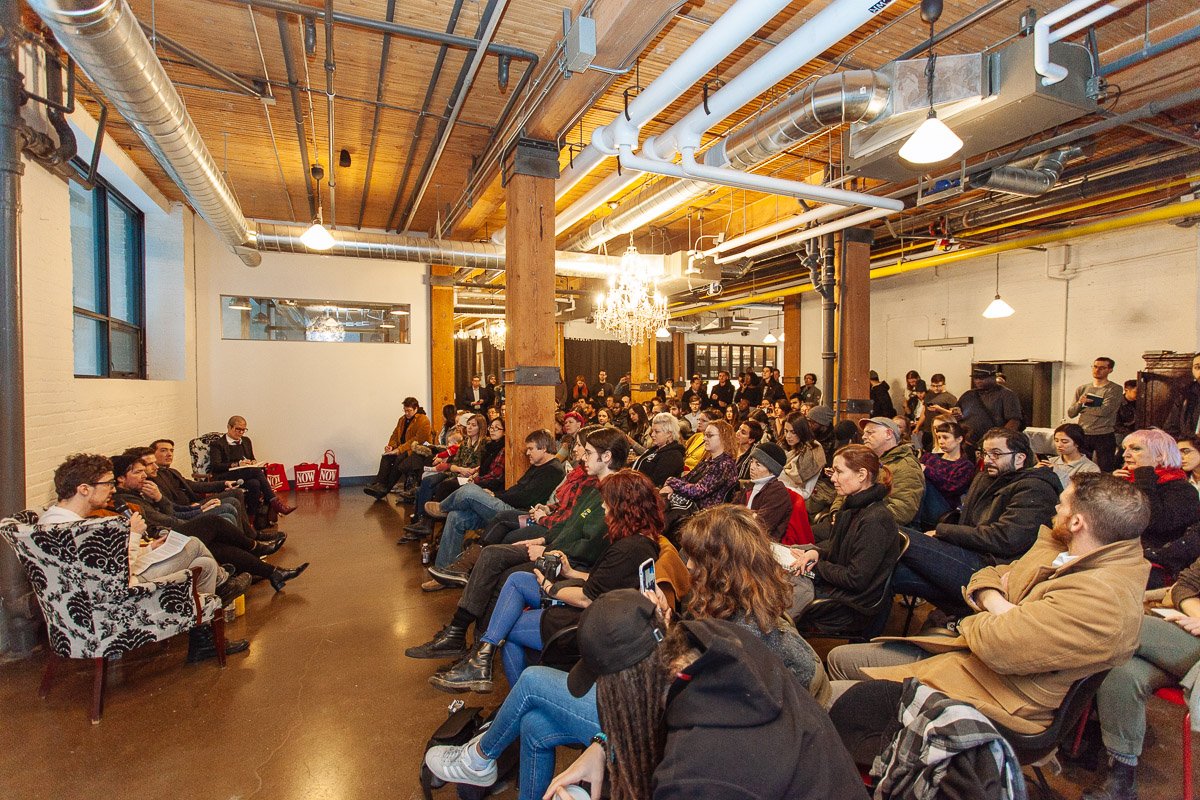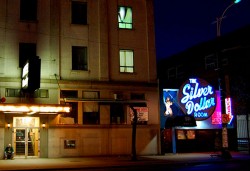 The atrium at 192 Spadina is filled to capacity. There are 200 of us, and we're about to hear a panel talk hosted by NOW Magazine called "Vanishing Venues", on the slew of recent music venue closures in Toronto. Following their cover story of the same name earlier this month, NOW organized the talk on Monday, March 13, as a community discussion on the future of Toronto's music venues—and for an event like this, I've never seen a space so full.
Maybe so many people turned up because it's a topic that hits home. Since the beginning of 2017 alone, seven music venues in Toronto (Hugh's Room, Soybomb, the Hoxton, the Central, the Silver Dollar, Holy Oak and Harlem) have announced their closure—and this week's announcement from the Hard Rock Cafe now brings that total up to eight. As the NOW article states, it's a trend that is quickly being labelled as a crisis.
"It is a crisis, absolutely," said Spencer Sutherland, in Carla Gillis' original NOW article. Sutherland is owner of Nocturne, chairman of the Queen St. West BIA and member of the Toronto Music Advisory Council, and a member of Monday's panel. "In London, UK, they declared it a crisis when they found out that 35 venues had closed over a period of eight years. We're a city one-fifth the size and we've had three times that many close."
The panel on Monday night, hosted by NOW assistant entertainment editor Kevin Ritchie at the Centre for Social Innovation on Spadina, included Sutherland alongside TiKA Simone (musician and founder of #BAREGYAL party series and The Known Unknown), Shaun Bowring (owner of the Garrison, the Baby G and Transmit Presents), Anthony Greenberg (a senior planner at SvN Architects + Planners), and Erin Benjamin, executive director of Music Canada Live.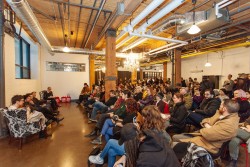 Clear from the beginning was a sense of frustration with the city decision-makers, and an awareness of a disconnect between how we like to think of Toronto, and how we have actually managed its growth. Whatever happened to the hype at city hall about making Toronto a 'Music City'? And what does it mean when all of a city's music-makers can no longer afford to live and work there? As one panelist said, "music has been one of our greatest cultural exports to the world, and it has been for a long time—and yet we treat it like disposable tissue."
Some of the stories brought up in the conversation were shocking. According to Sutherland on Monday, there is no licensing class for live music venues in Toronto, with all clubs and concert venues registered under restaurant licenses; noise bylaws put live music in the same category as public noise like loud construction and leaf blowers; and city hall has no official registry of where in the city live music is taking place. It all sets up an infrastructure where it's easy to delegitimize venue owners and musicians as rightful members of the city economy—and it means that, when conflicts between music venues and other neighbourhood bodies arise, the musicians legally have no legs to stand on.
In other cases, the stories—at least for some—were not so surprising. In conversation, TiKA focused the discussion on the accessibility of the city's music spaces and decision-making bodies, and the lack of access granted to underprivileged groups—among them women, young people, people from lower-income neighbourhoods, and people of colour. "We're supposed to be a cultural hub," she said, "but a lot of the people who are in these spaces are old, tired, unwilling, and afraid of diversity. I'm not surprised by what's happening."
TiKA pointed out specifics: a lack of education in low-income neighbourhoods on how to access government assistance; an acceptance by the city of gentrification processes that push entire communities out of the downtown core; and a lack of knowledge among the city's decision-making officials about the current moment in music, and the state of things on the ground floor.
"Toronto is supposed to be known for cultural diversity," she added. "It should look like that."
The conversation kept coming back to these questions of access—and indeed, access seems to lie at the root of this problem. How can artists and concertgoers reach city hall, and advocate for what they do in ways that don't fall on deaf ears? How can music venues access government protection from the types of urban growth that make it difficult to sustain cultural spaces? How can music professionals make the industry a welcoming one for communities that are regularly marginalized and disregarded? And how to do all of that within a system that makes it all so difficult?
As Erin Benjamin said on Monday, "When we [people who are passionate about music in Toronto] really start to dig into the numbers and really tell our story, I think we'll see things start to change."
TiKA put it even more succinctly: "We can't keep doing this dance."
They're right. It's getting harder and harder to afford living in this city as an arts worker, as a young person, or as a member of a marginalized community. It's also tiring to be told to mobilize and speak up, when many have already been doing that—and when in the face of big business and slow city hall progress, those things don't seem to be working. As one audience member said on Monday, "it's about privileged and underprivileged people"—and overwhelmingly, musicians and the people whose work supports them seem to fall on the latter end of that spectrum.
But while the situation may seem dire, Monday night did offer one glimmer of optimism: that people in Toronto, and many different kinds of people at that, are talking about this and getting frustrated. They're tackling difficult subjects, and trying to find new ways to do this challenging work.
A city like Toronto needs physical meeting-places and cultural workspaces to thrive, and to continue being the type of city where people actually want to live. So perhaps the struggle is not so much about "keeping our venues from disappearing", but rather, how to make Toronto into the kind of city where many different types of artists—and many different kinds of people, not just the residentially-minded and the rich—feel welcome. Frustrating conversations like this one are just one of the ways to start.
Sara Constant is a Toronto-based flutist and musicologist, and is digital media editor at The WholeNote. She can be contacted at editorial@thewholenote.com.