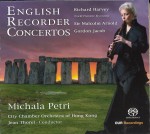 English Recorder Concertos
Michala Petri; City Chamber Orchestra Hong Kong; Jean Thorel
OUR Recordings6.220606
Of the many works written for the recorder over the last century, few of the neo-classical or neo-impressionist examples ever make it onto concert programs or CDs, so it's good to see the release of this recording. Opening the program is Richard Harvey's Concerto Incantato, written for soloist Michala Petri in 2009. Using a variety of sizes of recorder over five movements, Harvey writes beautifully for the instrument and the piece also sweetly reflects his sensibilities as a composer for film and television. Here's hoping that the piece receives more performances by recorder players around the world!
Following the Harvey is Malcolm Arnold's diminutive Concerto Op.133, written for Petri in 1988, and his inclusion of winds in the orchestration makes for a welcome colour change. Gordon Jacob's exemplary seven-movement Concerto for alto (and sopranino) recorder and strings closes the program. Written in 1957 for Carl Dolmetsch, it blends the strengths of both string and recorder worlds and is given a definitive and expressive reading here.
Conducted by Jean Thorel, the City Chamber Orchestra of Hong Kong is superlative throughout, and Michala Petri, one of the recorder's leading figures of the past 40 years, is completely at home in this repertoire.