May offers opera lovers productions on both a large and small scale. The Tales of Hoffmann and the double-bill of The Florentine Tragedy and Gianni Schicchi continue at the Canadian Opera Company and are joined in May by Handel's Semele. Meanwhile, a new opera company also presents a Handel opera, but in a deliberately minimalist fashion, and Against the Grain Theatre moves its next production from the pub to a theatre.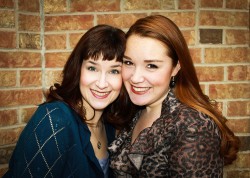 The Canadian Opera Company's first-ever production of Handel's Semele runs May 9 to 26. Like Handel's Hercules (1745), seen earlier this year in a staged concert performance by Tafelmusik directed by Opera Atelier's Marshall Pynkoski, Semele (1744) was written as an oratorio. The audiences of the day found that Semele was so operatic in its conception and execution that they suspected Handel was presenting them an opera (inappropriate for the Lenten season) in the guise of an oratorio. Consequently, it, like the Hercules that followed, was a failure and fell into neglect until the 20th century — neither revived until 1925. Since then, it has become one of Handel's more frequently-performed operas.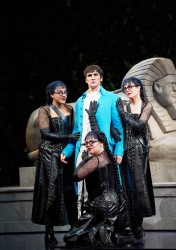 Handel chose for his libretto one written by famed English playwright William Congreve in 1707 for an opera by John Eccles. The story found in Ovid's Metamorphoses, Book III, is set at the Temple of Juno in Thebes, where King Cadmus is preparing for the marriage of his daughter Semele to Prince Athamas. Semele has been trying to postpone the marriage because she has a secret lover — none other than the god Jupiter himself who disguises himself as a mortal. Spurred on by Juno, enraged that her husband is yet again seeking pleasure elsewhere, Semele demands that Jupiter show himself to her in all his godlike splendour. Jupiter warns her of the consequences but she cannot be dissuaded and as a result is burned to ashes by the flames of his glory. The one positive outcome (which the COC production omits) is that Jupiter is able to rescue his son from Semele's womb, who will become Bacchus (Dionysus in Greek), god of wine, epiphany and tragedy.
The COC production, designed and directed by Chinese artist Zhang Huan, was first presented at the Théâtre Royal de la Monnaie in Brussels in 2009 and then in Beijing in 2010, where it became the first major production of a baroque opera in China. Zhang provides an Eastern take on Western subject matter, but it is worth bearing in mind that the story of Semele and Dionysus is not originally a Greek story. It is a myth that the Thracians assimilated when they were resident in Asia Minor before finally settling in Greece. The name "Semele" itself comes from a proto-Indo-European root meaning "earth" and Dionysus is one of numerous gods in world mythology who die and are resurrected and are related to primordial vegetation cults. James Frazer's The Golden Bough (1890) is devoted to this subject and finds parallels for Dionysus in Osiris in Ancient Egypt, Tammuz in Ancient Babylon and Krishna in Hinduism, among many others.
What makes this production so unusual is that it features an actual 450-year-old Ming Dynasty ancestral temple on stage. Zhang salvaged the temple from destruction after its owner was executed for murdering his wife's lover. As Zhang says in his Director's Note, "This old temple is the chapel where Semele is to get married, the heaven where she creates love, the crematory where she is destroyed, and the holy land that she is reborn in."
At the podium is Rinaldo Alessandrini, who has recorded baroque repertoire extensively with Concerto Italiano and is considered one of the world's leading specialists in baroque opera. The cast includes Jane Archibald as Semele, Allyson McHardy as both Semele's sister Ino and as Juno, William Burden as Jupiter, Anthony Roth Costanzo as Athamas and Steven Hunes as both Cadmus and Somnus, god of sleep. On May 23, members of the COC Ensemble Studio take over the roles at a special performance. For tickets or more information, visit www.coc.ca.
Lovers of Handel's operas should consider performances of Alcina (1735) presented in concert by a new arrival on the opera scene, Essential Opera, founded by sopranos Erin Bardua and Maureen Batt. Though Alcina is one of Handel's most popular operas, it has never been staged by the COC. Essential Opera presents the work accompanied by period instruments at the Trinity-
St. Paul's Centre on May 25 and as part of the New Hamburg Live! festival in New Hamburg, near Stratford, on May 31. The cast includes Bardua and Batt as the sorceresses Alcina and Morgana; Vilma Vitols as the knight Ruggiero entrapped by Alcina's love-spells; and Vicki St. Pierre as both conductor and the heroine Bradamante, who disguises herself as a knight, to rescue her betrothed Ruggiero. Alcina is sung in Italian with English surtitles. For tickets and more information, see www.essentialopera.com.
Switching to the 20th century, Against the Grain Theatre, known for its popular pub presentations of Puccini's La Bohème, moves to the 112-seat Helen Gardiner Phelan Playhouse on the U of T campus, for an intimate production of Benjamin Britten's The Turn of the Screw (1954).
This is only the second fully-staged production by AtG, whose goal is to make opera a cozier, more relaxed experience. The show will have sets by Camellia Koo and costumes by Erika Connor. AtG founder Joel Ivany directs with Christopher Mokrzewski at the piano. Miriam Khalil will sing the role of the troubled Governess, COC favourite Michael Barrett will be the mysterious Peter Quint, Megan Latham will be Mrs. Grose and Johane Ansell and Sebastian Gayowsky will be Flora and Miles, the two children who fall under Quint's malign influence. For tickets and more information, visit againstthegraintheatre.com.
Editor's Note: Information about this AtG production arrived too late for our concert listings deadline: performances are May 24, 25, 26 and 27, at 7:30pm.
Christopher Hoile is a Toronto-based writer on opera and theatre. He can be contacted at opera@thewholenote.com.