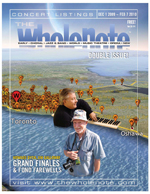 Those of you whose curiosity was piqued by our December wrap-around cover with its little forest of pins will I hope be equally intrigued by the invitation (at the foot of page 62 in this month's magazine) to visit our website and take a look at our "world of The Whole-Note" website map.

Just click on the banner ad above, drum your fingers for a few minutes while the map loads – this is, after all, a work in progress – and then, behold! A forest of red pins will sprout before your eyes, multitudinous and thickly clustered as the poppies in the lapels of last Remembrance Day's TSO audience at Roy Thomson Hall.

Each red pin on the map, dear reader, signifies a place where you can pick up a copy of the WholeNote, free of charge. And that's only the beginning! Look carefully and you will see other colours starting to sprout too, amidst the red – signifying the fact, that, in the words of the old song, summer is already a-coming in! Pins are already in place (with more being added every day) for 2010's summer festivals and music camps.

Where music is concerned, it is never too early in the year to start planning your summer!  So whether you use our interactive online map as a starting point, or go directly to our online Education and Festival directories, you will be certain to find, at www.thewholenote.com, something to warm the cockles of your dreaming heart – sweet solace for the the winter's darkest days!

(For more information about how to join our various print and online directories, contact Karen Ages in our membership department at members@thewholenote.com. To find out how to "put yourself on our map" contact Patrick Slimmon in our circulation department at patrick@thewholenote.com).