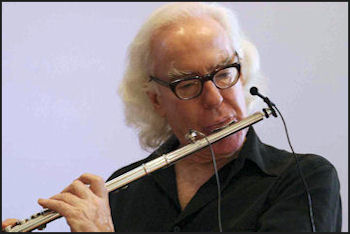 Closely guarded secrets lead to thrills and, alas, spills. In this case, the Canada Council's announcement that Robert Aitken is the recipient of this year's $50,000 Walter Carsen Prize came too late in October for us to give the news its due in this issue of the magazine!
I did get in a forty-five minute phone interview with Bob (keeping him from the task at hand - packing his bags for a whirlwind three weeks in Manila, then China). But the fruits of that interview will have to wait for another occasion.
I am glad therefore that we can offer you, here on our website, a repeat of Pamela Margles' wide-ranging December 2008 interview with the multifaceted Mr Aitken, to bridge the gap.
That interview offers all kinds of clues as to why in announcing this year's Carsen the committee described him as "a masterly force in the world of contemporary Canadian music, demonstrating for over half a century a tireless commitment to its development, performance and promotion in every corner of the globe." "As a flutist, composer, interpreter and teacher," they said, "he is a distinguished innovator and continues to exert a strong influence on upcoming generations."
The eight-year old Walter Carsen Prize is awarded annually on a four‑year cycle (dance, theatre, dance, music), so this is only the second time that music has come into the spotlight. R. Murray Schafer was the winner, the last time around. Kudos to the Council for setting the bar as high this time round. Future recipients will find themselves in distinguished company.