For the December Mystery Child Click Here
For the names our October contest winners and to see and the prizes they won, click here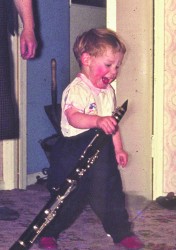 Kevin Mallon grew up in Belfast, Northern Ireland. A student at Chetham's School of Music, the Royal Northern College of Music in Manchester and at Dartington College of Arts, he studied composition with Peter Maxwell Davies and conducting with John Eliot Gardiner, specializing in baroque violin. Mallon was concertmaster with Le Concert Spirituel and Les Arts Florissants in Paris and led the Irish Baroque Orchestra until he moved to Canada for opportunities with Tafelmusik and at the University of Toronto.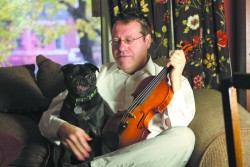 Today he is artistic director (and a founder, with Chris Reibling) of the vocal and instrumental Aradia Ensemble, which tours widely and records extensively, and conductor of the Toronto Chamber Orchestra, with upwards of 50 NAXOS recordings. Mallon's recent appointments are as music director of the Thirteen Strings Chamber Orchestra (Ottawa) and conductor of the newly formed West Side Chamber Orchestra (New York).
Mallon specializes in music of the baroque period but conducts and is known for his fresh vigorous approach to a wide range of repertoire.
KEVIN MALLON, in this own words
Absolute earliest memories of music?
My mother playing the piano – we used to love it when she played the "Sabre Dance" from Khachaturian's ballet Gayane! Also my father playing the piano and singing songs of the John McCormack repertoire – "Roses of Picardy." My father was a big listener of the old tenors – Caruso, Björling, McCormack. He had a big collection of records and 78s, many of which I inherited. Indeed I got my love of records and being a collector from him. When I was about 14, he had a stroke and couldn't talk. Interestingly he lost interest in vocal music then and became an avid listener of orchestral music. This too was a big influence on me.
My uncle Kevin played the clarinet – the one in my childhood photo. He didn't stick with it his whole life although he is a great lover of music and a great supporter of mine. Kevin was an electronic engineer genius (went to university to do such at 17). He made my grandfather a stereogram in the 1960s, with a record player, a reel-to-reel and radio all built in – something else I inherited later on. Along with this he bought one of every type of record he could think of. (As kids we were always amazed that grand-da had a Beatles LP!) Among those records was a record of Menuhin playing the Beethoven concerto. I put it on one day, at the age of ten, and thought it was the most beautiful thing I had ever heard. I absolutely insisted then, that I get a violin and have lessons …
Do you remember that childhood photo being taken?
No, but I have many happy memories of that period.
While it was likely not that way for the grown-ups at the time, I truly remember my early childhood as a golden time. Weekends were usually spent visiting my maternal grandparents in the small village of Jonesborough in rural Northern Ireland. These were large gatherings with the country folks seemingly able to listen to multiple conversations at once. I was the first grandchild – so of course I was spoilt rotten!
Imagine you could travel back through time and meet the little child in the childhood photo. Is there anything you would like to tell him?
Yes! As a teenager I was strongly independent, and when I left to go to music school at sixteen, I truly left home and distanced myself from my family. I may have fulfilled my independent aspirations, but I was often lonely and somewhat distanced from my family. I would want to tell that young child in the picture to stay close to this loving and supportive family.
Anything you'd like to ask?
I'm not sure if there is anything specific I would like to ask - but it would be a really neat thought that I could hang out with this younger me. I would like to see if his outlook and spirit is as I see it in the old photos – as I imagine myself to have been!
Suppose you're travelling, and chatting with a friendly fellow traveller, and they ask what you do for a living.
Well, I am a musician! When I say that I make my living primarily as a conductor, that usually opens up lots of questions, as people want to know how I do that, or what indeed it means to be a conductor. The fact that I play the violin also, usually makes it all seem that much more solid or understandable.
JUST THE BASICS
Where were you born?
It may come as a surprise, but I was born in Newark New Jersey. Yes, I'm American-- but I left to go to Ireland when I was 6 weeks old. I have multiple passports – US, British, Irish and am a landed immigrant in Canada!
Where did you grow up?
I spent my first 16 years in Belfast, Northern Ireland, and then spent 7 years as a student in England.
Where did you attend high school?
Until 16, I went to St. Malachy's college in Belfast, a Catholic grammar school with a particularly strong music department. At 16 I went to Chetham's School of Music in Manchester.
What did you do after high school?
Dartington College of Arts (composition major, studies with Maxwell Davies), Royal Northern College, Manchester
What do you remember about your first music teacher?
I started having violin lessons with a Christian Brother who was learning at the same time. He was only ever a page ahead of me! Soon after, I got better teachers.
What were your first experiences of making music with other people? What do you remember about this?
Even though I grew up in Belfast in the middle of the so-called "troubles" there was a very good Belfast School of Music with orchestras from junior to the youth orchestra. I was lucky to work my way up through these.
When did conducting become part of the picture?
When I went to the specialist high school, Chetham's School of music in Manchester when I was sixteen, there were some students who were interested in conducting. One of my best friends –Grant Llewellyn was one such. He also is a conductor today. John Eliot Gardiner came to the school to conduct the student orchestra, which was of a high standard. He took me under his wing and became a mentor.
When did you first conduct for an audience?
When I was 16, I was also a choirboy and the first piece I conducted in front of an audience as a Monteverdi mass.
Do you remember the point at which you began to think of yourself as a career musician?
I always wanted to be a musician. I wanted to be ambitious and to strive for the absolute best I could be. However, I remember one string teacher, while I was in Belfast, trying to discourage me from auditioning for the music school in Manchester, saying that I didn't have the talent and the best I could aspire to would be to be a music teacher. (He meant this in a derogatory sense-- clearly I respect such a position!) Anyhow, it made me all the more determined!
Did you ever think you would do something else?
I have always been a writer-- in and around music, but also creatively. A number of years ago, I had a bad fall off Tafelmusik's stage. I tore my shoulder. In order to heal, I studied as an Alexander teacher and qualified as such. I haven't in fact started a practice as a teacher, but I do hope to someday.
Where does music fit into your family life today?
I am extremely lucky in that my fiancé is a huge support to me. She sits on Aradia's board and is sort of my unofficial manager. It makes a huge difference to me that I can share my professional life with her. She also has a real job, by the way, working for the government!
UPCOMING …
I am just finishing a busy 2 months: in September and October I had eight major projects – including one CD, one opera and working with orchestras in New York, Toronto, Windsor, Ottawa and Nova Scotia. In November I was supposed to do Cosi fan tutte in Bulgaria and on tour in Europe, but the production was cancelled! So, I am going to Europe anyhow to have meetings in Holland, to visit my mother in Ireland and to visit my brothers in Abu Dhabi!
December brings concerts with the Thirteen Strings (December 11) and Aradia's "Dublin Messiah" (December 22nd)
NEW RECORDINGS ...
I just recorded a CD for Naxos with my New York orchestra, the West Side Chamber Orchestra, of modern harpsichord concerti – Glass, Francaix and Rutter. Later this season sees the release of a 3 Cd set of Handel, Concerti grossi Op.6 with Aradia (Naxos also).
I have just signed a new, long-term contract with Naxos.