March's Child Alex Pauk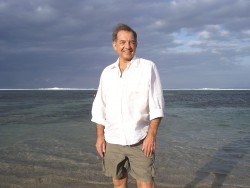 Alex Pauk, composer, conductor, educator and entrepreneur, helped found Arraymusic, and in 1983 founded the 65-member Esprit Orchestra. Esprit performs and promotes music by Canadian composers, and introduces significant international new works through an annual concert series at Koerner Hall and through commissioning, recording, education and outreach initiatives.
Pauk has composed more than 60 works for a diverse range of performing ensembles, for theatre and dance companies, and many scores for film and television, some in collaboration with his wife — composer Alexina Louie. He is a vigorous proponent of taking music to people in their communities (not always in concert halls) and an ongoing champion for music education. He was named Musician of the Year (1999) by peers at the Toronto Musicians' Association.
About your childhood photo … ?
The photo of me playing the accordion was taken in the school auditorium at Swansea Public School (just south of what is now Bloor West Village) where there was a fantastic music teacher named Mrs. Melvin. She ran a wonderful music program in which all students in the school were required to play recorder and sing.
She also took great care to encourage kids taking private music lessons outside the school to display their musical talent at school events. She was probably the first person to recognize my talent as a performer and therefore she thrust me onto the stage where the photo was taken. I recall, at this concert, being mesmerized, in a kind of automatic pilot and hoping my memory would hold out to get me to the end of the piece. In those days, accordion music (other than folkloric) consisted of many transcriptions of classical works as well as pieces like Sharpshooter's March and Lady of Spain. The photo also reminds me of my experiences in the one hundred-piece Mundinger Accordion Orchestra (I played electric bass accordion – the only one) and the concerts the group gave at (a sold out) Massey Hall. This group played transcriptions of Beethoven symphonies, Romberg medlies etc.
This was the prelude to my starting various bands that involved me as leader and accordionist – polka bands playing at Ukrainian weddings, high school dance bands (playing standards when we should have been playing rock'n roll – bad move), and jazz bands for the sheer pleasure of it. Ultimately, even though I was fairly virtuosic, I switched to piano to pursue studies at the U of T faculty of music. The accordion pioneering and legitimization was then left to Joe Macerollo. (We used to play in an accordion quintet together when we were in short pants.)
Anything you would like to tell the young musician in that photo?
I used to like improvising and exploring the unusual sounds that could be made on the instrument – playing clusters with my ear to the bellows, using the air sounds from the bellows, playing flourishes on the keyboard and buttons using unusual register combinations.
I was at the early stages of my composing career without knowing it. My advice to that child would have been "Find a way to channel this into composing or self-expression beyond the practice room."
Such sounds ultimately became standard fare in new music in the ensuing decades.
Suppose you're traveling and a friendly fellow traveler asks about your work?
Usually when this happens, I can explain what I do as an orchestral conductor but it becomes very difficult to describe the kind of music I specialize in – namely new, contemporary, of our time, today's music, 20th and 21st Century music etc. It's not part of most people's experience or awareness. Contemporary usually means the latest pop music. The same goes for explaining my composing. What seems to be more understandable is when I begin speaking about the work Alexina and I do together as composers of film scores. This really provides a common ground for discussion, even for describing  the kind of sounds we make happen.
Just the basics? For someone who doesn't know you?
I was born in  Toronto – on Yorkville Avenue at the Mount Sinai Hospital, which eventually became the seniors residence that was there for so long. It is now an upscale shop of some kind. Too bad – I often used to think it would be great to end up at the seniors' residence - in the same building where I was born. We first lived at my grandmother's house on historic Draper Street off Front, halfway between Spadina and Bathurst), then Starr Avenue (South Parkdale – the house was expropriated to build the Gardiner Expressway), then Swansea near Grenadier Pond.
I went to Humberside Collegiate Institute, and  after high school the University of Toronto Faculty of Music (Music Education) then University of Toronto Faculty of Education. Also Rochdale College (in its heyday). Further studies in conducting followed in Tokyo at the Toho Gakuen School of Music.
Your absolute earliest memory of music?
I remember hearing my father singing popular tunes of the the late forties and then I heard these same tunes played on my parents' phonograph. Also, I have a strong impression in my memory of priests chanting at the Ukrainian church my grandmother took me to.
Other musicians in your childhood family?
No, although I'm told that my grandfather on my father's side (who I never met – he died even before my father was born) was a violin maker and accomplished amateur musician in Winnipeg.
Where did hearing music, both formal and informal, fit into  your life as a child?
When I was around four or five years of age, my parents gave me and my sisters a record player on which we played children's discs (cardboard discs coated with a thin vinyl layer containing the grooves) containing favourites like Big Rock Candy Mountain and Teddybear's Picnic. Later I had my first experience of classical and light classical music listening to Starlight Serenade on the radio. School visits to the symphony were important to me as was my receiving a wonderful radio as a gift from my parents. It could receive shortwave so I could listen to broadcasts of music from places other than Toronto.
Your first memories of making music?
I remember making up short little melodic sing-song phrases that were easy to repeat and also imitating percussive sounds with my mouth – little inventions suggesting that creative music-making was in my DNA.
My first instrument was the aforementioned accordion. It was tricky figuring out how to deal with the left hand buttons.
First music teachers?
After studying at the Mundinger Accordion Academy I took up studies with Tony Mergel who got me interested in jazz (he used to organize an important stage band in Toronto) and introduced me to the theory and harmony books of Gordon Delamonte as well as the important skill of music copying (through which I earned money and eventually learned a lot about how others composed by copying for them). Mr. Styles in grade nine really got me going as a conductor and by my last two years in high school, I had formed a chamber orchestra that played Baroque music. This leadership development was transferred into my skill in starting and leading all kinds of bands, new music groups and eventually, the Esprit Orchestra. There is definitely a through line here.
What do you remember about making music with other people?
The choirs and recorder groups at Swansea School were important in showing that you could do musical things with others and that it was meaningful for those listening (parents!).
It also proved that you could get more attention and rewards if you got better at it.
The accordion orchestra days showed me how wonderful making or being part of a big sound could be. Working with dance and jazz bands was just a lot of fun.
The first time conducting, for an audience?
I began conducting in grade nine. My music teacher at Humberside C.I. was Frankish Styles and he got me to conduct the school orchestra playing Sibelius' Valse Triste to accompany a solo performance by a talented grade nine ballet student. My first meaningful conducting performance before an audience was with the Humberside high school orchestra. After this it seemed like a normal thing for me to try and start groups so that I could lead and/or conduct.
When did you begin to think of yourself as a career musician?
I entered the U of T Faculty of Music to study music education – to become a high school music teacher. But before I had completed the four years of study I had become involved seriously with 20th century music through my friendship with John Fodi and through the new music ensemble at the faculty (directed by John Beckwith).
I started a late-night free-improvisation ensemble with friends that triggered a strong interest in me to write music graphically or otherwise, to try and capture some of the magnificent sounds that group was making. After that, a group of composers started meeting in my apartment to discuss philosophy, politics, prevailing trends in music etc. The group also realized that it was going to be difficult to get our music played unless we did something about it ourselves so we organized a concert of our music and through this launched a group called Array which has since had many incarnations. This was really the first professional event in which I took part as both conductor and composer.
Since that time, I formed Days, Months and Years to Come in Vancouver, a new music group based at the Vancouver East Cultural Centre. This experience really prepared me in many ways for starting the much bigger Esprit Orchestra once I moved back to Toronto.
I lived in Vancouver from 1973 to 1980. It was there that I really evolved into being a composer/conductor.  I arrived in the last years of Trudeau's LIP grants. A visionary councilor at City Hall arranged for me to be supported as a kind of composer-in-residence in Vancouver. I was free to meet all kinds of musicians, dancers, performance artists, actors, visual artists, broadcasters etc. and write music for them. I eventually also got a job conducting the Vancouver Youth Orchestra which allowed me to keep a strong hand in teaching and developing young musicians. I became very much involved with theatre while I was there too, conducting and writing for the Playhouse Theatre under Christopher Newton as well as various experimental theatre groups.
Do you remember a time when you thought you would do something else?
I have never thought of doing anything else but music although for several summers and one whole year while I was a student, I worked as a brakeman  for Canadian National Railways. This really paid well because I was on call, worked outlandish hours and got lots of overtime. But all the while, my passion was still to do musical things. I can say that those CNR schedules so changed my sense of time that the composer's hours (all nighters) that I sometimes keep (especially writing for film) are a breeze for me to handle. There is no such thing as "odd hours" for me.
Suppose you were asked to talk informally with a very mixed group of children about what you do. First they ask  "What  do you do?"
I'm a composer and conductor who founded an orchestra, The Esprit Orchestra, almost 30 years ago so that I could ask composers to write music for it with the idea of giving their music excellent performances, making their music known to the public and recording it so that it would last into the future. I also write concert music for my orchestra as well as other groups. My wife is Alexina Louie, also a composer, and she and I are writing partners in composing music for film and television.
If they asked "Why did you decide to do that"?
I don't think I made a conscious decision to work with music. It's always been what I've been involved with since I was very young. It's just a matter of my flowing from one kind of involvement with music to another over my whole lifetime. In fact, because of my work in film, I don't just work with the kind of music that Esprit Orchestra specializes in. Writing and conducting for film involves many musical styles.
What advice could you offer to a young person who was already sure they wanted a life in music?
I would say to work and study hard the things you are most interested in but don't neglect being open to and learning about related matters. For example, if you want to be a performer, also learn about composing and what's going on in today's music – not just the traditional classical music that most performance teaching traditions are based on. Remember that you will most likely be required to be involved with many kinds of music as a professional. Even rock musicians should know about classical music as well as new music.
Also, at least start to think about how you might learn about handling your money, savings etc. as well as what there is to the music business beyond being a musician. This might seem like a remote thing to do right now, but if you even just get a little idea about it when you're young, it won't hit you like a ton of bricks when you finish your formal training.
But most if all – love music!
Where does music fit into the lives of your own children?
Both of my kids had a terrific piano teacher in Marina Geringas so they developed wonderful understanding of music through her. They also experienced music through many years of training in dance. Both of them benefitted from being at Howard Public School during the years when the outstanding choral teacher Margaret Stanfield was there. Neither daughter continued studies in piano but Jade, my youngest attended the Etobicoke School for the Arts as a music theatre student. At Wilfrid Laurier University, she continues with her triple threat performing in school clubs. Jasmine has a strong interest in film so her knowledge of music is indispensable in this realm. Both girls have been attending opera, ballet and orchestra performances since they were four or five years of age and they know and appreciate a very wide range of repertoire, They are also completely with it as far as today's pop music is concerned as well as the pop music of the last 60 years.
UPCOMING…
On March 3rd, a film that Alexina and I wrote the music for, Pearls of the Far East, will be screened at the Cine-Asie Film Festival in Montreal. Our music for this film recently received the Best Music Award at the California Independent Film Festival.
(Saturday March 3rd at 6 pm at the CinéRobothèque at the National Film Board of Canada, located at 1564 St. Denis Street, Montreal)
The final Esprit Orchestra concert of the season, it takes place on Thursday, March 29th at Koerner Hall. It features The Third Piano Concerto by Harry Somers. I commissioned this work and this will be Esprit's third performance of it. I'm also conducting the premiere of a newly-commissioned work by Jimmie LeBlanc from Montreal as well as a work for very large orchestra by Xenakis – his Jonchaies. One of the great pleasures of the evening will be the announcement of Esprit's plans for next season – our 30th Anniversary Season. There are some wonderful surprises in store for our audiences.
Alex Pauk lives in the High Park area of Toronto, with his  wife, the composer Alexina Louie, and their two daughters Jasmine and Jade Pauk. Jade spends the school year in residence at Sir Wilfrid Laurier University, Waterloo where she's in first yea). Jasmine is in fourth year in film and literature studies at the University of Toronto.
The family had a most amazing experience together this past summer when they spent the month of August in Bali. The trip satisfied a long held desire of Alex and Alexina to visit that magical place and introduce their daughters to the culture of the island as well as its beautiful natural setting.
Who is April's Child?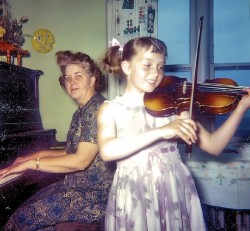 That trademark smile, but leading with a bow instead of a baton.
Out on the Mira on soft summer nights
The bonfires blaze to the children's delight
They dance round the flames singing songs with their friends
And I wish I was with them again …
So many songs, so many friends!
Know our mystery child's name?
Send your best guess to musicschildren@thewholenote.com
Provide your mailing address in case your name is drawn from correct replies received by midnight on March 20, 2012.