February's Child Shannon Mercer
"… My father's mother was left in a basket on the steps of an orphanage in June of 1913 in Gelligaer, Glamorgan, South Wales. My father immigrated to Montreal in 1967 along with my mother and my three eldest siblings. Later the family moved to Ottawa where two additional children were born — the youngest was me. My father always showed a passion and love for music …" (liner notes: Wales – The Land of Song)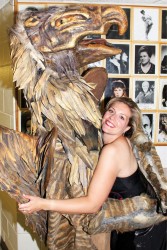 Born in ottawa, soprano Shannon Mercer grew up in Manotick, Ontario, on the Rideau Canal. She attended Canterbury Arts High School in Ottawa, and graduated from McGill University: Vocal Performance, and Early Music Vocal Performance and History). Then, after one year in the Opera School Diploma program at the University of Toronto, she was accepted into the Ensemble Studio with the Canadian Opera Company.
Mercer's busy schedule of opera, concert and recital engagements reflects in particular her appetites for both baroque and contemporary music. Featured last season by Queen of Puddings Music Theatre, in Ana Sokolovic's one-woman opera Love Songs, Mercer returns to Queen of Pudding this month for Beckett: Feck-it! (see below). Recent appearances include: a role in Alexina Louie's opera film Mulroney: The Opera, a series of concerts with Tafelmusik Baroque Orchestra, Bach's St. John Passion with the Arion Baroque Orchestra and Les Voix Baroques (recorded by ATMA Classique and just released!), and performances with the Portland Baroque Orchestra, Colorado Symphony Orchestra, Mercury Baroque in Houston and the Toronto Symphony Orchestra. Recent touring includes her Wales – Land of Song programme with Skye Consort, and a programme devoted to Francesca Caccini, with Luc Beausejour.
Tell us about your Aldeburgh Connection, and their 30th Anniversary Gala on February 19. I first met Stephen Ralls when I was at Opera School at the University of Toronto in 1999 and he was the Head of the Opera Department. After leaving school to join the Ensemble Studio I was invited to sing with the Aldeburgh Connection series in one of their famous Schubertiades. Since then, I've sung with them many times — including a program of Purcell/Britten, an Elgar program and most recently a program of all Fauré.
I've also had the opportunity to sing at their Bayfield Festival as a guest soloist in recital which was a thrill!
Opportunities to sing song repertoire seem to be few and far between and the Aldeburgh Connection gives us opportunity. I have a large list of song repertoire thanks to these wonderful collaborations! Stephen and Bruce are such a class act and always come up with interesting themes and anecdotes about the composers, making each concert such an interesting and informative collaboration. It is my honour to be asked to sing at their 30th Anniversary amongst so many incredible Canadian singers.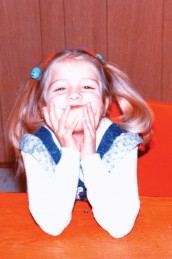 Anything you would like to tell the little person in your childhood photo? People in the future will embrace your craziness and energy instead of try to bottle it up and calm you down!!! Be proud of all of your accomplishments and take time to be in the moment.
Your earliest musical memory? I would ask my sister to play Boogie Woogie Dancing Shoes, ad nauseum, which we owned as a 45 …
Do you remember that childhood photo being taken?
No, not at all!

When you look at it today, what do you remember, or think about?
I remember attending my Dad's Christmas work parties and the Ottawa Welsh Society's annual Christmas party. I remember being so excited to eat McDonald's (which is what they served at my Dad's work party for the kids) and I remember knowing that my Dad was playing Santa Claus. I know I was mostly hyped on sugar and pop which I didn't get a lot of at home!!! I think "What a goof!".

Suppose you're travelling, chatting with a friendly fellow traveller, and , they ask what work you do. How might you reply?
Honest? Well, after all the conflict in my head about what to say and whether to be honest or not and then wait for all the annoying questions I would say "I'm a musician. Period. How's the soup?"

Other musicians in your childhood family?
My father (who passed in 1995) was the biggest musical influence of my family. He sang in a local choir and had a very pleasant tenor but it was his passion for the music that he passed on to me.

Where did hearing music, both formal and informal, fit into various aspects of your life around the time that photograph was taken?
I was heavily involved in the Ottawa Welsh Society from a very young age and my father was drawn there not only because of his roots (his mother was Welsh) but because of the close relationship the Welsh have with music. Singing in informal family talent nights (Nosen Lawen in Welsh) was a regular event where the children got to perform poetry, sing, dance or do whatever they fancied. I started singing folksongs in Welsh before I knew of Mozart!!! My parents enjoyed music but didn't know a whole lot about it. As I found my passion for music and learned about it so did they. We all grew and learnt about classical music at the same time.

What, if anything, was your first (other) instrument ?
Piano.

First experiences of making music with other people?
Well, the Welsh always sing hymns in four part harmony so growing up there was all that. I also sang in a regional youth choir as well as church choir. Singing in choirs is a vital part of a singer's musical education in my opinion.  Often singers confuse blending with being soft of not using your own voice or changing your colour. But if you are confident and you know your voice well, you add your colour to the other layers of voices. Today, I still sing in a lot of top-level ensembles. Making incredible music with other people is one of the most rewarding experiences.

Do you remember when you first sang alone for an audience?
No, I had an early start with voice lessons at age 7. So, I can't remember that far back. But, I do remember singing "O Perfect Love" for my brother's wedding in front of all my family and extended family and I was petrified. I would have much rather sung for a hall of strangers at the Kiwanis Music Festival!!!

Do you remember the point at which you began to think of yourself as a musician?
I enjoy this question because YES, I AM a musician not just a SINGER!!! Well, that's a loaded question. I feel like that's an adult question! A musician to me is not just someone who plays an instrument or sings. It's someone who has an opinion about the music and a confidence in what they have to say about it. As I get older, I get more and more confident and my experience acts as a sort of support. The nature of the work that I do currently allows me to play and come off the page (as I say) with ornaments and interpretation. Which is something I wouldn't have felt comfortable doing when I was younger.

Do you remember thinking you would do something else?
No, never, I suppose I was naïve!

Suppose an after-school club asked you to talk informally with a very mixed group of children 9 to12 years old, as part of a series exploring "what people do".
If they asked you "What do you do?", how might you reply?
I sing really beautiful music from specific eras of time. Each era has different rules that apply and so every concert I sing might involve a different group of singers or instruments and sometimes even a whole orchestra. Sometimes, I wear costumes and get to act up a storm sometimes I wear fancy dresses but the best part is the music I get to sing!!! I also sing in lots of different languages and I get to travel all over the world!!!
If they asked you "Why did you decide to do that"?
I'd tell them that the career chose me. I was blessed with a talent to sing and so I took all the steps and worked really hard to nurture my voice so that I could have a future doing what came so naturally, so easily. Classical music didn't seem abnormal it seemed normal, like breathing. I understood it from a deep place within me.
What advice, if any, could you offer to a young person who was already sure they were going to have a life in music?
It's hard. BUT (and that's a big BUT), if you work really hard and find you still love it as much as you did when you started, then give it a go. Life as a musician is full of challenges but the rewards are far greater!  Everyday, I'm thankful that I get to do something I love so much! How lucky am I?

UPCOMING…
Please mention what excites you about engagements coming up in Southern Ontario over the next few months, and/or any new recordings you are involved in.
There are two very different recordings of Bach's St. John Passion that have just been released. One is with Les Voix Baroques on the ATMA label and one is with Portland Baroque. On both I sing chorus and solos, which was demanding but it's extremely satisfying to know a work that thoroughly! After gigs in Montreal, New York and Boston, I return in February to Toronto to sing in a co-pro with Canadian Stage Company and Queen of Puddings Music Theatre in Beckett Feck-it! I will be singing some contemporary Irish music with only solo trumpet as accompaniment, and another Irish folk song in Gaelic. I will also get to flex my acting muscles!!!

In the same month I'll be singing in an all-star line up for the 30th Anniversary Gala of the Aldeburgh Connection at Koerner Hall. I'm really excited to sing alongside some of my own idols and with my colleagues who are very dear friends as well!!! At the same venue, I'll be singing some Villa-Lobos for The Art of Time Ensemble on March 1 at the same venue.

In April, I can be seen singing at the St. Lawrence Centre for the Arts with Toronto Opera in Concert in Schubert's Die Freund vom Salamanka. In May, I'll be singing with Pax Christi Chorale at Koerner Hall in Elgar's lesser known Oratorio The Kingdom and later in that same month in Poulenc's Gloria with the Mendelssohn Choir.

I'm excited about all the variety in my work coming up over the next few months and about all the exciting collaborations! It's the variety in my work that keeps it challenging and interesting and that's why I still love it!
Who is March's Child?
Already so composed! With five senses explore the array of possibility a musical life affords. While music stirs, strikes, grips and turns us on, you'll find that esprit is what connects us all. Say Farewell to Heaven as you ride this new wave into concert halls, galleries, movie theatres, schools and the occasional hanging garden.
Think you know who our mystery child is? Send your best guess to musicschildren@thewholenote.com. Please provide your mailing address just in case your name is drawn! Winners will be selected by random draw among correct replies received by Monday, February 20, 2012.
CONGRATULATIONS TO OUR WINNERS! HERE'S WHAT THEY WON
At the Aldeburgh Connection's 30th Anniversary Gala, at Koerner Hall (Feb 19), co-artistic directors Stephen Ralls and Bruce Ubukata will preside at two pianos for a glorious programme of classical song. Gerald Finley, Nathalie Paulin, Gillian Keith, Michael Colvin and Brett Polegato will be joined by Colin Ainsworth, Benjamin Butterfield, Tyler Duncan, Shannon Mercer, Susan Platts, Lauren Segal, Krisztina Szabó, Giles Tomkins, Monica Whicher and Lawrence Wiliford. Hosts: Catherine Robbin and Christopher Newton. Dave Linfoot will be there too!    Queen of Puddings Music Theatre's Beckett: Feck-it! Samuel Beckett's shorter plays with contemporary classical Irish music. Actors Laura Condlln, Michal Grzejszczak, Tom Rooney, and Sofia Tomic, with soprano Shannon Mercer and trumpet player Michael Fedyshyn. Directed by Jennifer Tarver, with Dáirine Ní Mheadhra & John Hess (music direction), in association with Canadian Stage (Feb 17–25). A pair of Feb 20 tickets each for Katie Larson and Vanessa Goymour!    Francesca Caccini: O Viva Rosa: Shannon Mercer, with Sylvain Bergeron (theorbo, baroque guitar), Luc Beauséjour (harpsichord, organ) and Amanda Keesmaat (cello) illuminate the music of Florence-born, baroque composer Francesca Caccini. (AN 2 9966). This prize goes to Frances Giles.   Wales – The Land of Song: Shannon Mercer says "This is the culture that shaped my path in life and fills me with so much love for music and song …" A recording of traditional Welsh folk songs and classical music, with the Skye Consort. (AN 2 9965) This prize goes to Anna Marsh.