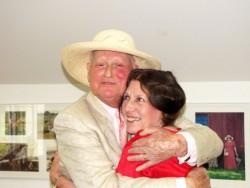 [b London, England 1929
d Port Perry, Ontario , February 14, 2013]
Canadian music has lost a giant with the passing of Leslie Huggett. Born in London, England in 1929, Leslie, a one-time French hornist with the Royal Philharmonic Orchestra, moved to Ottawa in 1954 with his wife Margaret. Initially he directed a chamber music program there and later played in the Ottawa Philharmonic. As their four children arrived and grew, the family began giving private concerts in 1966. At that time the children were playing only recorders while Leslie and Margaret were teaching the Orff method in Westchester County (New York) schools. With the U.S. involvement in the Vietnam War, they decided that it was time to move, and in 1967 the family spent a year on the island of Crete.
After their time in Greece and England, the family returned to Canada and began work on what was to become the renowned Huggett Family ensemble. The group made its formal debut in 1969 in a concert at the National Arts Centre in Ottawa.
In the 1970s the name "Huggett Family" was synonymous with the revival of early music played on period instruments. Leslie Huggett, his wife, Margaret, and their four children were known across Canada for their tasteful interpretations of music from the medieval, renaissance and baroque periods. From Canada's National Arts Centre to London's Wigmore Hall, and on the CBC and BBC, the family played and sang in period costumes to the delight of audiences and critics on both sides of the Atlantic.
In 1982, after several successful LP recordings, the group disbanded.
In 1984, having moved to Markham, Ontario, Leslie and Margaret founded the Huggett Family Music Studio which emphasized the development of musical talent in children. Meanwhile, their own children moved on to pursue individual musical careers in Canada and abroad. Subsequently, this studio became the Flute Studio. In more recent years Leslie was joined in teaching duties by Flora Lim.
In recent years Leslie conducted a series of intimate readings titled "Reflections of a Part-Time Optimist" at his Flute Studio in Markham. In these he presented a series of fascinating, humorous accounts of many aspects of his life. In all of these he was accompanied on piano and flute by Flora. Although diagnosed with terminal cancer, Leslie continued writing and presenting these delightful Sunday afternoon reflections until he was no longer physically able to do so. The musical component of these intimate performances was always tasteful and the dialogue always down to earth and rich with Leslie's own brand of subtle humour.
A memorial service was held at Trinity United Church in Uxbridge on May 11. A number of family members and friends reminisced about their times together, and excerpts of recordings of some of the early performances of the Huggett Family were played. All four children from Canada and abroad were in attendance and performed selections which would have been favourites of their father. The final page on the program listed the four selections Leslie had specified to be played at the service. This included the complete Mahler Symphony No.2 "The Resurrection" — "in its entirety." His further instructions were to listen to them at home if there was not time at the service. He retained his unique sense of humour to the end. He will be missed.