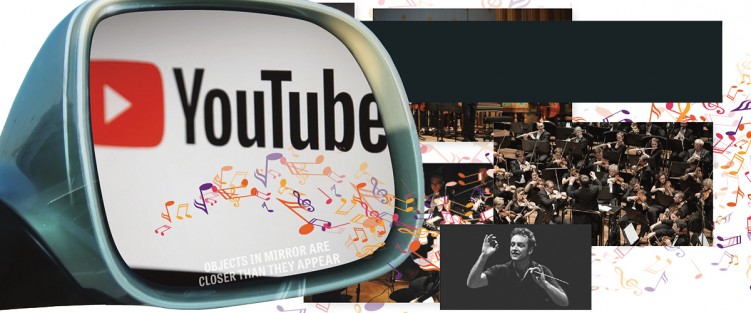 More and more these days, I do my music listening on YouTube. YouTube, rather than CDs, or ITunes, or the radio, or live concerts.
And I'm not alone.
YouTube, although intended as a video platform, has become the prime music-listening service on the planet. With 300 million daily users, 400 hours of content uploaded to the site every minute, and an enormous wealth of archival material hidden in its nooks and crannies, subterranean depths and byways, YouTube, without meaning to, has become the most important music-listening service the world has ever known. While music companies, tech entrepreneurs and record labels were viciously jockeying for position for two decades to determine what format would replace the CD and reap its multi-billion dollar profits, YouTube just snuck into predominance – a position it will never relinquish. It is just too rich as a music service to ever be challenged.
For me, what makes YouTube so delicious is the wealth of unexpected and one-of-a-kind treasures it contains. Because it is a crowd-sourced platform, with literally millions of people worldwide contributing content to its astonishing archive, basically anything that's ever been recorded – from film, TV, radio, recordings, cell phones, piano rolls, 45s, 78s, you name it – has been uploaded by someone somewhere to YouTube. That means with the touch of a few keystrokes, you can access piano rolls of Scriabin playing his own music, and Scott Joplin, and Mahler (an amazing performance of the entire first movement of the Fifth Symphony). You can watch and listen to close to 100 years of the most famous performers and performances in the world. A TV feed of an impossibly young Pavarotti singing La Traviata live from La Scala – check. Dozens of videos of the greatest conductor ever placed on the earth, Carlos Kleiber, dancing his way into the heart of the music of everyone from Strauss, Jr. to Weber to Brahms – check. The single greatest performance (to my ear) of Pergolesi's Stabat Mater performed by Christophe Roussel and Les Talens Lyriques, not available anywhere else – check. The ability to quickly compare a dozen performances of Brahms's enigmatic Opp. 117 and 118 late works, simply and effectively – check. Documentaries of Glenn Gould from European television unknown to us here – check. An absolutely riveting hour of Murray Perahia discussing Bach for Israeli television – check. Masterclasses from everyone from Andras Schiff to Joyce DiDonato to Scharzkopf to Leon Fleisher – check. And on and on. Whatever your taste, whatever your musical interest, whatever your curiosity, YouTube can endlessly satisfy it.
And that's just in the world of classical music. When it comes to pop, or Broadway, or jazz, or any other world music, YouTube is as valuable a service, if not more so. Not to mention the thousands of really fine instructional videos available on the service – all for free – did I mention that? I taught myself the chords and voicings for the opening of John Coltrane's Giant Steps the other night thanks to a fine YouTube instructor. I can honestly say that some of the most moving and illuminating musical experiences of my life have been occasioned by a YouTube video.
Of course, the service is not perfect. It's owned by Google, so who knows to what nefarious purpose my viewing and listening history is put (although what someone thinks they can sell me because I listened to Marguerite Long and Ravel perform the premiere recording of his G-Major Piano Concerto is beyond me)? The quality of the sound is often weak, even terrible. The cataloguing system is non-existent, because each uploader gets to call his or her entry what they choose. (If you want a uniquely 21st-century exercise in total frustration, try refinding a YouTube video you once saw and loved, but can't now remember how it was titled.) Because it was never intended to be a music-delivery system, noone at YouTube seems to have given much thought how to make it a better one – except for the billion-hit pop videos that make the channel a ton of money.
But it's precisely the bumbling, unintended, poorly organized, haphazard nature of the service that I love. Wandering through YouTube is like wandering through an amazing maze of a great musical city, with corners and alleyways and treasures beckoning you from every quarter. You may start down an intended path, but you won't stay there for long. And that's because, even though it's only 20 years old, more or less, the Internet has gone through many distinct phases in its journey from light to darkness. We're deep in the dark Web today, with fake news and hate-filled belchings eroding the central foundations of this astounding information device. But it was only just a few years ago that the Web was a place of enlightenment and human development, unparalleled in human history. This is the Web of Wikipedia, still an astounding free, crowd-created source of knowledge. And it's the YouTube created in that spirit that I value, the YouTube motivated by a simple and sincere desire to share things that are loved. To me, it's the rare recording that someone has uploaded (that has 612 hits) because they wanted others to hear it, or the lovingly created analysis of a Bach fugue that someone has laboured over that make YouTube so special and wonderful, such a beacon of hope in an increasingly hopeless world.
And that's why the question of copyright has so little relevance in the world of YouTube sharing. It's a topic for another time, but copyright and music are, or should be, mortal enemies. That's because the essence of music is to be shared – the very nature of its production, waves freely transmitted through the natural air, proclaims that truth. Music is about connecting people, and copyright is about disconnecting them, denying people valued and valuable experiences through force of law. All you have to do is revel in the intense joy of a YouTube discovery to realize how irrelevant copyright is to your experience and the discussion about the economics of music in the 21st century. Yes, of course, musicians have to be paid, but the notion that you or I might be denied the deeply powerful experience of watching and listening to Kleiber conduct Beethoven 7 because some uploader doesn't have the rights to the material truly makes me recoil in disgust. Music was made to be heard. Anything that furthers that goal is divine; anything that hinders it is demonic.
And by that measure, YouTube is divine. Long may it, and the millions of its fans, and the sharing values we represent, prosper.
Robert Harris is a writer and broadcaster on music in all its forms. He is the former classical music critic of the Globe and Mail and the author of the Stratford Lectures and Song of a Nation: The Untold Story of O Canada.