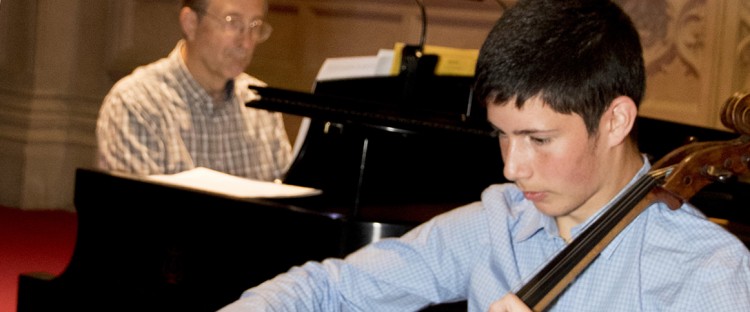 Tracing musical continuity in a music series is often a challenge, because of changes in personnel, location and assumptions. All the more reason therefore in 2017/18 to celebrate the 25th anniversary season of classical concerts presented by the Nine Sparrows Arts Foundation (NSAF) and its artistic director, Toronto composer, conductor and organist Eric Robertson.
Now named Lunchtime Chamber Music, the series currently takes place at Yorkminster Park Baptist Church (on Yonge St. north of St. Clair Ave.). Sometimes performers are advanced students, through formal linkages with the University of Toronto Faculty of Music and the Royal Conservatory Glenn Gould School; at other times they are musicians from Toronto and elsewhere, reaching out to new audiences. The admission-free, donations-welcome concerts take place Tuesdays between 12:10 and 1pm, September to June.
A personal note: I first learned of these events from a longtime attendee, my mother. Mary Knox's own musical involvement began in the late 1930s accompanying the North Toronto Collegiate choir, where for three years, young composer Godfrey Ridout came in as musical director for Gilbert and Sullivan operettas. Rehearsal duties were shared by Mary and singer/arranger/pianist Denny Vaughan, who later flourished during the early days of television in England and Hollywood. My mother's younger sister Alice was a violinist who once played with North Toronto Collegiate fellow student, composer and pianist Harry Somers.
A decade ago mom conveyed to me her enthusiasm about a series of organ recitals at St. Paul's Anglican Church on Bloor St., coordinated by organist-choirmaster Eric Robertson. In 2009 when Eric and the NSAF came to Christ Church Deer Park, they organized Lunchtime Chamber Music (and I promptly joined the church choir). Eric and NSAF moved to Yorkminster Park in 2014 where they present these chamber music recitals under the auspices of the Nine Sparrows Arts Foundation and Yorkminster's Open Doors Ministry.
That this latest move was right across the street was no accident. North of Bloor St., a transition begins between Toronto's concert-rich downtown and a more understated classical "musical ecology." Classical music lovers sometimes overlook church concerts. Yorkminster Park is one of a number of "churches on the hill" in the area; Calvin Presbyterian is a popular venue for presenters and ensembles. Christ Church Deer Park, and further west, Grace Church on-the-Hill and Timothy Eaton United, collaborate regularly on choral concerts, present series of their own, and make their premises available. Seniors, local residents, and others further afield attend the Lunchtime Chamber Music series at Yorkminster Park. Many older people find the noon-hour neighbourhood option more attractive than night time downtown.
The Lunchtime Chamber Music series reaches out widely for its performers as well as its audiences: the Glenn Gould School actively organizes students' community performances, while at the University of Toronto Faculty of Music, students are encouraged to perform off-site several times a year. LCM's "Rising Stars Recitals" help fill a real need, offering advanced students from the University and Glenn Gould School the opportunity to do trial runs of graduation recitals or other major performances. Yorkminster Park supports the program by providing free use of a space with superb acoustics and a Steinway piano. As Nine Sparrows president Colleen Burns recalls, "There was a time when I was a vocal student that I needed opportunities to perform, but didn't always have the means to rent a hall."
Key to the series' ongoing appeal is its diversity. Among performers and programs I have heard in past seasons have been: violinist Sonia Sokolay, a master's student at New England Conservatory, who has appeared several times and is planning to bring her string quartet from Boston to play; The Hogtown Brass whose concert appearance was followed soon after by a CD reviewed in The WholeNote; and flutist Alan Pulker, The WholeNote's founding publisher, in intriguing unaccompanied works by C.P.E. Bach and Telemann.
The 2017/18 anniversary series is off to a flying start. It began September 12 with a concert featuring Norman Reintamm, piano, and father-and-son cellists Oleg and Alik Volkov, in a program of the four movements of Brahms' Piano Sonata No. 1 in C Major, Op.1 interlaced with three cello and piano works. A pianist, organist, conductor and mentor, Reintamm says the seldom-programmed Brahms "was a personal challenge" and for this listener he rose to that challenge. Of Lunchtime Chamber Music, he comments: "I think it's what young professionals need, non-pressure-cooker music making. Eric and Colleen give a warm welcome that puts people at ease. For Alik (Volkov), performing with an older professional lets him gain from the other's experience. With Oleg, you get to learn from someone who was a student of Rostropovich, who played in the Bolshoi and other orchestras."
The elder Volkov, Oleg, contributed an elegant Tchaikovsky Nocturne to the concert, and Grade 10 high school student Alik's secure technique and classical style showed to advantage in Locatelli's Sonata in D Major. Nor was he fazed by passages of harmonics, double stops and high register acrobatics, or by treacherous cadenzas in Tchaikovsky's concert piece Pezzo Capriccioso. Says Alik: "Having performed frequently elsewhere I like how this feels personal, like I'm at home. Also, I have played with Norman many times, and we are planning a tour of Barbados in August, 2018."
Robertson adds, "It's important to mix young performers with older audiences; that was one of the reasons for starting the series, so that their musical education is not all divided up according to age group." As an audience member at the series, I personally relish the easygoing conversation after the music has ended. Audience members have stories and experiences to share with the young musicians and new contacts are made.
All over the city it is the presence of education, performances, connections in the community and links over the generations that provide the continuity and momentum that eventually make the outstanding performances and recordings highlighted in The WholeNote possible.