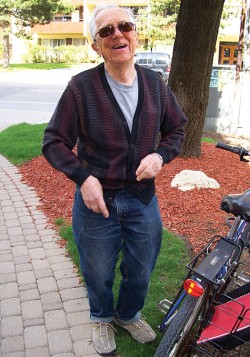 ON SEPTEMBER 19 an enthusiastic crowd gathered in Walter Hall at the University of Toronto for a concert of music by John Beckwith. The setting was appropriate, since Beckwith had spent most of his long career teaching at the university's Faculty of Music. Before the music got under way, Beckwith sat on stage with New Music Concerts artistic director Robert Aitken to talk about the programme. Aitken, a flutist and composer who had studied with Beckwith, like so many prominent figures in Canadian music, told Beckwith, "I have always looked up to you."
Aitken recalled how Beckwith had arrived at one of the first concerts ever put on by New Music Concerts 40 years ago. A snowstorm prevented most people from coming. But Beckwith, with characteristic élan, arrived on cross-country skis.
Now 83 years old, Beckwith was being celebrated not just for his huge body of compositions, or even for the many books he had written and edited, or, for that matter, his lively journalism. It was his unconditional commitment to classical music, contemporary music, and above all, Canadian music that have put him in a class of his own. (Beckwith has a new book coming out by the end of the year honouring his own teacher, John Weinzweig.)
I spoke to Beckwith earlier in September, a few weeks before the concert, at his art-filled Victorian home in the heart of the Annex, a short walk from the university where he studied and taught for so many years, and where his partner, Kathleen McMorrow, is head librarian of the U. of T. Music Library. As I came in, I noticed the bicycle he still uses to get around the city sitting in the front hallway.