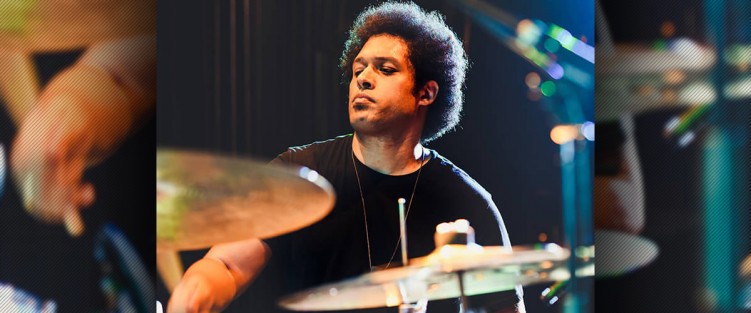 On Saturday, June 22, I attended drummer/producer/bandleader Makaya McCraven's concert at Adelaide Hall as part of the 2019 TD Toronto Jazz Festival. It was the sole festival show taking place at Adelaide Hall, also known as RADIO (it's listed as Adelaide Hall on the TJF brochure, as RADIO on Google Maps, and as both on the venue's website, although apparently the name was officially changed last year).
Conveniently, I was able to chat with TJF artistic director Josh Grossman, who happened to be standing near me in the audience before the show started. Grossman – who, it should be noted, was sipping a Mill Street beverage, an appropriately on-brand gesture given that the brewery is an official TJF sponsor – informed me that the show was originally meant for the Horseshoe Tavern, but, due to some logistical issues, had to be moved to an alternative venue. A few nights after the McCraven show, the Horseshoe hosted a double bill with Ghost-Note and Rinsethealgorithm; as all three groups play within a certain groove-based tradition, it's easy to see the spectral framework of a venue-specific series that didn't quite materialize. Despite the fact that it wasn't the festival's first choice for venue, Adelaide Hall has good sound, a relatively open layout with good sightlines, and an atmosphere that lent itself well to McCraven's music.
I first heard the Chicago-based McCraven relatively recently, on Marquis Hill's 2017 standards album The Way We Play; I remember being struck by McCraven's ability to play time with propulsive authority while still remaining open and communicative. (Listen to his brushwork on "My Foolish Heart" for evidence of this, as he brings intensity and weight to the arrangement's 3/4 groove.) It wasn't until I did a bit more research on him that I realized the extent of his creative output and the breadth of his artistic practice, which includes playing in more traditional jazz settings with artists such as Hill and guitarist Bobby Broom, performing DJ sets at Turntable Lab NYC, and playing with his own project for Boiler Room London.
It was a version of the latter band that played in Toronto. In addition to McCraven on drums, the ensemble included Greg Ward, saxophone; Matt Gold, guitar; Junius Paul, bass; and Greg Spero, keyboards. McCraven and co. played funky, groove-oriented material – music that, though deeply rooted in jazz, had strong elements of hip-hop, rock and other genres. With the exception of some crisply-delivered lyrics, sung by Paul on the Tony Williams composition "There Comes a Time," it was an instrumental show, with a setlist that seemed specifically organized to keep the energy high throughout the evening. All five band members have chops to spare, but it was in the intelligent, methodically-constructed arcs of tension and release that the group really shone, honouring the compositions by putting the emphasis on groove and group interplay rather than individual feats of musical athleticism. Not that there weren't thrilling solos (there were!), but the show's most rewarding moments had more to do with texture and groove.
The last official song of the show – before the encore – was the McCraven original "This Place, That Place," a jittery, high-energy piece that features syncopated sixteenth-note shots over an odd-metre vamp. McCraven soloed over the vamp near the end of the tune, and even then, in a moment in which an audience might expect a band-leading drummer to let the notes fly, he played a measured, thoughtful, patient solo that ultimately proved to be one of the highlights of the evening.
An exciting show overall, in an unexpected venue that functioned well as a Toronto Jazz Festival showcase space for beat-driven music.
The TD Toronto Jazz Festival presented Makaya McCraven on June 22, 2019, at Adelaide Hall, Toronto.
Colin Story is a jazz guitarist, writer and teacher based in Toronto. He can be reached through his website, on Instagram and on Twitter.