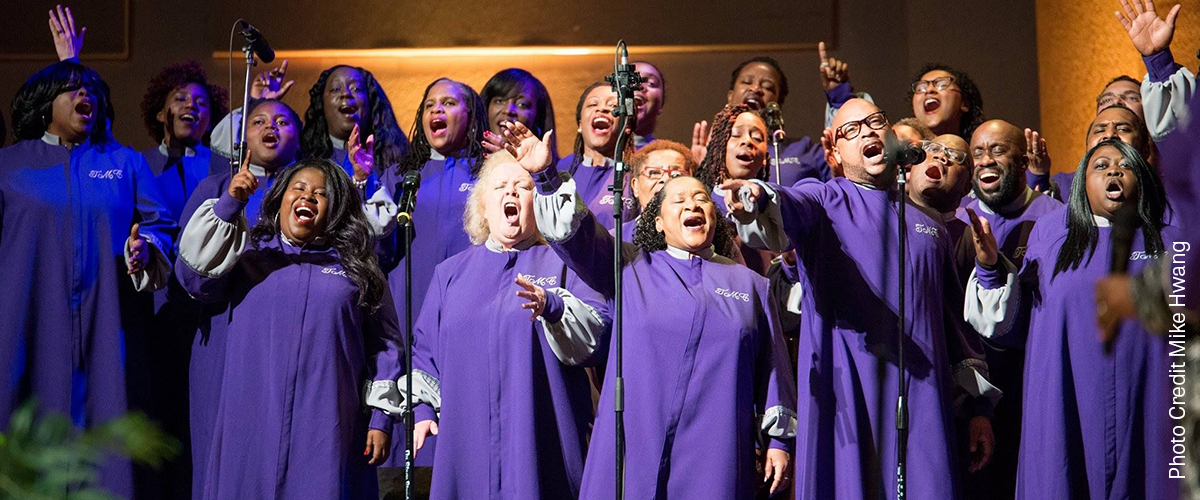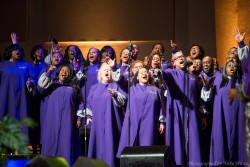 Humility is a beautiful Christian tradition. It's also an important one in choral music. Gospel music provides an unparallelled media for the connection of soloists, ensemble and audience. It is a balance of humility and important parts that come into equilibrium to make exciting, transformative, and healing music. Toronto has a robust gospel community and it is coalescing for one of the signature gospel music events of the year – Power Up!

Karen Burke is the director of the Juno award-winning Toronto Mass Choir, lead choral teacher for Power Up, and professor of music at York University. In a previous column last spring I featured Karen and the Toronto Mass Choir. She's all set for this year, "excited and hopeful" (her middle name).
The Toronto Mass Choir leads the workshop at York University, the gospel hub of post-secondary music programming in the GTA (largely due to Burke's dedication). Now in its 13th year, Power Up brings together 24 top musicians in the city in a variety of workshops. These include, "Conducting: The Art of Gesture" with Karen Burke; "Gospel Keys – Boot Camp" with Corey Butler; "Steelpan: the FUN-damentals" with Josette Leader; and "Vocal Troubleshooting: Targeting vocal issues and working to resolve them" with Dr. Melissa Davis, just to name a few.
Participants join a massed choir that performs on the final day. Younger participants can join in the Youth Choir. Burke helms the choirs which was over 200 singers in size last year. The Toronto Mass Choir doesn't deny its religious messaging, it's the core of their work – "To create and perform Gospel music that will draw all people into the awesome presence of God." Humility also means placing oneself in faith before something greater and more eternal than even we can comprehend.
A choir of soloists does not make for a good ensemble. A choir of humble singers joining together makes a good ensemble. To be a lead singer is not to sing over all the other voices, but to be uplifted by the group to do something different. It is acknowledging that each part is equally as important as yours. The melding of ensemble and soloist is so prevalent in gospel music. It is empowering and supportive for both the soloist and ensemble in a way that helps support and enhance their work. Gospel manages to find a unique balance of the soloist and ensemble.
Gospel music is accessible, unlike many classical choral genres. There are melodies of hope and majesty wrapped in messages of the bible and Christian teachings. Gospel music repeats frequently in text and melody, it includes contemporary instrumentation, it is commonplace on the radio, it blurs genres and disciplines, and it is always high ntensity and exciting. Gospel music is also not just about the performers, its high energy is meant to involve audiences, to inspire faith in others, and to have them holler, sing, chant, scream and make sounds of joy in reaction.
Moreover, gospel music has always been an act of resistance and of forging relationships. "Gospel music is all about making music in community," says Burke. "If we ever needed unique and dynamic ways to be intentional about 'making community,' you can't find a better medium than gospel music. Think about it. Spirituals, which are the root of today's contemporary gospel music/choirs, were the survival tool created by slaves who found themselves in a strange land thrown together with people from various tribes." The relevance in a city as diverse as ours, with its own history of slavery, is especially powerful. She continues: "They shared no common language and individually felt disenfranchised, anonymous and frustrated (to say the least). They worked long hours in a hostile environment and even though they were with people everyday, they felt alone. This is also a general description of what many people, even in our enlightened society, experience everyday."
There are four other things Karen Burke wants us to know about gospel music in Toronto.
Gospel music has a long heritage not just in the U.S. but in Canada and like our neighbours to the south, the influence of gospel music is heard every day in the music we enjoy on the radio.
Gospel music is very popular around the world including hot spots such as Korea (Heritage Gospel Choir) and Poland (Gospel Joy) and various other countries.
The gospel music community is alive and well in Toronto and, like jazz music, holds within it many award-winning recording artists, a loyal fan base and an active concert scene.
Gospel music is fun to learn and sing together and the fastest way that she know to make a room full of people into a family!
Burke says, "Ask anyone who has ever had the experience of singing in a gospel choir how they feel at the end of the day. It is a transformative experience."
The 13th annual Power Up Gospel Music Workshop at York University runs February 23 to 25 with a finale concert on February 26 at Global Kingdom Ministries, Scarborough.