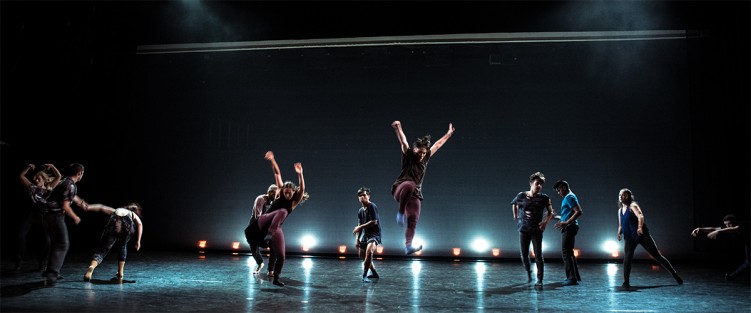 Friday, September 27 was the day Canada rose to join the Global Climate Strike, with hundreds of thousands of people taking part in climate marches in cities across the country. Those marches, inspired in part by 16-year-old Swedish activist Greta Thunberg, were largely led by young people, though those of all ages participated.
This rise of the young in anger against the darker destructive forces of society was also captured by choreographer Hanna Kiel and her company Human Body Expression (HBE), in the recent world premiere of her dance work Resonance. Opening on Thursday, September 26—the day before the climate marches—Resonance was inspired by a recent South Korean political movement: the impeachment of now former president Park Geun-Hye in 2016.
Set to an excellent collaborative rock score with a strangely fitting 80s character by Dora-nominated composer Greg Harrison, Kiel's choreography has an idiosyncratic yet completely contemporary feel to it, seeming to be tailored to, and inspired by, the varying body types, physical styles, and personalities of Kiel's dynamic company of 12 young professional dancers.
The first part of Resonance begins with a tortured solo by a single male dancer. As other dancers emerge onstage, we see a society filled by individuals trapped in isolated torment, although in a crowd. They respond separately to stimuli, not working or thinking together, but seemingly kept impotent by some controlling power – perhaps symbolized by the guitarist at centre stage, his sounds sparking angular reactive movement from the dancers around him.
Out of this physical disharmony slips a girl dressed all in black. "Can we learn to forgive what we cannot forget?" she says. "My body has been infected, infected with future from unknown answer (...) it is hunting my present so we are looking back as moving forward (...) and then it starts. Knocking at your chest, there's a pulse, a desire ... A desire to be rid of the storm. A pulse craving to be free."
Another dancer joins in and the words interweave in a doubly spoken articulation of a society at odds with itself, a young generation looking for a way to make sense of the world they live in and to find some agency within it. "Each disconnected fragment lends a hand to the greatest transformation…"
Particularly powerful in the midst of this world of rock-fuelled movement, these spoken thoughts (written as well as spoken by the dancers performing them: Zsakira Del Coro and Roberto Soria) seem to lead to an evolution in the physical world we are watching. This in turn is echoed by a morphing of the music to acoustic from electric (a small foot-powered organ is walked out onstage and joined by an acoustic guitar on the dance floor). A further evolution is sparked by the eerie sound of a single whirly tube (those plastic corrugated tubes that children play with), creating a wave of soft, whistling sound, as more whirly tubes are wielded by musicians and dancers together. A magical shift follows: this sound morphs into a strange singing created by the company all playing on silver disks with violin bows, as the choreography equally softens and melds newly awakened individuals into a cohesive communicating group.
After a musical interval, the final section begins with a single male figure, dramatically back lit, playing a drum, literally calling his forces to battle. This, apart from the actual spoken text, was the most literal part of the piece, and welcome as a clear "call to arms" – not only onstage but shared with the audience as well. Swiftly the choreography builds to a powerful, hopeful finish, as this group of individuals find strength in shared purpose and find themselves ready to make a difference in their world.
I had not seen Hanna Kiel's choreography before, but was captivated by her idiosyncratic physical style, and her passionate commitment to her dancers and to creating dance that connects to our contemporary world.
Human Body Expression (HBE) presented Resonance, with choreography by Hanna Kiel and music by Greg Harrison, from September 26 to 28 at Sts Cyril & Methody Church, Toronto.
Jennifer Parr is a Toronto-based director, dramaturge, fight director, and acting coach, brought up from a young age on a rich mix of musicals, Shakespeare, and new Canadian plays.