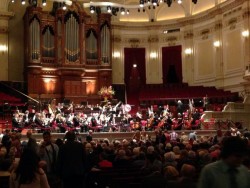 How do you get to Carnegie Hall? Practise. How do you get a reputation? Tour and record.
Although the Toronto Symphony Orchestra has done all three, it is 14 years since Toronto's finest last set foot (a couple hundred feet actually) on the European continent, which makes them near strangers on their current five-nation tour.

The five-nation tour is actually only a five-city tour. It began near Vienna (the outdoor Grafenegg Festival outside the Austrian capital), continued in Amsterdam and Wiesbaden, currently finds the players in Helsinki; it will conclude in Reykjavik.

Not exactly a Napoleonic campaign, you may argue, but then, the days of the three-week multi-stop grand tour are virtually over, according to a representative of Harrison Parrot, the English agency responsible for managing this and many other orchestral visitations.