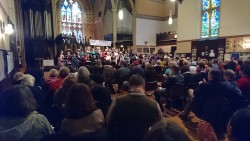 The Church of the Holy Trinity is a gem of the Anglican tradition in Toronto, steeped in history and activism. There are few barriers in the open space, and art and displays clearly stating "this is a place of social justice and a place of God" – open and welcoming at the same time. As their April 30 concert at the Church of the Holy Trinity demonstrated, Echo Women's Choir is much the same way: an open and welcoming ensemble that proves that music is a surefire way to not only build community, but also to leave it changed.
This is not going to be a typical concert report, because something along the lines of what Echo brings cannot easily be summed up by just performance alone. There's a history and a story in the faces of the choir; these are activists, community changers, and beacons of a world we wish to see. Under the leadership of Becca Whitla and Alan Gasser, the ensemble has access to folk, historical, and contemporary music arranged just for Echo. The choir was also joined by Juno-nominated Annabelle Chvostek as artist-in-residence, and for this performance, by musical satirist Nancy White and her daughter Suzy Wilde. There's a community at play here – bringing people together, sharing music, and being political.
It is often said that privilege allows one to be apathetic, to disregard the plight of others and to not be involved in politics. In this concert, Echo Women's Choir is anything but apathetic. First they excel in the old North American church hymns adapted by Gasser and other arrangers. The singers get the right drawl and swoops for the effect of this early church music. The spread vowels with a slight nasal resonance are perfect for the music. Some choristers provide additional passages to a Timothy Swan tune, Poland. All of this sets up the audience for songs telling stories of environmental degradation and mining. There are also two gems of Georgian tradition, providing some amazing minor chords and intervals well-executed by Echo.
Nancy White and Suzy Wilde provide a fun two-song set: Big Fish, a commentary on Starbucks and Walmart and on Canada being the "little fish" to the US; and the incredibly charming Les Belles Belles Fesses, a French and English story of a man with a gorgeous butt.
Chvostek then conducts the choir in her arrangement of her song Firewalker. She describes it as "a song for intense times…[inspired by a] dream of being in a warzone with people I love." It's evocative and scary, very much telling the story of Syrian refugees seeking safety around the world today. It is a story of drones, robots and flames. The blend of folk music into choral arrangements is one of Echo's strengths, and Chvostek is a real pleasure to see in action.
And then we come to the final song of the concert – and it is the most powerful by far. MILCK's Quiet has become a bit of a firebrand amongst singing ensembles, having come to prominence at the Women's March on Washington in January 2017 and part of a campaign called #ICANTKEEPQUIET. Choir! Choir! Choir! brought MILCK to Toronto, where the work was learned and performed at the Phoenix Concert Hall in February. Echo has sung this work now at City Hall and for the Lieutenant Governor of Ontario. As they don their Pussy Hats and gear up, they start singing and you can't help but be changed.
Near the start, "Shut up and smile, don't spread your legs," I'm already covered in goosebumps. With "if I don't say something, if I just lie still" I'm emotional, thinking about all the people for whom this is their story. By "I can't keep quiet, for anyone, not anyone," the song becomes personal. With Chvostek at the front of the choir, leading the insistency and power of the song, the singers are louder, righteous indignation flowing, a declaration and celebration: "There'll be someone who understands, let it out, let it out now!" With clapping and stomping from the audience, they roar: "No! I won't keep quiet." And they shouldn't. Even after 25 years. They should never keep quiet and neither should we.
Echo Women's Choir, with special guests Nancy White, Suzy Wilde and Annabelle Chvostek, performed "We Can't Keep Quiet!" on Sunday April 30 at 3pm, at the Church of the Holy Trinity, Toronto.
Follow Brian on Twitter @bfchang Send info/media/tips to choralscene@thewholenote.com.