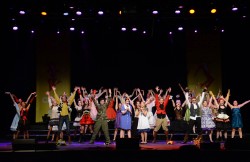 You don't know what you're missing if you've never seen the Show Choir Canada competition. It's every bit as intense and crazy as you imagine, and more – but also mostly just plain fun. This marks the seventh year that producers George Randolph (Founder of the Randolph Academy for the Performing Arts [RAPA] in Toronto) and Peter Dacosta (of Dacosta Talent) have been hosting Canadian and international show choirs in competition. There's a friendly air and a spirit of collegiality, but make no mistake: the competition is real.
Each performance is about 20 minutes long. No one performs any one song or any one style. Music theatre, pop, rock, soundtrack...anything really, if the choir can make it work. The songs blend together, sometimes more gracefully than others, sometimes a hard stop and a new scene begins. Fame, a show choir from Woodbridge, does a set of Beatles songs including "Sgt. Pepper's Lonely Hearts Club Band," "All You Need is Love," and "Help." Each song is a distinct new scene. Throw in dancing, acting, staging and lighting and these are little mini shows, made up of skits all focused around music.
Hours of group rehearsal, dance classes, acting workshops, singing lessons and personal rehearsal time are behind every show choir. Participants love it. Sophie Koren, from St. George's "G Major" show choir from Montreal, QC, says, "I joined when I was in grade 7; this is my fifth year. There are only a few of us that have been doing that this long." G Major are the defending champions, having taken the grand trophy in 2016. But everyone is wary of the American group this year.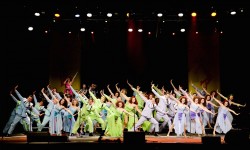 Totino-Grace High School "Company of Singers" is leading off the evening performances. From Fridley, Minnesota, the Americans are bringing a much longer history and institutionalization of show choirs to the competition. From the minute they start, you can see what that means. Their performance was called "Ready Set Go," featuring "Shut up and Drive" by Rihanna, "For Good" from Wicked, "Change in Me" from Beauty and the Beast, and several other songs. Dazzling costumes, a company of almost 50, a full band in regalia, and artistic staff backing it all up. There's a lot of money behind this ensemble and it's obvious compared to the others.
"Show Choirs are big business in the States," shares Randolph. "However, with our competition, we have judges from the US as well. What they like about our competition is that it isn't just about extravagant sets…it's stripped down to a more pure state. Show choir is about the voice. Bottom line. It's about the vocals." A recurring theme in the commentary from the judges is too much unison singing. There are songs being sung in too low a key, major triads being built on top of minor keys, and a mismatch between music and style that affects the overall performance. And unfortunately, just a lack of male voices in harmonies, even amongst the co-ed groups.
After each choir the judges provide feedback. Three judges, Linda Southard of Chicago, Kevin Chase of Iowa City, and Jeannie Wyse of Toronto, lead the evaluations. Steve Lehmann judges the live bands where applicable. The evaluations are affirming and fair, looking to improve rather than admonish. It's tough to get feedback on the spot like that. But these performing artists are anything but ordinary.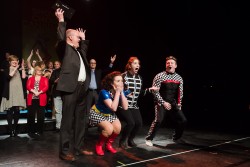 Everyone is bringing their A-game as best as they can. Koren, of G Major, speaks more about being a defending champion. "Returning to defend is a different feeling," she says. "But last year, being overall grand champions was wow! [This year] we had to kick ourselves in the butts. We need to stay strong. Our director even said to us, winning the first time is not the hard part. Winning the second time in a row is the hard part." But she feels confident. "It's a struggle, but we did our best. Our absolute best. We fully left everything on the stage. We'll see what happens." G Major ultimately wins second place, the first place prize going to Totino-Grace.
Randolph shares the story of the success that he hopes the competition continues to foster. He mentions Jahlen Barnes, currently part of the Shaw Festival and signed talent with DaCosta. "This, giving someone the opportunity…for Jahlen, getting into a show choir, getting a full scholarship to RAPA, signs to Dacosta, and now, he's singing for Stephen Schwartz at the Panasonic." This is the dream.
It's a dream that many others are aspiring to. Carter Djam, from Totino-Grace, tells me about getting into show choir. "I play basketball, football, and track – all about sports," he explains. "But one of my friends kept asking until I finally had to say yes. I fell in love with it at that point. This is my life now. I want to go to school for performing. My life has changed around the subject." You can see him onstage, acting on point, dancing with all the right energy. He's still got many years of show choir competitions ahead of him, years more of performing arts.
For Randolph, "It's about sharing in the creative process, meeting new friends, new relationships...what the students directly benefit from is more self-esteem, confidence. It's very self-empowering. Because they have found a place that can identify with and have a voice, and be understood."
The 2017 Show Choir Canada competition took place on April 7-8, 2017 at the Queen Elizabeth Theatre, Toronto.
Full 2017 Grand Competition Results available online:
http://www.showchoircanada.com/championships/results
Full 2017 Junior-Mid Level Competition Results available online:
http://www.showchoircanada.com/jr-mid/results
Non-Arts Large Ensemble
GRAND CHAMPIONS – Totino-Grace, "Company of Singers" (Best Vocals, Best Choreo, Best Combo)
2nd Place – St. George's of Montreal, "G-Major" (Best Show Design)
3rd Place – Beaconsfield CHS, "BHS Crescendo"
4th Place – Richmond Hill HS, "Vocal Fusion"
Arts/Community Division
1st Place – Milton Show Choir "Gleam" (Best Vocals, Best Choreography, Best Show Design)
2nd Place – Unionville High School "Synergy"
3rd Place – Fame School of the Performing Arts
Non-Arts Small Ensemble
1st Place – Our Lady of Lourdes, "The Pitches" (Best Choreo, Best Show Design)
2nd Place – All Saints CHS, "Flash" (Best Vocals)
3rd Place – J. Clarke Richardson, "Vocal Thunder"
4th Place – Michael Power/St. Josephs, "Power House"
5th Place – York Mills, "Cheat Notes"
6th Place – St. Francis, "Sound FX"
Individual Awards
Top Vocalist : Brendan from All Saints CHS
Top Dancer: Emily from Unionville HS
Top Male Triple Threat: Ryan from St. George's
Top Female Triple Threat: Mojo from J Clarke Richardson
Follow Brian on Twitter @bfchang. Send info/media/tips to choralscene@thewholenote.com.