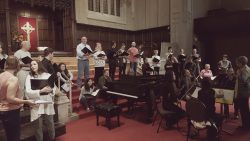 Toronto is a definitive choral city. With choral music of diverse shapes and sizes across the region, there is a strong appreciation for voices joined together. Every so often a great gem of a performance comes along and proves this – and the Luminous Night Festival Gala Concert was one of those.
Yorkminster Park Baptist Church is one of the busiest churches for music in the city. Several choirs call it home and two, the Orpheus and Church choir, joined together for the third edition of their Choral Encounters initiative (this year titled the Luminous Night Festival). Born out of the work of several conductors in the GTA region, the idea is to bring together academy, community, and church around a living composer. In 2013, the inaugural year, that composer was Alice Parker. In 2014 it was Morten Lauridsen. This year we had the great pleasure of experiencing Ola Gjeilo.
A Norwegian composer trained at Juilliard, Gjeilo has proven himself a world-loved composer. His accessible writing features beautiful, lush, thick sounds. His work is often set to Latin but includes English and poetry by Charles Anthony Silvestri. His compositions are evocative of ebbing and flowing, of movement like waves and water. The melodies are grand, warm and embracing, but as he says in his own words, "still intimate".
Rarely will one ever find such an exquisite collection of choral gems – both repertoire and ensembles – in one place. The Luminous Night gala concert featured the University of Toronto Faculty of Music's Women's Chamber Choir, Macmillan Singers and Exultate Chamber Singers under Hilary Apfelstadt; Resonance, the youth choir of the Mississauga Festival Choir, conducted by Bob Anderson; the Yorkminster Park Baptist Church Choir, conducted by William Maddox; and the Orpheus Choir, conducted by Bob Cooper.
Each ensemble showed skill and musicality that was pleasing not only because it was the work of Ola Gjeilo, but also because the diversity of voices provided a unique experience for listeners. The mature voices of the Yorkminster Park Baptist Church Choir were quite a contrast to the clear, bright, present sound of Exultate Chamber Singers. Each ensemble was pleasingly different in its own way.
Specific credit goes to Resonance, particularly their sopranos. Their interpretation of Serenity – my favourite of Gjeilo's pieces – was exquisite. Their balanced sound and understanding of the music flowed through the church. It was truly a dream to listen to these young voices make such beautiful music.
The University of Toronto ensembles were also at the top of their game, both balanced and present. Their artistry showed depth and an exquisite balance of sound, with the lower voices supporting very controlled soprano notes. Eunseong Cho was particularly spectacular on the piano for Tundra, providing a powerful interpretation to suit the dynamic Women's Chamber Choir.
Gjeilo's Sunrise Mass continues to be a popular and accessible choice for choirs. In this festival the massed power of the Orpheus Choir, Resonance, and the Yorkminster Park Baptist Church Choir joined with the Talisker Players under Bob Cooper. The Taliskers were musical accompaniment sent from heaven, with clear articulations and rhythmic energy that the choir was mostly consistent with. The double basses were especially useful in tuning the choir through some tricky intervals and dissonances. The ensemble's musicality – and its understanding of the flow of the music, with its undulating string accompaniment – energized the singers' beautiful, melodious lines.
I have sung in massed choirs a few times and the one plague of having so many singers in one place is a default legato. When there is so much sound and so many people the precision can suffer. This was slightly noticeable through the The City movement of the Sunrise Mass. Still, there is something incredibly humbling about being in the presence of about 200 singers. The only other comparable experience is a congregation singing hymns during liturgy. Both experiences can be overwhelmingly beautiful.
One other great opportunity with a concert like this is to see different conductors in action. Bob Cooper's energy comes from his elbows and shoulders, his expression generating from his upper carriage into the music. William Maddox presented his hands upwards, conducting as if in welcoming prayer. Bob Anderson conducted Resonance with palms down, stroking the sounds and energy out of his choir with detailed communication through quick movements and subdivided cues. And Hilary Apfelstadt – the only conductor to use a baton – executed her work with precision, strength and clarity. Hilary's clarity in conducting transferred right across the three different ensembles she conducted over the evening.
One can only wish that Choral Encounters grows with each year, and that we continue to have amazing choral experiences because of their hard work.
The Luminous Night Festival Gala Concert was on Saturday, October 15 at 7:30pm, at Yorkminster Park Baptist Church.
Follow Brian on Twitter @bfchang. Send info/media/tips to choralscene@thewholenote.com.