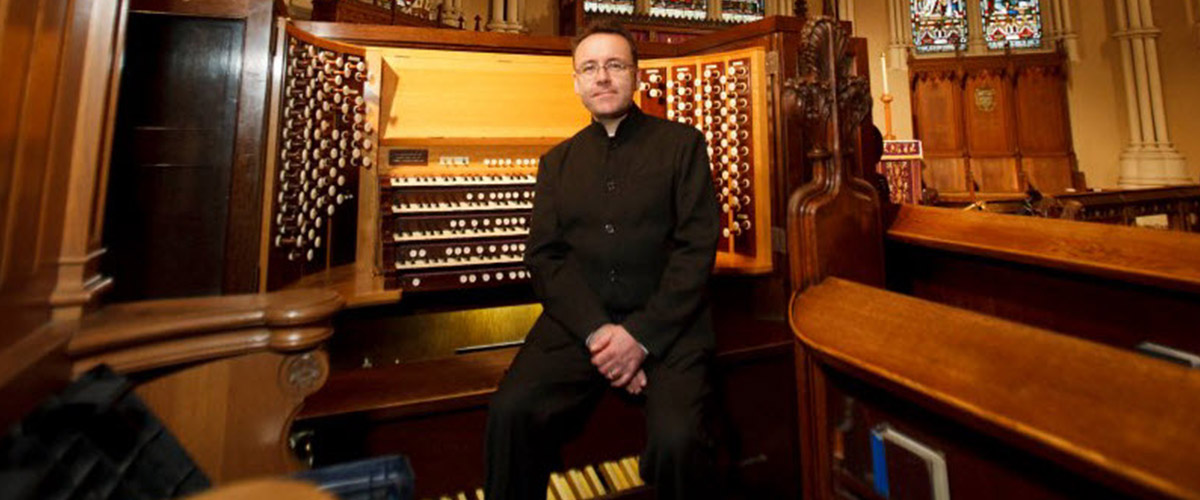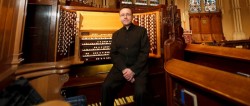 With his late-Romantic, bombastic sound, Mahler is a composer known for his ability to write for huge instrumental forces. He's also known for being uniquely able to build those forces up to key musical moments, shape a denouement that is never sudden, and allow a contemplation that washes over listeners in an often profound manner. But the Herculean efforts required for most Mahlerian symphonies have made it next to impossible to imagine an effective staging of the symphonies in intimate venues or anything less than a grand hall. What instrument and single player could possibly invoke and create the effect of a massive orchestra?
Well, the largest instrument of them all – the organ.
David Briggs is an internationally-recognized and celebrated organist who currently serves as artist-in-residence at St. James Cathedral in Toronto. A project of his has been working through transcriptions of the Mahler symphonies and other Mahler works. His most recent transcription, of Mahler's Symphony No. 2 "The Resurrection", was commissioned by the Cathedral Church of St. John the Divine, New York City, in honour of the late Dr. John Prior. Briggs has already completed transcriptions of symphonies 3, 4, 5, 6, and 8; however, he is quick to point out that these are not "reductions" of the work but instead, transcriptions or translations of the work from their original into a new format. Nothing is lost. "Reduction implies a diminution," he says. "I don't see it as a diminution at all. It's a translation, not a reduction."
There is a great deal of thoughtfulness and effort that Briggs has put into this enterprise. The Mahler 2nd transcription took him nine months. He copied out each and every single bar while making his artistic choices. "Every bar, you have to make important decisions." he shares. "What can be left to allusion? What really is essential? Some things have to be left to implication because two hands can't necessarily do ten things at once. We can get the density on the organ but we can't necessarily have more than three or four things going on at the same time."
The Canadian premiere of this transcription, at St. John the Evangelist in Elora, was part of the Elora Winter Festival in 2015. "The fact that you're able to do Mahler 2 now in somewhere like Elora – you could never fit an orchestra in that church. But we presented the transcription and was very successful," says Briggs. This flexibility is exciting to think about. Where in Elora the choir was about 25 singers, the recording in Blackburn Cathedral, UK was 140 singers strong. Briggs is hopeful this transcription will lead to more performances of the work in new, formerly-inaccessible venues.
The music itself is remarkable and incredibly pleasing to listen to. For Briggs, "it's really like looking at [Mahler], right in the eyes. There's no mask, there's no façade. This music has every emotion, from the most radiant music, glorious music, totally uplifting. Perhaps more uplifting than anything else he ever wrote." Briggs also shares that in an interview, Sir Simon Rattle once said that hearing Mahler's 2nd at age 14 was what made him decide he wanted to be a conductor.
Briggs is not surprised by the power of the symphony, nor the power of an organ to convey the music. "It's extremely thrilling played on a great pipe organ. An organ, like we have at St. James, has a breadth and a tonal palette that maybe even has more breadth than an orchestra. And the ending is just overwhelming…There are over 5000 pipes and 150 different stops. There's a lot to choose from in keeping the colour visceral and exciting all the time. You should leave an organ concert the same as when you leave the TSO. You should be different when you leave. Enriched and moved."
Briggs will present his organ transcription of Mahler's Symphony 2 "The Resurrection" at St. James Cathedral, this Wednesday, April 19. Joining him will be the St. James Cathedral Choir under the direction of Robert Busiakiewicz, with soprano Julia Morson and mezzo-soprano Christina Stelmacovich. "The text describes the human experience," Stelmacovich shares. "We are all vulnerable, flawed and seeking respite from the pains of life. As much as the music is riddled with angst, there is an equal amount of comfort and joy…Mahler has captured this sentiment so brilliantly through his word painting." She has the challenging role of introducing the start of the vocal lines in the fourth movement. "The challenge of this is that after riding this incredible emotional rollercoaster, the mezzo's aria 'Urlicht' (Primal Light) has to seemingly come out of nowhere, singing the first three words 'O Röschen roth!' (O rosebud red!) a cappella and in a different key." The effect of her voice, which David Briggs calls "chocolatey [the real-British-Cadbury-kind], rich, coloured, beautifully interpreted," emerges and invites listeners on a journey that lasts another 40 minutes, including the most tumultuous and thick orchestrations of the fifth and final movement.
Briggs and Stelmacovich both relish in the endless discoveries of Mahler. "No matter how often I listen to or perform this symphony, I discover something new and invigorating each time," says Stelmacovich.
Briggs feels the same. "The more I get to know it, it never seems long to me. It never seems, in any sense, [to have] overstayed its welcome. There's always lots of new stuff, around the corner. That's the thing about Mahler, he's so skilled at leading listeners forward."
Everything should align for a most uplifting performance.
"Gustav Mahler: Symphony No. 2 'The Resurrection,'" transcribed by David Briggs, is performed by David Briggs (organ), the St. James Cathedral Choir, Robert Busiakiewicz (conductor), Julia Morson (soprano), and Christina Stelmacovich (mezzo-soprano) on Wednesday, April 19, 2017, 7:30pm, at St. James Cathedral, Toronto. The performance coincides with the release of a recording under the Chestnut Music label. Following Wednesday's performance, the next Briggs Mahler transcription premiere will be Symphony No. 4, Tuesday June 13, 1pm at St. James Cathedral with Julia Morson (soprano).
Follow Brian on Twitter @bfchang. Send info/media/tips to choralscene@thewholenote.com.