In recent columns we have been following the progress of a few startup community ensembles in this part of the world. In particular, we have been reporting on the progress of a few beginners groups. Without exception, the ones we have visited are flourishing, and at least two new such groups are in the planning stages. But what of the startups we reported on a few years ago? We arbitrarily chose three years as a reasonable time for a new group to either coalesce or cease operations. The Milton Concert Band and the Silverthorn Symphonic Winds fell into that category.
The brainchild of two members of the Etobicoke band who had moved to Milton, The Milton Concert Band is prospering with an experienced permanent conductor, a regular rehearsal home and an impressive performance schedule for a band that was just an idea in the minds of two members three years previously. The thorough step by step process followed by Cheryl Ciccarelli and Angela Rozario in their planning could well act as a textbook model for anyone contemplating the organization of a new musical ensemble in their community.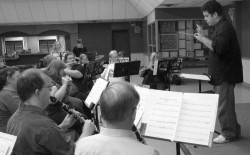 Once settled into Milton, a rapidly growing town with an active arts community, they decided to put a call out to see if there were any other amateur musicians in the area interested in performing together. First they did their research. They talked to people with other bands and looked at the Constitutions and By-Laws of several other groups. They lined up a potential conductor in the person of Joseph M. Resendes, an experienced instrumentalist, conductor and Ph.D. candidate in music at York University. Finally they contacted the Mayor, local councillors and anyone else they could think of to enlist their help and support. These included local music teachers, Arts Milton, and other community groups. When they felt that they were ready, they contacted the local paper and managed to get an article printed. Soon they had 20 musicians willing to join and they were scrambling for a place to rehearse.
Their first rehearsal took place in February 2007, squeezed into a small meeting room at a local hockey arena. By June 2007 four performances had been lined up. Fittingly, the first performance was for Milton's 150th Anniversary Street Party. This was quickly followed by performances at the local hospital's Strawberry Fair and a meeting of Arts Milton. By July 2007, they had hosted their first free concert in the park before taking a break for the summer. September 2007 marked the start of the band's first full season. Interest in the band continued to grow and they moved to a new permanent home at the Lion's Club Hall in Milton Memorial Arena, with plenty of space to accommodate more musicians. It was a season of firsts.
Since then the group has grown to 45 members and now hosts 8 to 10 public performances a year. Under the tutelage of Music Director Resendes, in the short span of three years the band has grown artistically and is now a vital arts organization in the community. Equally importantly, the members have become a family who support each other and have the confidence to tackle new musical challenges. They are very excited about the possibility of making use of the new Milton Art Centre next season and the opportunities that may provide.
In January of this year the band played the first of a proposed series of concerts for Deaf/Blind Ontario at the Bob Rumble Centre in Milton. This innovative performance was designed to allow people with varying degrees of hearing and/or vision loss to experience music in an "up close and personal" setting. The centre's clients will hold balloons to amplify the vibrations of the instruments and will be invited to interpret the experience through an art project. Both the band and the clients are very excited about this opportunity. We look forward to hearing more about this initiative.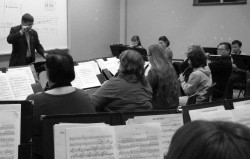 The Silverthorn Symphonic Winds (SSW) was established in September 2006 by a group of local musicians who wanted an opportunity to perform more challenging music. Composed of advanced amateurs and semi-professional musicians, the group is conducted by Andrew Chung, a graduate of the University of Toronto as well as universities in Hong Kong and Freiburg Germany. Andrew also serves as Music Director of The Brass Conspiracy and the Chinese Canadian Choir of Toronto.
Thanks to a three year grant from The Ontario Trillium Foundation, the SSW have embarked on an Artist in Residence program and are expanding their activities in York Region. The Artist in Residence for the 2010/2011 season will be clarinetist Peter Stoll, a member of the Talisker Players, principal clarinet of the Toronto Philharmonia Orchestra and a member of the Faculty of Music, University of Toronto. As artist in residence he will be the featured soloist and host at two concerts in the Richmond Hill Centre. In addition to their concerts, the SSW will feature free public master classes for both adult and high school aged clarinetists. Throughout the season Stoll will assist in six SSW rehearsals where he will coach the woodwinds and offer advice to the ensemble as a whole.
IN RECENT YEARS I have developed an interest in how musicians that I meet settled on their chosen instruments. When I meet a musician, amateur or professional, for the first time, I ask "did you choose the tuba (or whatever instrument they play) or did the tuba choose you?" Such answers as "it was all that was left when I started music in grade nine" or "the teacher gave it to me as the best for me" are common. However, among tuba players, a more common answer is "I always wanted to play tuba" or "we were made for each other."
I have had the pleasure of following the development of three young tuba players who fall into that "made for each other" category. Some years ago, as a grade ten student, Courtney Lambert arrived at the Newmarket band with the determination to be a professional tubist. Now, some years later, with a masters degree in music, she is busy performing professionally and teaching. At the other end of the time spectrum, Caitlin Jodoin was determined to play tuba in grade eight. Now in grade eleven and headed for France for a stint as an exchange student, she's not taking her tuba with her. She's renting one while there. In the centre of that triumvirate I first met Eric Probst as a grade eleven student. He is now in his final year in the Faculty of Music at the University of Toronto and has won the
U of T Wind Ensemble Concerto Competition. He will be performing the Gregson Tuba Concerto with the U of T Wind Symphony on February 11 at 7:30pm in the MacMillan Theatre. I certainly intend to be in the audience.
I think it is no accident that all three of these young musicians honed their skills under the tutelage of Anita McAllister and the Hannaford Youth Band organization.
Definition Department
This month's lesser known musical term is: Fiddler Crabs: Grumpy string players. We invite submissions from readers. Let's hear your daffynitions
And this just in: It has become common practice for community bands to program a concert around a particular theme. Now, The City of Brampton Concert Band goes one better. Their concluding concert for this season is titled "The Good, The Bad and the Ugly: A Tribute to the Music of the West." The program will highlight familiar music from the movies such as "The Magnificent Seven" and "Hang 'em High,"compositions that reflect on the majestic and varied natural beauty of the region including "The Yellowstone Suite," and other music inspired by native lullabies, dances and culture. The innovative twist is a throughline narrative, with local actor Scott Lale telling tales of the many personalities that gave the wild west its iconic imagery, and with local dancers as well as performers on such instruments as banjo, guitar and harmonica woven in. It all happens at 8pm on Saturday February 26, 2011 at the Rose Theatre in Brampton.
Please write to us: bandstand@thewholenote.com.