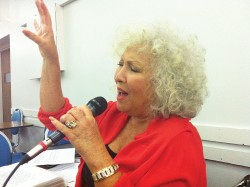 Were jazz baseball, vocalist June Garber would be an all-star slugger. Vocally she's got chops aplenty, but what keeps the bandleaders calling and the audiences hollering is more than just her voice. It's a smile that can melt melancholy, and sincerity that makes every lyric sparkle. Born in South Africa and a Torontonian since 1975, her rich and varied performance career has taken the singer/actress across the globe. Since 2004, she has been focused on jazz, starting off with Bill King's diva showcases and eventually singing with a handful of local big bands. Now the hot Floridian sun calls, permanently, as of July. Luckily for the sunshine state, she plans on singing for many years to come.
You sing with many big bands — is this very different from singing with a trio? Oh yes. It's a lot more structured. If you're working with a trio you can follow them or they can follow you. But with a big band you can't make a mistake. If you lose your way, you're gone! The horns will keep playing so you have to have a really good ear and know where you are.
You went for 15 years without singing or acting, returning to the stage in 2004. What prompted you to return to the stage? Well, I started going nuts (laughs). I was finding all sorts of creative outlets: gardening, cooking, and then painting  oils, acrylics, you name it. But it was never enough. The husband of the woman running a hospice I was volunteering for in Markham  played bass and she invited me to check out his band. And I got into jazz.
How did you work on being such a great entertainer? I think the generosity of spirit in which you wish to include people and make them feel at ease, that's the most important thing. And then the connection, I really look into people's eyes when I'm singing. I think I actually need to connect and get feedback, so that if there is warmth coming back, that's like heaven to me …
Studying theatre growing up and doing a lot of plays at university — and also when I came to Toronto I did a lot of theatre — you learn to inhabit and take ownership of your space.
What or who inspired you to become a singer? Thank you so much for asking that (wipes tear) … you can see me welling up. That's all I ever wanted to do is sing. When I was a kid, I would sing all the time. And I didn't know where this came from — it certainly wasn't at home. In fact, I was discouraged. It was not to happen. Every time I had a musical thing, unless it was attached to a school, it was not to happen. My father — my real father — was killed in a plane crash when I was three. My mother married the stepfather three months after he was killed. I was not allowed to even mention my father — never saw a photograph, nothing. I could never sing when my stepfather was alive. After he died, we were in dire financial straits. My mother said, when you finish school, you cannot sing, you have to do secretarial work or be a teacher. So I became a teacher. Years later when we came to Canada, and I had a website, we got an email from someone that said, "If you're June Garber, the daughter of Eric Garber, I want you to know that he was the best jazz drummer in South Africa." It was so painful to have all those years wasted … and I didn't even know that my father was such a fabulous musician. It's crazy ... but I do think I was born with it."
On May 6, June Garber will narrate and sing with the Kindred Spirits Orchestra at the Markham Theatre. Catch her while you can.
Ori Dagan is a Toronto-based jazz vocalist,voice actor and entertainment journalist. He canbe reached at jazz@thewholenote.com.