World music concerts this month launch with the culmination of the Toronto association Bharathi Kala Manram's 40th Annual Thyagaraja Music Festival at the SVBF Auditorium in Etobicoke. Thyagaraja (1767–1847) was a singer and prolific composer and remains among the most influential figures in the Carnatic (South Indian classical) music canon. On Sunday April 1 at 4pm, Thyagaraja's musical legacy is marked in a concert featuring the Indian vocalist P. Unnikrishnan, accompanied by Embar Kannan, violin and Anand Anathakrishnan, mridangam (hand drum). As well as being considered one of India's great composers, often compared to Beethoven, he dedicated his life to the devotion of the divine. Many South Indians thus consider him the patron saint of Carnatic music and his widespread diasporic legacy is celebrated every year in presentations of his songs.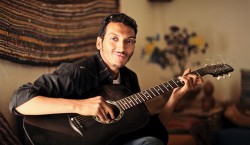 Our remarkably early and pleasant spring weather this year is certainly a cause for celebration of another, more secular kind. (The weather's distractions might also explain the fact that this next concert, by the Sarv Ensemble, as well as that of the Baarbad Ensemble on April 15, discussed below, came to my attention too late to convey to The WholeNote listings department.)
On April 5 the Sarv Ensemble presents a concert marking the arrival of spring and the Persian New Year at Trinity-St. Paul's Centre. Comprised of young musicians playing Persian instruments this ensemble was formed two years ago in Toronto. Its music draws inspiration from diverse classical and folk music traditions from across Iran, freely incorporating new compositions, yet striving to remain faithful to the tradition of the radif, the primary tonal organizational principle of Persian music. The eight-member Sarv Ensemble is joined by the York University ethnomusicologist Irene Markoff as vocalist and baglama player.
That same April 5 night, around the nose of Lake Ontario in St. Catharines, three top Canadian guitarists share the stage at the Centre for the Arts, Brock University. P.R.O. is pan-Mediterranean specialist Pavlo, Canadian Rock Hall of Famer Rik Emmett and multi JUNO Award winner Oscar Lopez. Each musician has carved out a career specializing in a particular guitar-centric niche mixing his passion for pan-Mediterranean, rock, Latin, "nouveau flamenco" and fusion music genres. Another passion — one they share with their many fans — is an abiding love for the six-string, fretted instrument they've built their careers on.
On April 12, Small World Music/Batuki Music Society present the trio called Bombino, whose music is billed as "blues from the Saharan desert" at Toronto's Lula Lounge. Born in 1980 at a nomadic camp near the North African desert town of Agadez, the guitarist and songwriter Omara "Bombino" Moctar grew up during an era of armed struggle for Tuareg independence. His electric guitar riffs, once considered a symbol of Tuareg rebellion, draw on the guitarism of fellow North Africans Tinariwen and Ali Farka Touré, as well as the American rock and blues of Jimi Hendrix and John Lee Hooker. Bombino, with his intense guitar virtuosity backed with driving drum kit and electric bass, is renowned throughout the Sahara. Not only are his bootleg tapes treasured and traded among fans in the region, but in recent years his guitar prowess has been increasingly noticed internationally. In 2006, Bombino recorded with the Rolling Stones' Keith Richards and Charlie Watts.
On the same day, April 12, at the Harcourt Memorial United Church in Guelph, and with no guitars in sight, the Guelph Youth Singers headline a concert titled "United for Africa." Joined by the Guelph Community Singers and Les Jeunes Chanteurs d'Acadie, the GYS program includes three African dances, the marching song Siyahamba, and songs from the traditional Acadian repertoire. The concert proceeds go to the Bracelet of Hope charity, providing medical care to HIV/AIDS patients in Africa.
The Irshad Khan World Ensemble performs on April 13 at the Living Arts Centre, Mississauga. Of impeccable North Indian musical lineage, Irshad Khan, a resident of Mississauga, is a formidable sitar and surbahar master whose career is rooted in classical Hindustani music. In this, his latest East-West fusion project, however, he has infused his sitar playing with the talents of local musicians John Brownell on drum set, Dave Ramkissoon on tabla, guitarist Brian Legere, Mark West on keyboards and bassist Dave Field. Together they explore the lighter side of world-beat, playing Irshad Khan's compositions that will "be decided spontaneously on the stage."
Also on April 13 the Perimeter Institute in Waterloo presents international pipa (Chinese lute) virtuoso Wu Man with the Shanghai String Quartet as part of their Classical World Artists Series. Wu Man is an eloquent advocate of traditional and avant-garde Chinese music who is best known to international audiences as a champion of the pipa in the works of contemporary composers. Performing for nearly three decades, the polished Shanghai Quartet has toured major music centres throughout the globe and collaborated with some of the world's leading composers and musicians. Together they perform a mixed program of music by both European and Chinese composers.
April 15, the Persian music Baarbad Ensemble in collaboration with Sinfonia Toronto and Moussou Folila, stage an ambitious seven-part music program at the Glenn Gould Studio. Titled "The Wayfarers of This Long Pilgrimage," the evening is intended to represent "the seven stages of ancient mysticism." This multi-cultural performance showcases the premiere of compositions by Persian santur player Mehdi Rezania and kamanche master Saeed Kamjoo. New arrangements of the folk music of Iran and the Balkan region by Hossein Alizadeh and Hans Zimmer enrich the musical texture and ethno-historical resonance. Involving a large group of over 25 musicians the ensemble also features guest Toronto world music vocalist Brenna MacCrimmon, Hossein Behroozinia on barbat (Persian lute), and djembe player Anna Malnikoff.
Ritmo Flamenco Dance and Music Ensemble present "Vida Flamenco" at the Al Green Theatre on April 21. Directed by Roger Scannura who serves as lead flamenco guitarist and composer, the show features Anjelica Scannura as lead dancer and choreographer. The Scannura family has made flamenco a way of life and are among Canada's foremost exponents of the art form.
This month intrepid Toronto world music fans can feast on music and dance: the multi-venue Bulgarian Arts Festival demonstrates the many faces of that country's culture. Titled "Soul Journey to Bulgaria," the festival's events include not only visual arts exhibits, classical concerts, poetry, theatre and film screenings, but also several folklore dance and world music concerts. I can mention only a few concerts here; for a complete listing of the many scheduled events please visit the festival's website. On Saturday April 21, the Eurovision-esque singing style of Bulgarian pop stars Rossitza Kirilova and Kaloyan Kalchev headline the concert along with the engaging folk based music of the Bulgarian Children's group Bulgarche at the Great Hall of the Macedono-Bulgarian Eastern Orthodox Cathedral. The venue changes on April 27 to St. George's Macedono Bulgarian Church. That concert showcases the folkloric music and dance of the Dimitrovche group, with Grammy winning kaval (end-blown Bulgarian flute) virtuoso and composer Teodosii Spassov.
On the following Saturday, April 28, from 3pm to 10pm, the Bulgarian Arts Festival takes over Toronto's Harbourfront Centre. A few highlights rounding out the afternoon: the Bulgarche children's group and Irene Markoff's York University Balkan Music Ensemble. At 8pm the Teodosii Spassov Ethno Jazz Trio swings into the Brigantine room. The trio's moniker couldn't be more descriptive. Led by kaval maestro Spassov, a soloist at the Bulgarian National Radio and with ten solo albums to his credit, the trio explores his patent merger of traditional Bulgarian folk music with jazz, classical and popular genres. He has been hailed by the Chicago Tribune for making music "… like a jam session between Ian Anderson and Thelonius Monk." With his brilliant and innovative playing, Spassov has taken what was originally a shepherd's flute into 21st-century concert halls around the world.
Also on April 28, unfortunately, the Grammy Award winning Buena Vista Social Club's guitarist Eliades Ochoa performs with his band at Toronto's Opera House. The Toronto-based Latin singer Laura Fernandez guests. For Cuban song (and Wim Wenders' film) aficionados like me it's a rare opportunity to experience one of this music's godfathers live on Queen St. E.
Andrew Timar is a Toronto musician and music writer.He can be contacted at worldmusic@thewholenote.com.