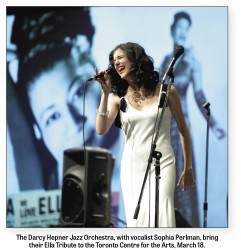 Whether you are in the band or in the audience, in jazz, the ideal experience is being there when something magical happens. The second best thing is hearing a live recording that captures such magic. Therefore, the production of live recordings, where the band is at its best with an enthusiastic audience, is essential to understanding, preserving and promoting jazz music. Norman Granz knew this and epitomized it; the famed impresario and record producer known for discovering Oscar Peterson and catapulting Ella Fitzgerald's career was a civil rights hero who worked tirelessly to produce, book and champion his gifted artists. Fitzgerald became the first African American woman to win a Grammy Award, garnering 13 such trophies in her illustrious career. Between 1938 and 1989, Ella Fitzgerald recorded over 2000 songs.
On Mack the Knife: Live in Berlin, recorded February 13, 1960, something truly magical happened. In front of the perfect audience – rapturously cheering and not a single cough – Miss Fitzgerald was at the Mt. Everest-like peak of her vocal power and accompanied by the best jazz combo Granz could find: music director Paul Smith on piano, Jim Hall on guitar, Wilfred Middlebrooks on bass and Gus Johnson on drums. There is literally not one false eighth-note on this hotly swinging session. On the title track Ella forgets the lyrics and improvises her own ("You won't recognize it…it's a surprise hit!"). And equally historic is the nine-minute version of How High the Moon which is arguably the greatest scat solo ever recorded. Using Charlie Parker's Ornithology as a starting point, Fitzgerald miraculously makes seven minutes of intergalactic wordless fireworks fly by as effortlessly as a hummingbird.
Born April 25, 1917, Ella's centenary quickly approaches and fittingly there are musical tributes to her left, right and centre. The Toronto Symphony Orchestra will wait until June 6 and 7 to toast the "First Lady of Song," in a tribute conducted by Steven Reineke and featuring American vocalists Capathia Jenkins, Montego Glover and Sy Smith. For something coming up sooner and featuring extraordinary Canadian talent, as part of the Jazz Performance and Education Centre (JPEC) Concert Series, the Darcy Hepner Jazz Orchestra will celebrate 100 years of Ella Fitzgerald at the Toronto Centre for the Arts on Saturday March 18. The Darcy Hepner Jazz Orchestra is Darcy Hepner, lead alto saxophone; Simon Wallis, alto saxophone; Michael Stuart, tenor saxophone; Jeff King, tenor saxophone; Terry Basom, baritone saxophone; Jason Logue, lead trumpet; Brigham Phillips, trumpet; Mike Malone, trumpet; Ron Baker, trumpet; Russ Little, lead trombone; Rob Somerville, trombone; Phil Gray, trombone; Bob Hamper, bass trombone; Adrean Farrugia, piano; Pat Collins, bass; Kevin Dempsey, drums; and vocalist, Sophia Perlman, who Hepner describes calls "the only singer the band will ever need."
SOPHIA PERLMAN: The term "using one's voice as an instrument" gets tossed around too casually in the jazz world. Vocalists are sometimes not perceived to be musicians. Toronto's Sophia Perlman is not merely a musician, but an excellent one, thanks to her natural talent, unflinching dedication and a wide variety of musical experiences and influences.
Now a faculty member of Mohawk College's jazz program, from 2008 to 2013 Perlman worked with the Canadian Children's Opera Company's OPERAtion KIDS outreach program, and during her tenure worked with close to 2000 elementary school-aged students in Toronto creating music and opera, as well as instructing two of their choruses for children as young as three.
Not one to pigeonhole herself, in PerlHaze, her new folk/roots/singer-songwriter partnership with fellow jazz singer Terra Hazelton, Perlman writes, sings and plays a half-dozen instruments:
"One of the things I love about the ways Terra and I have been exploring writing and arranging for two musicians is the multitudes of ways that harmony and counterpoint can help to fill in other aspects of the music like time or harmonic rhythm. I think, as a former choral singer, I tend to hear parts in my head most of the time. When I'm singing especially loosely, or in different jazz settings like playing with my quartet, or when I'm improvising, it's still largely rooted in writing alternate arrangements in my head."
What do you remember about your very first experience singing with a big band? I think maybe the first large band experience I ever had was singing in a Mirvish musical at the Royal Alexandra Theatre in 1996. It wasn't jazz, but the process of learning music over piano reductions and then having the experience of singing them when those piano parts expanded was incredible to my 12-year-old brain…
I played saxophones and clarinet in high school and got introduced a bit more to big band music through the perspective of an instrumentalist. The way different horn sections were used and voiced seemed very akin to the choral and vocal music I was already singing outside of school. I had a very smart band teacher who found a million excuses to get me to arrange and reduce things. Thanks, Mr. Alberts! The summer before my last year of high school, I went to the jazz camp at Interprovincial Music Camp. I'm almost afraid to list the IMC faculty that summer because since then some of these people have become my colleagues, my mentors and my friends, and I'm afraid I'm going to leave someone out: Lisa Martinelli, Kevin Turcotte, Pat Collins, Mike Murley, Cam Ryga, Lorne Lofsky, Barry Elmes…Hugh Fraser was at the helm and that was my introduction to VEJI and to the incredible Christine Duncan who really reframed my ideas as to how big band music didn't necessarily mean historical music and it was inspiring to hear compositions go from small band to big band six months later at the IAJE conference in Toronto. My camp friends and I stormed the hall as soon as the doors were open to try and get as close to the front as possible. Rob McConnell's Boss Brass reunited that night too. I don't think my 17-year-old self understood how fortunate I was – as excited and inspired as I was.
Tell me a bit about your experience working with the Toronto All-Star Big Band and how the experience influenced you as a musician. I auditioned for TABB in the spring of my last year of high school. It was just artistic director Zygmunt Jedrzejek and a pianist who was very kind and gamely played through End of a Love Affair a second time when I was asked if I could try to improvise…The pianist was Ernesto Cervini. I actually knew him as a pianist and a clarinetist before I ever figured out he played the drums.
That band has turned out a whole bunch of wonderful alumnae. Ernesto has put out some incredible records as a drummer, arranger and composer. Jeff Halischuk and I have been playing together ever since. Melissa Lauren and I overlapped as vocalists, and Elliot Madore, who was the baritone in our vocal quartet is taking the opera world by storm in New York.
What have you learned from working with Darcy Hepner? I first met Darcy Hepner when he pulled up in front of our Toronto apartment to drop off charts for my then boyfriend, this cute piano player. He was starting a weekly big band gig in Hamilton, exploring the music of the Thad Jones/Mel Lewis Orchestra…I started riding the bus out to Hamilton after work to hear the band play almost every week. At some point the piano player put the bug in Darcy's ear that I sang and he threw a couple of mp3's my way – Joe Williams with the Band. It's always a challenge as a female singer to navigate the ranges of some of these charts. You want to try, and you can't ask a whole big band to transpose. It requires some creativity.
I don't particularly remember how it went that night but they kept inviting me back and finding things for me to do – an Ella Fitzgerald/Oscar Peterson show during the Brott Festival, and what is becoming an annual gig fundraising for the Good Shepherd's Society in Ancaster.
The band has so many musicians that I love and respect. I am so grateful that my now husband Adrean Farrugia introduced me to the community of musicians and supporters of music that exists out here in Hamilton. It's extraordinary to me that they sustained a weekly residency, with a fixed wage for musicians, for an 18-piece big band for as long as they did. And the friendships and musical connections that I made inevitably ended up with my getting involved at Mohawk College and ultimately the decision to move to Hamilton a couple years ago.
JAZZ.FM91 YOUTH BIG BAND/JULES ESTRIN: Established in 2008, the JAZZ.FM91 Youth Big Band is a free educational program that provides the opportunity for selected middle and high school students to rehearse with an 18-piece big band and perform with international jazz luminaries. The 2016/17 personnel is Avery Raquel, vocals; Nick Forget, trombone; Aidan Sheedy, trombone; Sam Boughn, trombone; Daniel Strickland, trombone; Leo Silva, trumpet; Daniel Barta, saxophone; Marton Pandy, trumpet; Garrett Hildebrandt, saxophone; Lucas Udvarnoky, trumpet; Gabriella Ellingham, saxophone; Aakanx Panchal, alto saxophone; Evan Garner, trumpet; Martin Pandy, trumpet; J.C. Chung, saxophone; Felix Fox-Pappas, piano; David Cheon, guitar; Jaden Raso, bass, Jackson Haynes, drums.
On March 7 at Lula Lounge, the JAZZ.FM91 Youth Big Band will appear in a double bill with the University of Toronto Jazz Orchestra. Teaching teenagers to play jazz in the 21st century is a noble endeavour. I spoke with Jules Estrin, director of the Jazz.FM91 Youth Big Band:
How does this gig compare and contrast with leading a big band of adults? During my career I have had the good fortune of leading big bands ranging from middle/high school, community bands and professional groups.
The difference between the JAZZ.FM91 Youth Big Band and a professional group would be that professional musicians are normally great sight readers and section players. They already have maturity in their playing: phrasing, articulation and dynamics are instinctual and professional players can make the music happen the first or second time in performance.
In contrast to this the JAZZ.FM91 Youth Big Band can sound quite polished with a couple of rehearsals. I still need to teach/discuss each of the above concepts as they relate to their repertoire. The expectation for the JAZZ.FM91 kids is that they come to rehearsal with their music learned so that we are working on polishing the music not learning it in rehearsal.
The JAZZ.FM91 kids are quick learners and often do not need to be taught a concept more than once. Which is very helpful…and they practise a lot!
Who are some of the musicians you have been most wowed by who we might hear from in years to come? We have plenty of alumni from the program who have gone on to some pretty incredible things! Matt Woroshyl (saxophone), Jonny Chapman (double bass), Marika Galea (double bass), Sam Dickinson (guitar), Andrew Marzotto (guitar), Sam Pomanti (piano), Anthony Fung (drums).
Brandon Tse (saxophone) and Kaelin Murphy (trumpet) are the most recent graduates that I would keep a look out for! Kaelin took the bus each week from Owen Sound to participate in the JAZZ.FM91 Youth Big Band program. He attended nearly every rehearsal and endured eight hours of bus travel every weekend. He is a great player with great dedication.
What are some of the most memorable performances put on by the Youth Big Band over the years? The JAZZ.FM91 Youth Big Band presently performs nearly 20 concerts per year! Which is a lot of performances and shows the dedication of the students. Each one of those concerts equals about ten rehearsals in terms of the band growing musically and maturing.
We have had the opportunity to perform with some pretty incredible musicians over the past ten years including: Randy Brecker, Lew Tabackin, Bucky Pizzarelli, Tom Scott and Joey DeFrancesco. We have also featured some of Canada's greatest musicians: Guido Basso, PJ Perry, Al Kay, Shirantha Beddage, Kelly Jefferson and Brian O'Kane.
Perhaps the most notable for me was having the opportunity to open for Al Jarreau at the Brantford International Jazz Festival in 2010."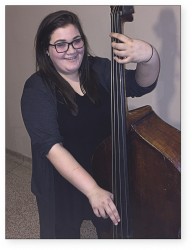 IRENE HARRETT, Bassist: Bassist Irene Harrett joined the JAZZ.FM91 Youth Big Band during her final year of high school, after learning fundamentals at the Humber College Community Music Program.
"Like many other people who participate in the ensemble, this was my first experience playing in large ensembles and I was still developing my musical abilities. By the end of my time with the band, I was a completely different bass player - I could hold my own in both the big band and in other ensembles I was working in and I had confidence in my playing that I never had before. Jules' continued support and refusal to accept anything but my best from me changed my playing for the better."
Now an undergraduate student in the Jazz Studies Program at the University of Toronto, she is studying privately with Order-of-Canada- member Dave Young.
"Different ensembles provide me with unique experiences. In the UTJO, we work on such a range of material – from classic big band arrangements by Neal Hefti, to iconic Canadian writings by Rob McConnell and Ron Collier, to modern composition and arrangements by Maria Schneider and Darcy James Argue. Working on this material with Gordon Foote, who has such a wealth of knowledge about the history of the music and the musicians is truly inspiring. Sonuskapos, on the other hand, is completely outside of an academic setting and performs primarily compositions and arrangements of Mason Victoria. In this setting, we are the first band to play these pieces and it is so satisfying to see how the music changes shape as we work with them."
Of playing in larger ensembles, Harrett observes:
"There are so many wonderful things that happened after I started working in big band settings. My sense of intonation and articulation and other important aspects of musicality became heightened. I had to quickly develop a strong sense of confidence in my musical abilities. One of the biggest things that I did not expect to get from playing in big bands was such a strong sense of community from the members of the band."
Bassist of the University of Toronto Jazz Orchestra, Irene Harrett will be performing at Lula Lounge on March 7. Dinner reservations guarantee seating: consult our Jazz Club listings.
Never too late: Finally, to close on a cool note one whole month ahead of April being Jazz Appreciation Month, it's never too late to pick up some jazz chops! If you know an adult who has been playing jazz as a hobby and is looking to improve his/her skills, I invite you to send them to Anthony Rice's Vegas North school, which features a variety of instrumental jazz workshops including adult jazz band, big band and salsa, with new courses starting in April: vegasnorth.ca.
Ori Dagan is a Toronto-based jazz musician, writer and educator who can be reached at oridagan.com.