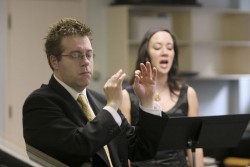 The Aradia Ensemble has not been one to remain set in what's usually considered the "baroque music norm." They've often in the past reached out to collaborate with other traditions – for example Irish performers, Isadora Duncan dancers, Balinese gamelan.
The fascinating combination of baroque music and First Nations arts is the focus of their next presentation, "Thunderbird." Intrigued to know how these two very different cultural expressions could be put together in one concert, I spoke to some of the performers involved. I can do no better than to offer their words:
"The biggest thread that ties together baroque and Aboriginal culture would be the beat that music provides. It starts with the heartbeat, it moves to the drum, the instruments strike up, people's feet begin to twitch and dance is born. It may seem like a crazy thing to be combining such forces, but in my heart and mind it makes perfect sense that we are doing this concert. We all need music in our lives, no matter where we came from. No matter what exact form that music took during the early periods, we've always celebrated through song and movement."
These are the words of Marion Newman, whose two lives as a classically-trained mezzo-soprano and a First Nations artist merge in "Thunderbird," a concert centred around a centuries-old legend passed down for generations through the Newman family. On stage to tell it will be revered members of that family: Marion herself, of course; her uncle George Taylor, a renowned drummer and singer of stories of his people; and his son Jason Taylor, who will dance the story using a Thunderbird mask carved by master carver Victor Newman, Marion's father.
Also on the programme is a new work by West Coast composer Dustin Peters, who explains how baroque and aboriginal elements reside in it: "The piece is not written in a baroque style; rather, sound qualities of a baroque ensemble are heavily considered. The use of harpsichord and chamber organ, gut strings vs. steel strings, period instruments, employing little vibrato in the strings have all played an important part in conceiving the work and its 'sound.' The text (in Kwakwala, sourced and developed by Marion Newman) remains the fundamental inspiration. It should also be noted that there is space for improvised contributions from the drummer and dancer written into the work."
Aradia's artistic director Kevin Mallon tells of the choices for the other pieces on the programme: "The Thunderbird is considered a 'supernatural' bird of power and strength. It is described as a large bird, capable of creating storms and thundering while it flies. The exploration of birds in baroque music is fairly standard, so we have decided to go more along the baroque Tempest way. Central to the baroque element are two works: Matthew Locke's Music for the Tempest was written in 1674 for Shadwell's Restoration version of Shakespeare's Tempest. Included in this incidental music is an extraordinary 'curtain tune' which has as one of its markings 'violent' – this movement certainly hits the mark with the idea of the Tempest! The other baroque work is Louis-Nicolas Clérambault's La Muse de l'Opéra. This is like a small opera – the music includes two dynamic storms, roaring waves and the earth trembling."
This unique event takes place on May 15 in Glenn Gould Studio.
More Concerts
May 2: Community Baroque Orchestra of Toronto. This chamber orchestra specializes in music of the Baroque era performed on period instruments and in period style. They'll present selections from Charpentier's David and Jonathan, Telemann's Water Music, and Lully's Armide.
May 4: Vicki St. Pierre, a remarkable mezzo who is completing her doctorate in vocal performance at the U of T, gives her DMA recital in Walter Hall, singing solo alto cantatas by Bach and Vivaldi's Stabat Mater. This free recital is one of many concerts of high artistic quality at universities, begging to be discovered.
May 5 to 8: Classical Music Consort. "2010 Springtime Handel Festival." In this 4-concert festival at St. James' Cathedral, some of Handel's great but lesser-known solo, chamber and vocal music is explored. Founded by harpsichordist/conductor Ashiq Aziz, this group is committed to fostering new and talented performers, as well as giving innovative and enlightened performances of baroque and classical music.
May 7 and 8: The Toronto Consort presents "Lutefest," which you can read about in this issue's cover story. How fascinating to bring three world lute traditions together on the same stage!
May 8: The Orpheus Choir of Toronto presents another of Handel's lesser-performed but great works, his dramatic oratorio Athalia.
May 9: Toronto Early Music Centre's "Musically Speaking" series deserves to be better-known. In the serene, intimate setting of the Church of the Holy Trinity, these one-hour concerts bring exquisite music and wonderful performances. The series continues with a programme of late 16th-century Spanish and Italian repertoire, featuring soprano Katherine Hill, gambist Joëlle Morton and harpist Julia Seager-Scott.
May 12 to 15: Toronto Masque Theatre presents "A Molière Celebration." Molière's collaborations with two giants of French Baroque opera of his time, Marc-Antoine Charpentier and Jean-Baptiste Lully, are here celebrated in abridged versions (alive with vocal soloists, dancers, actors and baroque orchestra) of Le Bourgeois Gentilhomme and Le Malade Imaginaire.
May 16 in Kitchener: Folia presents "The New Orpheus of Our Times: A Celebration of Arcangelo Corelli." This is a tribute to the musician whose virtuosity, compositions and teaching brought the violin to new artistic heights.
May 16: Toronto Chamber Choir's "Kaffeemusik: Bach and the German Motet." The Choir's afternoon Kaffeemusiks are mixtures of informative and entertaining commentary by music director Mark Vuorinen and music sung by the choir, with goodies to follow. In this presentation they're joined by a chamber choir from Rosedale Heights School of the Arts, the school with which TCC has an educational partnership.
May 29: With intention to explore the sacred vocal music of the 17th century, Capella Intima presents a reprise of their well-received programme "Celestial Sirens," performing a mass and motets by Cozzolani, Leonarda and others.
May 29 and 30, June 1: Tafelmusik presents Handel's oratorio Israel in Egypt. As their press release states, "this is a tour de force of choral writing: Handel employs the choir to paint the vivid images of the Exodus on a musical canvas of massive proportions."
June 5: With their indestructable panache, I Furiosi and guests recall the glory days of major battles and horrified, anxious soldiers, in "I (Furiosi) Declare War."
June 5: St. Anne's Anglican Church presents "Raise the Roof with Bach." Bach's Magnificat in D and works by Vivaldi will be offered in a concert whose proceeds go toward repairs of historic St. Anne's Church. The domed ceiling and chancel of this beautiful building display mural paintings dating from 1923, by ten Toronto artists, including three members of the Group of Seven.
Finally, the musical world mourns the death of Kenneth Solway, co-founder (with his wife, the late Susan Graves) of Tafelmusik. Their legacy is one of the foremost early music ensembles in the world, right here in Toronto.
Simone Desilets is a long-time contributor to The WholeNote in several capacities, who plays the viola da gamba. She can be contacted at: earlymusic@thewholenote.com.