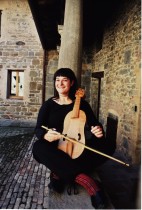 As usual, there's no shortage of interest on the early music scene this month, as the 2009/10 season draws to a close and the 2010 summer season begins.
Viva BiancaLuna Biffi is a name I hadn't heard before, until I was alerted to her presence at three different concert series in Southern Ontario this month. This engaging Italian musician has a solid grounding in medieval fiddle, renaissance viola da gamba, baroque cello and voice, and she's a specialist in the late 15th/early 16th-century form of Italian secular song known as the frottola, a predecessor to the madrigal.
Biffi has revived a long-lost art practised by late renaissance and early baroque musicians, singing the upper line of the songs while performing her own arrangement of the other voices on the viola d'arco (no mean feat!) – and, judging from the audio files I've heard, she's a consummate and I'll bet completely delightful musical storyteller with a twinkle in her eye, a smile in her voice and an apt sense of accompaniment on her instrument.
The one-woman show she brings to Canada is Fermate il Passo ("Stay a moment, passer-by!"). She describes it as a mini- or proto-opera (opera as we know it had yet to be born), that charts the course of love from sunset to night to dawn. I thought it might be interesting to follow her around and have a look at this area's summer festivals where she'll be performing.
On June 19 you can hear Biffi at Knox United Church in Ayr, one of the Grand River Baroque Festival's two venues. I think she'll fit in well with the spirit of this festival – it really is a feast of wonderful performers and very unusual programming. Artistic directors Guy Few and Nadina Mackie Jackson have conjured up three days of celebration that include a masquerade gala with fireworks, a concert-combination of Vivaldi and Piazzolla, and another concert of music by Glenn Buhr, Mathieu Lussier, Vivaldi and the Chevalier de Saint-Georges. There's early music mixed with pop ("Pop-Period Fusion") and fencing demonstrations too. It all takes place from June 18 to 20, just west of Kitchener in the Buehlow Barn and a bit south of that in Ayr.
Then, after appearances at the Montreal Baroque Festival (June 25) and in Quebec City, Biffi returns to Toronto on July 4 for the Toronto Music Garden's "Summer Music in the Garden" series, curated by Tamara Bernstein. The design of this lovely public garden was inspired by a Bach unaccompanied cello suite – an appropriate setting for early music – and Biffi's performance there will be the first of this year's early music lineup. (There will be more news of what's to come in the July/August WholeNote.)
Biffi's final appearance in this area is on July 5 at the Church of the Holy Trinity, in its "Music Mondays" series. Right in the middle of downtown Toronto, you can spend an hour or so on a Monday afternoon in this quiet setting, enveloped in intimate music-making.
Tafelmusik's  "Baroque Summer Institute" is a comprehensive training programme in baroque performance, now in its ninth year and held at U of T's Faculty of Music. It attracts about 85 participants from around the world – and no wonder: study includes orchestra and choir rehearsals, masterclasses, opera scene study for singers, chamber ensembles, private lessons, lectures and workshops, classes in baroque dance, and concerts. This year's Institute takes place from June 6 to 19. During this time four concerts will be presented – June 7, 12, 16 and 19 – featuring either Institute participants or faculty, and ending in a "Grand Finale" with combined forces in a baroque extravaganza. Both faculty and students are top-notch, and one couldn't go wrong in checking out the fruits of their labours.

A few more concerts
Helmuth Rilling came to town a few weeks ago to conduct the Toronto Symphony and collaborating artists in stunning performances of Bach's B Minor Mass. A lot of it is still in my ear, and I remember having particular "heroes" within the performing forces – one of whom was the first cellist, whose sheer commitment to the beauty and inexorability of her line was riveting to hear and to see. Winona Zelenka was the cellist – featured in the magazine this month. She'll be playing at the Glenn Gould Studio on June 6, to celebrate the release of her new two-CD recording of Bach's cello suites.
About 40 kilometres north of Toronto stands the Sharon Temple, a unique architectural beauty and a testimonial to the vision of the Children of Peace, who built it in the 19th century. The "Music at Sharon" concert series takes place there on Sunday afternoons, and Ensemble Polaris (a group difficult to classify) appears there on June 13. While they seek to explore the music of northern countries and traditions, many of the members of this group are early-music specialists as well, and you can hear ancient influences in their varied and colourful soundscape.
Also on June 13, the Toronto Early Music Centre presents the last of its "Musically Speaking" series for this year. Ensemble L'indiscrète performs the Pièces de clavecin en concerts by Rameau, as well as music by Marais, Buxtehude and Telemann, on harpsichord, baroque violin and viola da gamba.
Another concert at the Sharon Temple that is clearly devoted to early music is a performance by Les Voix Baroques, on July 4. A celebrated ensemble specializing in vocal works from the Renaissance and Baroque, they will perform music by Charpentier and Carrisimi.

Simone Desilets is a long-time contributor to The WholeNote in several capacities, who plays the viola da gamba. She can be contacted at: earlymusic@thewholenote.com.