Last issue, way back in June, I made what I hope was a successful case — I am an ex-lawyer, after all — for "staying put" and exploring Toronto's busy summer concert series scene. And, admittedly, I gave short shrift to the abundance of festivals that were on offer around the province all summer. So, to make amends, I now encourage you to head out of the city and experience some of the fall festival fare. However, if you're intent on staying put, there is enough going on in September/early October to put you in that beginning-of-the-new-concert-season state of mind.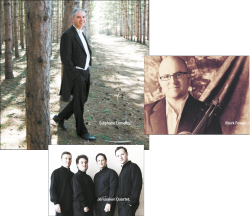 Festivals sweet, PECturesque and colourful: There are three festivals in September that are definitely worth the drive out of the city ... and even the often-exasperating drive back in. Two of them, SweetWater Music Festival and Prince Edward County (PEC) Music Festival, begin on the same day (September 20) and each is celebrating its tenth season; the third and much larger Colours of Music begins a week later (September 27) and celebrates its 11th season over ten days. One of the things they share amongst themselves is the roster of artists; and sometimes even concert themes. A delightful byproduct — for audiences and musicians alike — and a financial practicality when mounting festivals in smaller communities. SweetWater, for example, takes place in the village of Leith and the neighbouring smallish city of Owen Sound; PEC Music Festival happens mostly in the "unincorporated community" of Picton, with one concert in the village of Bloomfield. Colours of Music, too, while located in Canada's 34th largest city, Barrie, benefits from the joys of sharing. And with that little preamble, it's off to the festivals!
Prince Edward County (PEC) Music Festival: PEC Music Festival artistic director, the distinguished Canadian pianist, Stéphane Lemelin, has this to say about his approach to programming the festival: "I have always believed that musical communication is a three-way street flowing between performer, composer and audience. The intimate setting and superlative acoustics of St. Mary Magdalene Church in Picton have for the last ten years repeatedly allowed for that communication to inspire performers and audience members alike. Our programming has been broad and I have sought to balance celebrated masterworks of the past with music of our time."
You can experience what he's talking about in "Festival's Greatest Hits," the opening concert on September 20. It features works by Schubert, Brahms and Ottawa composer Steven Gellman, with some excellent performers including violinist Jacques Israelievitch, soprano Donna Brown, Ross Edwards on clarinet, and Lemelin, himself, at the piano. The Gryphon Trio will perform works by Haydn, Mozetich and Dvořák on the 22nd. And the "Grand Finale! Piano 1-2-3-4-5-6 Hands" on September 28 sounds spectacular ... and maybe even a little bit dangerous! "Can David Jalbert, Andrew Tunis and Stéphane Lemelin all fit on the same bench?" we're asked. Find out for yourself, as the program progresses from music written for one hand to works for six — that's 30 highly-skilled fingers — on one piano!
You can also catch hilarious musical antics with "Mary Lou Fallis and Peter Tiefenbach, More or Less Alive," the premiere of Jeunesses Musicales' touring production of La Bohème, and the debut of some of the region's young artists. I'd say that Lemelin has met, and quite possibly exceeded, his programming principles!
SweetWater Music Festival: SweetWater is, indeed, a sweet little three-day/five-concert festival, programmed by the hugely talented violinist Mark Fewer, the festival's founding and present-day artistic director. Its Friday evening opener features the Gryphon's Annalee Patipatanakoon (violin) and Roman Borys (cello), along with several other superb musicians including violist Phillip Ying, Fewer and fellow violinist Edwin Huizinga (he of "Classical Revolution" fame; worth a google), in works by Schulhoff, Haydn, Ryan and Dvořák. Those "Gryphonites" can also be heard, along with the other members of the "SweetWater house band," including clarinettist James Campbell, flutist Rosanne Wieringa, cellists Denise Djokic and David Ying, (along with Fewer, Huizinga and violist Ying) in two beautiful concerts featuring the music of Bach: the complete Brandenburg Concertos on September 21, with Rob Carli's Seventh Brandenburg; and the Concerto for Two Violins on the 22nd; violinist Emily Aquin, introduced in SweetWater's "Young Artists Concert," joins them in the Bach "Double."
SweetWater is a festival that "explores the continuities and evolution of small ensemble music from the Baroque to contemporary music and jazz." True to its word, on September 21 it hosts a fabulous afternoon of Hot-Club-of-France/gypsy-jazz-inspired music, "A Musical Celebration of Django Reinhardt and Stéphane Grappelli," with the Vancouver-based ensemble Van Django.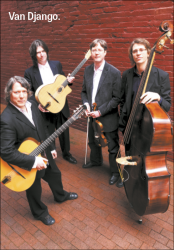 Colours of Music Festival: "Wonderful Music, Wonderfully Performed." Those apt words appear on the homepage of Colours of Music's website, which also informs us that the festival will "expose you to talent from all across Canada and other parts of the world." Returning to the topic of festivals sharing their artists and concert ideas, five concerts for which that seems to be the case at Colours of Music provide a nice taste of the festival's myriad offerings.
On September 28, SweetWater's Mark Fewer, and James Campbell, join pianist Angela Park for "Classics at Noon," in works by Bartók, Milhaud, Brahms, Beethoven, Saint-Saëns and Catoire. The next evening, Fewer and Campbell, along with guitarists Graham Campbell (yes, the clarinettist's son), Roberto Rosenman and Chris Bezant, and bassist Chris Kettlewell, pick up the gypsy jazz fever where Van Django left off, in a concert titled ... can you guess? Oui, "Hot Club of France: music of Django Reinhardt and Stéphane Grappelli."
A little earlier on September 29, in a bit of "downsizing" from the PEC Music Festival's 30-finger extravaganza the day before, pianists Robert Kortgaard and Peter Tiefenbach play an exciting — though perhaps less perilous — program of works by Mozart, Schumann, Dvořák, Ravel, Poulenc and Grieg for one piano and 20 fingers. Any way you cut it, that's still a lot of fingers on one keyboard.
The tireless and ubiquitous James Campbell appears twice more: once with the Gryphon Trio in a performance of Messiaen's Quartet for the End of Time on October 1, and the next day in a concert titled "On the Upbeat," with the Amara Piano Quartet. They will perform works by Beethoven, Suk, Ager and others.
Beyond the five concerts mentioned, there are another 21 to consider, ranging from "Music for the Dance," performed by Duo Concertante with narration by ballet legend Evelyn Hart, to Bach and Debussy on the banjo. The festival's website said it best: "What a colourful, relaxing way to spend those first few lazy days of autumn!"
And, for those of you thinking to yourselves, "enough already with the festivals," fear not. The 2013/14 concert season is about to begin.
QUICK PICKS: SPLENDID SEASON STARTERS
Kitchener-Waterloo Chamber Music Society
Sept 11, 8:00: Soheil Nasseri, piano. Works by Beethoven, Brahms, Rachmaninoff, Hersch.
Sept 18, 8:00: Andrew Sords, violin; Cheryl Duvall, piano.
Works by Elgar, Mozart, Bach, Hubay.
Sept 22, 8:00: Peter Stoll, clarinet; Joseph Macerollo, accordion. Works by Kovacs, Nimmons, Messiaen, Palej, Nordheim and others.
Sept 27, 8:00: TrioEstonia. Works by Cirri, Piazzolla, Sumera/Kangro/Kuulberg, Pärt, Beethoven.
Toronto Symphony Orchestra
Sept 18 & 19, 8:00: Elgar Cello Concerto–Alisa Weilerstein, cello. Works by Britten, Elgar, Dvořák.
Sept 21, 7:00: Gala Performance – Lang Lang Plays Mozart. Piano Concertos Nos.17 and 24.
Sept 25 & 26, 8:00: Perlman Plays Tchaikovsky. Works by Britten, Walton. Itzhak Perlman, violin.
Gallery 345 – The Art of the Piano
Sept 18, 8:00: Kara Huber. Works by Chopin, Beethoven, Debussy, Rachmaninoff, Liszt.
Sept 22, 3:00: Thomas Alexander. Works by Chopin, Liszt, Gershwin.
Sept 23, 8:00: Martin Soderburg. Works by Soler, Albeniz, Granados, Mompou, Infante, de Falla.
Music Toronto
Oct 3, 8:00: Quartet Series: Jerusalem Quartet. Works by Mozart, Shostakovich, Dvořák.
Flato Markham Theatre
Oct 4, 8:00: Chamber Orchestra Kremlin. Works by Rossini, Prokofiev, Tchaikovsky.
Roy Thomson Hall
Oct 6, 2:00: Mariinsky Orchestra. Three works by Stravinsky.
Valery Gergiev, conductor.
Mooredale Concerts
Oct 6, 3:15: Cecilia and Afiara String Quartets. Works by Tchaikovsky, Haydn, Mendelssohn.
Whether you head out to the festivals or into the new concert season, enjoy fall's early days in all their colour and splendour. 
Sharna Searle trained as a musician and lawyer, practised a lot more piano than law and is listings editor at The WholeNote. She can be contacted at classicalbeyond@thewholenote.com.