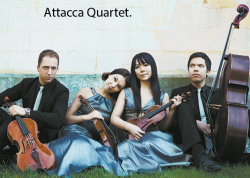 Now in their 11th year, the Attacca Quartet -- comprised of violinists Amy Schroeder and Keiko Tokunaga, violist Luke Fleming and cellist Andrew Yee -- met at Juilliard where they spent 2011-13 as the school's graduate resident string quartet.
Why did you decide to do this project (which began the year after the 200th anniversary of Haydn's death)? Was there a particular impetus behind this decision?
Oddly enough, I was not aware until having been asked your question that we began this project right on the heels of such a milestone! In fact, the year of the conception of "The
68" was 2009, the 200th anniversary, but it took many things coming together to realize this ambitious idea before the first concert in October 2010. The story actually begins before I was a member of the quartet (I joined in November 2009). Andrew, our cellist, was out walking his dog, Chopper, one cold evening. As usual, he had his noise-
cancelling headphones on to shield him from the noise of the Manhattan streets, and on his iPod came the slow movement of a Haydn quartet he had never heard. As the movement went on, he was overcome by its beauty and started to cry, right in the middle
of the Upper West Side. After returning home, he called everyone in the quartet and said,
"Guys, let's do this." And when I auditioned for the quartet a few months later, it was made very clear that I needed to be on board with this (in fact, reading through a more obscure Haydn quartet was part of the audition process). I needed very little convincing.