Seong-Jin Cho, the 25-year-old South Korean winner of the 2015 Chopin Competition in Warsaw, is a polished performer whose life changed as a result of his Warsaw triumph. From playing 20 to 30 concerts a year, he went to 80 to 90; and, thankfully, no longer needed to participate in competitions. Because of The WholeNote's production schedule, I missed his sold-out Koerner Hall recital on October 26, 2018, so I'm looking forward to his upcoming TSO appearance January 8, 9 and 11 in Beethoven's revolutionary Piano Concerto No.4 conducted by Sir Andrew Davis.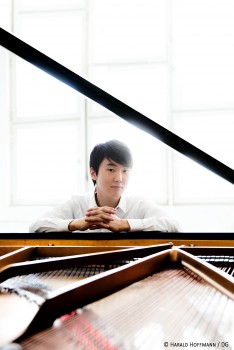 Some critics have called Cho's playing "poetic," something he discussed on the British blog, Where Cherries Ripen, published on October 1, 2019. "What others say about my performances may accurately reflect some aspects of my playing style, but I cannot say I ever intend to sound 'poetic'. If I may put it differently, there are times when I receive bad reviews, but I never intend to play badly. I think an instrumentalist's unique sound is like the human voice. Everyone has a unique voice given to them, regardless of their intentions. For example, a tenor can never be a bass. Of course, I can force myself to perform wearing my heart on my sleeve, but this would not change who I fundamentally am. Everyone has a natural way of performing, and I play in my given way. I think audiences have been able to sense that personality."
In the same interview, he also had interesting things to say about how he approaches playing a concerto with an orchestra, commenting on how most ideas are in the score already, so it is important to carefully study the score. "In my performances, what is most crucial is to be confident. That confidence, in my opinion, comes from the certainty that I know the score more than anyone else. Sitting between the orchestra and the audience, I must be ready to say, 'I know this score much more than all of you.' For this to happen, I have to carefully learn the score. For instance, if some dynamics markings are not taken into account because one wants to be different, such creativity should not come out from instinctive feelings. One should be able to explain why such liberties were taken, because one has ideally thought through one's decisions before." With this in mind, he says that before performances, rather than practise, he prefers to read the score again. "During performances, I don't think much, as what I envisioned is fully internalised in my body and hands." That being said, he also admitted that he gets particularly nervous and pressured when playing with a conductor who knows the piano well.
Signed by the prestigious Deutsche Grammophon yellow label after his Chopin triumph, he's already released three CDs, the latest of which, Debussy, garnered wide acclaim. The Guardian wrote that Cho "brings his understated, coiled-spring pianism to Debussy, and his playing is as riveting as ever."
In another interview, Cho told The Cross-Eyed Pianist (November 2018) that the most important influence on his musical life was meeting great musicians, "people like Myung-Whun Chung, Radu Lupu, Krystian Zimerman, Mikhail Pletnev, Alfred Brendel, Murray Perahia and many others … I learned a lot even while having a conversation with them." And he revealed that taking part in competitions may have been the greatest challenges of his career so far. "I wanted to play for audiences across the world and I thought winning the competition was the easiest way to reach that goal," he said. "And it was true. The Chopin Competition gave me a lot of opportunities, but I'm still against competitions. Many great musicians like Arcadi Volodos or Piotr Anderszewski didn't win any competitions. The competition kills the musical idea, imagination and freedom. I felt so free after I won the Chopin Competition because I realized that I don't have to do this kind of thing anymore."
One rarely hears such candour expressed by an up-and-coming performer.
Two more must-see TSO programs
Acclaimed French pianist, the prolific Jean-Efflam Bavouzet, brings his wide-ranging musical compass to bear on Mozart's first major piano concerto, the "Jeunehomme" K271, when he joins Bernard Labadie and the TSO, January 22, 23, and 26. Bavouzet is currently immersed in a Mozart concert project and Labadie is an expert on the composer; their confluence augurs well for a delightful concert, made all-the-more appealing with the addition of Mozart's most melodious and heartfelt symphony, No.40, K550.
On January 31 and February 1, TSO principal cellist, Joseph Johnson, brings his consummate skill set to Dvořák's Cello Concerto, with its contagious passion trumped only by its lyricism. Rising star – the TSO calls him "electrifying" – 31-year-old Uzbekistani conductor Aziz Shokhakimov leads the orchestra in Smetana's indelible The Moldau from Ma Vlast and Mendelssohn's Symphony No.3 "Scottish," written 13 years after the composer's extensive tour of Scotland when he was 20, and the last of his five symphonies despite its designation.The remarkable Shokhakimov, making his second appearance with the TSO, is currently the Kapellmeister at Deutsche Oper am Rhein, principal guest conductor at La Verdi Orchestra, Milan and artistic director of Tekfen Philharmonic Orchestra.
Music Toronto's appealing lineup
Now in its 26th year, the much-loved Gryphon Trio has had a continuous relationship with Music Toronto since 1995, including ten years as their ensemble-in-residence from 1998. In what has become a regular late-autumn visit, the Gryphons this time (December 5) will be joined by Toronto-born international operatic bass, Robert Pomakov for a performance of Mussorgsky's Songs and Dances of Death (arranged by Gary Kulesha). Beethoven's delightful Kakadu Variations Op.121 opens the program which ends with Dvořák's opulent Piano Trio No.3 in F Minor, Op.65.
With a long list of critically acclaimed, award-winning performances and recordings to his name, yet another distinguished Hyperion Records artist, 60-year-old Brit, Jonathan Plowright, has been described as "one of the finest living pianists" by Gramophone magazine. For his Toronto recital debut on December 17, Plowright has chosen an appealing program comprised of Brahms' early Ballades, Op.10, Schumann's ever-popular Kinderszenen, Op.15, Mozart's delightful Variations on "Ah! VOus dirai-je, Maman," K265 and Paderewski's rarely heard excerpts from Humoresques de Concert, Book I Op.14. Once upon a time, the first-movement Menuet was world famous; it's still instantly recognizable today. Plowright will also give a masterclass (free and open to the public) on December 18 at 11am in Walter Hall.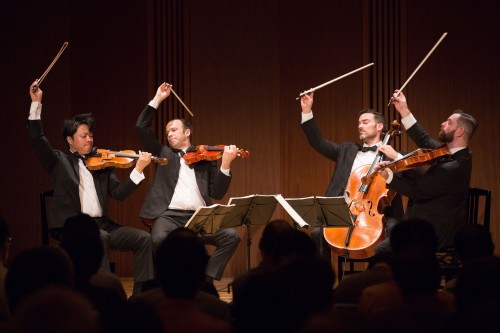 For their fourth concert with Music Toronto since 2001, on January 9, the Miró Quartet (winners of the Banff International String Quartet Competition in 1998) will perform a replica of the program the Kneisel Quartet performed on January 28, 1910 at the Schubert Club in St. Paul, MN. It's part of the Miró's Archive Project to evoke the flavour of a bygone time – the Kneisel Quartet was active from 1885 to 1917; Dvořák was a friend. Unlike concerts today, in which multi-movement works are typically performed in full, the Kneisel Quartet often programmed individual movements of new and recent works. This is reflected in the 1910 program, which features selections from string quartets by their contemporaries César Franck and Reinhold Glière. Also unlike today, the quartet often devoted a portion of their programs to the cello repertoire, as evident here in Adrien-François Servais' Fantaisie sur deux Airs Russe for cello and piano. When touring works that required additional players, the quartet was joined by local musicians. In keeping with this spirit, the Miró collaborates with a local pianist wherever they perform this program, in this case with Lydia Wong, head of U of T's piano department. Two pillars of the repertoire fill out the bill: Mozart's Quartet in B-flat Major, K458 "The Hunt" opens the program; Schubert's Quartet in D Minor, D810 "Death and the Maiden" brings it to a close.
To celebrate their 30th anniversary season, the scintillating St. Lawrence Quartet (founded in Toronto in 1989) has planned a special program on January 30 with each piece signifying an aspect of their musical life. For their love of Haydn, his Quartet Op.20 No.4 in D Major; for their fierce commitment to living composers, R. Murray Schafer's String Quartet No.3 (1981), which the SLSQ played at Music Toronto in 1996 and 2007; and Franck's emotionally powerful Piano Quintet in F Minor, with guest pianist Stephen Prutsman (who performed the piece with the SLSQ here in 1997).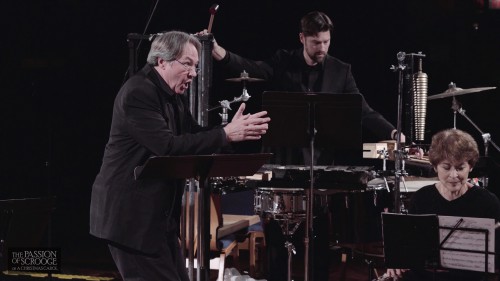 The Passion of Scrooge
It wouldn't be Christmas without Charles Dickens' A Christmas Carol and its redemptive protagonist Ebeneezer Scrooge. Last year, filmmaker H. Paul Moon's adaptation of Jon Deak's opera, The Passion of Scrooge: or A Christmas Carol, arrived too late to be included in our year-end issue, but it's a worthwhile and timely addition to the joys of the season and deserves to be mentioned. Not only for Deak's acclaimed score but even more so for Moon's inventive cinematic adaptation. Part documentary, part performance piece, with a dash of fiction thrown in, the film is structured as a radio play with baritone William Sharp (who premiered the opera in 1997) performing all the parts. Deak, himself takes up the conductor's baton for the textual climax that never fails to touch the heart. Moon's trademark floating camera, which hovers curiously before guiding us through the operatic road map with surety and ease, is another key element and given the medium in which it acts, there is no more important star. For more information and to stream, buy or rent: scroogeopera.com. William Sharp can also be found in Moon's comprehensive and moving portrait of composer Samuel Barber, Absolute Beauty, which was a cinematic highlight of 2018: samuelbarberfilm.com.
CLASSICAL AND BEYOND QUICK PICKS
DEC 8, 8PM: Gallery 345 presents CBC Music's "next big cello star," 24-year-old Cameron Crozman and friends (among them, Pocket Concerts' co-director, pianist Emily Rho) performing music by Britten, Schubert and Fauré (his masterful Piano Quartet No.1).
DEC 14, 8PM: Kindred Spirits Orchestra presents 16-year-old prodigy Leonid Nediak playing Rachmaninoff's Piano Concerto No.4 at Flato Markham Theatre. Another teenager, violinist Ellie Sievers, is the soloist in Vaughan Williams' exquisite The Lark Ascending; Kristian Alexander also conducts Prokofiev's Symphony No.4.
DEC 16, 8PM: The Kitchener-Waterloo Chamber Music Society (KWCMS) presents the Penderecki String Quartet in the first installment of Beethoven's complete string quartets – played in chronological order – beginning on his 249th birthday with Op. 18 Nos.1, 2, and 3 and finishing on his 250th birthday, December 16, 2020.
JAN 4, 3PM: 5 at the First Chamber Players presents some fancy string players – Yehonatan Berick, violin, Theresa Rudolph, viola, and Rachel Mercer, cello, among others – in "String Extravaganza IX" highlighted by Mendelssohn's timeless Octet.
JAN 18, 7:30PM: "Tooting Mozart's Horn, Naturally!" the latest Pay What You Decide concert from Academy Concert Series features COC Orchestra principal hornist, Scott Wevers, in Mozart's Horn Quintet in E-flat Major K407 and Hoffmeister's Horn Quintet in E-flat Major. Mozart's String Quartet in B-flat Major K458 "The Hunt" rounds out the intriguing program.
JAN 19, 2:30PM: The Gryphon Trio joins with conductor Bradley Thachuk and the Niagara Symphony Orchestra for a performance of Beethoven's Triple Concerto. Completing the Beethoven trifecta are the Egmont Overture and the stirring Symphony No.5.
JAN 19, 8PM: KWCMS presents Ensemble Made in Canada performing Mahler's Piano Quartet and Brahms' Piano Quartet No.3 in C Minor Op.60, written within a year of one another.
JAN 20, 7:30PM: Associates of the Toronto Symphony Orchestra presents TSO principal cellist, Joseph Johnson, and collaborative pianist extraordinaire, Philip Chiu, among others, in Brahms' urgent Piano Quartet Op.25 and Shostakovich's commanding Piano Quintet Op.57.
JAN 26, 3PM: RCM presents the elegant Louis Lortie playing Beethoven Sonatas Nos.27, Op.90; 28, Op.101; and 29, Op.106, the demanding "Hammerklavier." In Koerner Hall.
JAN 27, 7:30PM: U of T Faculty of Music presents violinist Mark Fewer and pianist James Parker performing "Half of Beethoven's Complete Sonatas for Violin and Piano." But which five will they play?
FEB 2, 2PM: RCM presents Gábor Tarkövi, principal trumpet of the Berlin Philharmonic since 2005, with Benjamin Smith, piano, in works by Hindemith, Gliere, Hovhaness, among others. In Mazzoleni Hall. Tarkövi will give masterclasses (free and open to the public) in Walter Hall on February 6 at 1:10pm and 5pm and on February 7 at 10am and 2pm in Mazzoleni Hall.
Paul Ennis is the managing editor of The WholeNote.