This summer's many festivals promise music to engage the most discerning listener across the GTA and the vast country beyond. What follows is meant to augment our Green Pages supplement, with special emphasis on the Toronto Summer Music Festival but touching on other noteworthy festivities elsewhere.
Toronto Summer Music
With more than 200 ethnic groups speaking 140 languages, Toronto is one of the world's most diverse cities – slightly more than half the population is foreign-born – setting the stage for Toronto Summer Music Festival's 2019 edition. "Beyond Borders" will explore and celebrate the "cross-cultural influences that have pervaded classical music from the times of Mozart and Mahler, right up to the composers of today." With such a timely theme opening up our ears to listen afresh to the richness of a packed three weeks of concerts, TSM's 14th festival has become the go-to musical event of the summer.
A look at the content of the opening night Koerner Hall concert on July 11 gives us an insight into how these cross-cultural influences work in practice. Soprano Adrianne Pieczonka's part in the evening includes Ravel's Cinq mélodies populaires grecques directly inspired by Greek folk songs. Violinist Kerson Leong contributes Sarasate's electrifying Zigeunerweisen, an homage to Gypsy fiddling prowess. Pianist Jon Kimura Parker will perform Mozart's Piano Sonata No.11 in A Major, K331 with its famed "Turkish March" final movement; as well as Chopin's Ballade No.4 in F Minor, Op.52, written in France, far away from his native Poland.
An unusual connection to the Beyond Borders leitmotif is Madeleine Thien's pre-concert conversation with Eric Friesen preceding Angela Hewitt's Koerner Hall performance of Bach's Goldberg Variations on July 30. Thien's novel Do Not Say We Have Nothing is filled with musical references from Bach to Beethoven and Shostakovich. The Malaysian-born, Chinese-Canadian began writing the novel in a Berlin cafe, spending five hours a day listening on headphones to Glenn Gould's 1955 recording of the Goldbergs on repeat to block out the cafe's noise as she wrote. She told the literary journal Brick that she was experimenting with musical time in her novel (which won the 2016 Scotiabank Giller Prize and the Governor-General's Literary Award for Fiction) and that the Goldberg Variations "is both a structure for the novel and a way of trying to make space for the vast inner lives of the characters." She said: "Bach always seems to me to be creating time. He makes space where there seems to be none and makes something feel eternal in a finite space."
Other examples of border crossing? On July 12, the world premiere of Greek-born Canadian composer Christos Hatzis' String Quartet No.5 "The Transmuting" is part of the New Orford String Quartet's tenth anniversary celebration which also includes one of Beethoven's finest achievements, his String Quartet No.9 in C Major, Op.59, No.3, the last of the three string quartets that Count Razumovsky, the Russian ambassador in Vienna commissioned. Then, on July 15, the fruits of a five-year collaboration between the musicians of Montreal's Middle Eastern/early music group, Constantinople, and Ablaye Cissoko, a West African griot, will be on display in Walter Hall. And the remarkable Dover Quartet's concert on July 17 at Koerner Hall features three works with strong links to the USA: England's Benjamin Britten composed his String Quartet No.1 in California in 1941; Hungarian composer Bela Bartók's String Quartet No.3 was dedicated to the Musical Society Fund of Philadelphia; and Antonin Dvořák spent three years in America away from his Czech homeland – he wrote his immensely popular "American" Quartet in Spillville, Iowa, a town of 300 Czech immigrants where he was surrounded by his home culture.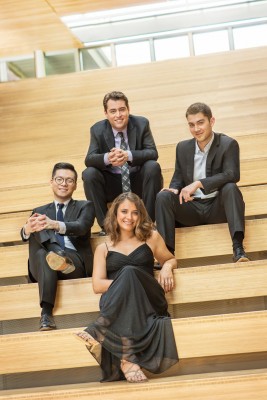 Charles Richard-Hamelin's July 19 recital in Walter Hall includes Chopin's Andante spianato et grande polonaise brillante Op.22, a piece he began composing soon after he left Warsaw for Paris in 1830. Also on the program (with members of the Dover Quartet) is Brahms' Piano Quartet No.1 in G Minor, Op.25, with its Hungarian-rhapsody finale. A July 26 Walter Hall concert titled "Souvenir of Florence," headed by violinists Jonathan Crow and Jennifer Koh, and pianist Philip Chiu, features Tchaikovsky's sumptuous Sextet in D Minor, Op.70 (written while the composer was visiting Florence, Italy), Debussy's Piano Trio in G Major (also while living in Italy), and Prokofiev's Five Melodies for violin and piano, written in 1920 while touring California.
Crow and Chiu, incidentally, give a recital on July 29 that reaches beyond TSM's thematic borders but one that, based on its recent COC noon-hour preview, should not be missed: their performance of César Franck's Sonata for Violin and Piano in A Major was truly transformative, dramatic, delicate and dynamic, from its magical hushed opening onwards.
World-class performers like Pieczonka, Parker, Hewitt, countertenor Daniel Taylor, tenor Anthony Dean Griffey, and the New Orford, Dover and Rolston String Quartets, are only part of what TSM offers: 32 emerging professionals are given the opportunity to be mentored by a faculty of established musicians. These fellows, as they are called, from TSM's Art of Song and Chamber Music Institute come together to perform at the Festival's reGENERATION Saturday concerts, alongside their mentors. In addition, Chamber Music fellows also perform in ensembles that receive coaching from mentors at free noon-hour concerts in Heliconian Hall.
From July 11 to August 3, TSM provides a sumptuous serving of midsummer music. I will be there.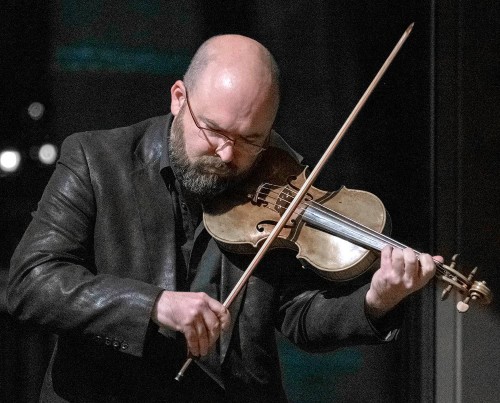 Stratford Summer Music
After 18 years as founding artistic director, John Miller has ceded leadership of Stratford Summer Music to violinist Mark Fewer, and Fewer's interest in jazz and improvisation shows in this year's program. Stephen Prutsman, Duane Andrews, Phil Dwyer, Jodi Proznick (with Heather Bambrick), John Novacek and Fewer himself will participate in a Friday night series at Revival House. There will be tributes to Nat "King" Cole and Dave Brubeck, and appearances by John McLeod's Rex Hotel Orchestra, Laila Biali and The Two Bass Hit (Joel Quarrington and Dave Young) with Novacek.
That being said, Stratford Summer Music's longstanding focus on chamber music as "a vital aspect of music-making … fostering listening, awareness, flexibility and collaborating with others, while offering the audience exposure to different styles, genres, and forms of music" still remains. Highlights include Isabel Bayrakdarian with pianist Robert Kortgaard and violinist Fewer in recital August 9; "Party Like It's 1689" with Suzie LeBlanc, Matthias Maute (recorder) and Fewer on August 22; cellist (and SSM favourite) Stéphane Tétreault, Prutsman and Fewer on July 21; the Dann Family in separate chamber and jazz programs on August 8; clarinetist James Campbell, Stephen Prutsman and friends on August 22. Pianist Janina Fialkowska presents an intriguing recital of Mozart, Debussy, Ravel, Chopin and more on August 3.
Of special note, in a nod to the 1960s when Glenn Gould was part of a triumvirate (with violinist Oscar Shumsky and cellist Leonard Rose) directing music programs as part of the Stratford Festival, Art of Time Ensemble is reviving "Hosted by Glenn Gould" where the iconic pianist introduces performances of chamber music by Shostakovich and Beethoven via clips from the CBC's Glenn Gould on Television. Fewer's first Stratford Summer Music promises to enhance this music festival's reputation as something more than a sidebar to Stratford's theatrical main event.
Ottawa Chamberfest
There is a plethora of musical pleasure to be found July 25 to August 8 at this year's Ottawa Chamberfest – beginning with the collaboration between the St. Lawrence String Quartet and versatile pianist Stephen Prutsman in Franck's masterful Piano Quintet and then, later that evening, providing the soundtrack for Buster Keaton's classic comedy, College. On July 26, Finland's KallaKvartetti (flute, violin, viola and cello) harkens back to its Nordic ancestors; on July 27, pianist David Jalbert performs an ambitious program of Shostakovich, Rzewski and Wijeratne; and on July 28, Janina Fialkowska offers a strong lineup of piano works by Mozart, Debussy, Ravel and a considerable selection of Chopin.
And there's more. The Netherlands' all-female saxophone quartet, Syrène Saxofoonkwartet, returns to the festival on July 29 with arrangements of Handel's Water Music, Vivaldi, Barber's Serenade for Strings and excerpts from Bernstein's West Side Story. Honens laureate, German pianist Hinrich Alpes plays 15 of Beethoven's first 20 piano sonatas in two concerts, July 30 and August 1. French string quartet Quatuor Danel plays Russian repertoire (Prokofiev, Shostakovich and Weinberg) on July 30. And James Ehnes and Andrew Armstrong play all of Beethoven's Sonatas for Violin and Piano broken into two concerts on July 31 and August 2.
Other highlights: Ottawa's own Angela Hewitt joins violinist Yosuke and the Cheng2 Duo for a tribute to Clara Schumann, August 3; then, August 5, Hewitt plays Bach, focusing on the first three English Suites and the Rolston String Quartet performs Schafer's String Quartet No.2 and Beethoven's "Razumovsky" Quartet No.7, Op.59 No.1. Various combinations of the Manhattan Chamber Players perform diverse Mozart and Dvořák on August 6; and the next day they team up with the celebrated Dover Quartet for Shostakovich's String Octet.
Two Mini-Tours
National Youth Orchestra Canada's 59th year has been an auspicious one so far with the spring release of the NFB documentary That Higher Level, the result of two months spent with the 100 musicians between the ages of 16 and 28 who comprised the orchestra as they prepared for last year's Canadian tour. A trip to Spain will follow this summer's Odyssey Tour to five cities: July 21 during Ottawa Chamberfest; July 22 at the Maison symphonique de Montréal; July 25 in Parry Sound at the Festival of the Sound; Stratford on July 27 at SSM; and, finally, Toronto, July 29 at Koerner Hall, as part of TSM.
The summer tour concert program includes Prokofiev's Romeo and Juliet, Op.64; Suites Nos.1 and 2 from Manuel de Falla's The Three Cornered Hat; Mahler's Symphony No. 5; and Sinfonia Sacra (Symphony No.3) by Polish composer Andrzej Panufnik. The tour will also feature Brahms' Double Concerto for Violin and Cello Op.102, with the winners of the Canada Council for the Arts' Michael Measures Prize as soloists (to be announced in July).
Simone Dinnerstein, the soloist in Philip Glass' Piano Concerto No.3 when it had its Canadian premiere at last year's 21C Music Festival in Koerner Hall, is on something of a mini-tour of her own, with the Manitoba Chamber Orchestra: this summer she performs the work in Ottawa (at Music and Beyond July 15, 16), Stratford (July 17), Festival de Lanaudière (July 19), and Westben Concerts at the Barn (July 20). A treat to savour.
Two 40th Anniversaries
The Festival of the Sound begins its 40th anniversary year on July 19 with a celebratory Gala Opening Concert comprised of highlights from past seasons. From Handel's Hallelujah Chorus to Leonard Cohen's Hallelujah; excerpts from Bach's B-Minor Mass and Orff's Carmina Burana; Beethoven's Ode to Joy and favourite bits from Gilbert and Sullivan, the specialness of the occasion is underlined.
Other highlights include two concerts by the Rolston String Quartet playing pillars of the classical repertoire: Beethoven's String Quartet Op.59, No.1 "Razumovsky" and Piano Concerto No.5 "Emperor" (with Janina Fialkowska), July 24; and Mozart's "Dissonance" String Quartet and Schubert's "Death and the Maiden", July 25. Larry Beckwith's production of Vivaldi's The Four Seasons is enhanced through narration by Indigenous elder John Rice (who participated with Beckwith in last year's FOTS opening event), an art song, the sonnet on which the concerto is based, and projected images. With Mark Fewer, violin; John Rice, narrator; Julie Nesrallah, soprano; Robert Kortgaard, piano; and the Festival Ensemble, July 30.
The first concert of the FOTS was held at 2pm on August 5, 1979 in the Parry Sound High School Gymnasium under the direction of Anton Kuerti. That same all-Beethoven program will be replicated at 2pm on August 5, 2019 at the Stockey Centre, headed by artistic director James Campbell and the Cheng2 Duo. There will be an all-day celebration of 40 works from 40 years of the festival's history on August 9, beginning with a musical morning cruise, followed by several events running concurrently from noon to 4pm, an afternoon tea and an evening concert.
Not to be outdone, the Elora Festival's 40th Anniversary Opening Night brings together many world-class artists for a celebration in song on July 12 in the Gambrel Barn. Carmina Burana heads a varied program featuring the Elora Singers, the State Choir LATVIJA, members of the Grand Philharmonic Children's & Youth Choirs, singers Jane Archibald, James Westman and Daniel Taylor, TorQ Percussion, two members of Piano Six, and conductors Maris Sirmais and Mark Vuorinen.
Some of the festival's many highlights include the entire lineup of Piano Six on July 13; André Laplante (piano), Mayumi Seiler (violin) and Colin Carr (cello) performing Beethoven's "Archduke" Trio and Ravel's Piano Trio on July 14; the Cheng2 Duo on July 20; countertenor Daniel Taylor and tenor Charles Daniels, on July 21; and Measha Brueggergosman on July 27.
My Magic Carpet Wish
If I had a magic carpet, I'd ride to the Festival de Lanaudière northeast of Montreal on July 12 to hear Charles Richard-Hamelin and Les Violons du Roy perform Mozart's Piano Concertos Nos.22 and 24. And I'd return on July 28 for Marc-André Hamelin, Yannick Nézet-Seguin and Orchestre Métropolitaine for Brahms' Piano Concertos Nos.1 and 2.
Safe travels and happy listening.
Circle the Dates
June 28, 29, 7:30pm; June 30, 3pm: Anticipation for these concerts has been building since last September when Spanish-born conductor, Gustavo Gimeno, was announced as the TSO's 11th music director. Having guest-conducted the orchestra in February 2018, this will be his second appearance on the Roy Thomson Hall podium. The appealing program opens with Sibelius' richly melodic Violin Concerto, with concertmaster Jonathan Crow as soloist. Prokofiev's exuberant Symphony No.1 "Classical" and Stravinsky's ever-popular Suite from the Firebird follow. Gimeno's term as music director begins with the 2020/21 season.
Paul Ennis is the managing editor of The WholeNote.