What is "World Music" and who are its performers? For years I have been alternately intrigued by the question or flatly dismissed it as irrelevant to the music I loved and made myself. Now that I've served as your faithful world music columnist for some months, however, I thought I'd use this end of year soapbox to finally tackle this slippery musical subject. Please brace yourself for a further series of annoying questions arising from my simple initial one. The woods get much thicker before we can clearly see the trees, let alone the clearing beyond.
Is world music a commercial marketing category, coined by record label executives in 1980s London, equipped with its own sales charts, radio category, journalistic terminology and record awards? Or a term coined in the early 1960s by the late ethnomusicologist Robert E. Brown at Wesleyan University, Connecticut for his groundbreaking world music studio and academic programs there, which became a model for universities, colleges and conservatories around the world?
Is it "local music from out there," or "someone else's local music" as some have proposed? Is it about "our" vs. "their" music, or about the way musicians variously recombine the music you were born into with the music you chose, moved into? Or is it a musical football match playing out a disagreement between perceived authenticity (i.e. indigenous music) and hybridized musical categories, especially those seemingly "diluted" by pop culture?
In the face of such a bewildering range of questions, just what can we agree on? One thing, perhaps, is that the definitions of world music are multiple, dynamic and overlapping. Another is that over the last 30 years world music has clearly gone through a process of gradually increasing "sub-genrefication," not unlike other kinds of music (heavy metal is a good example). By sub-genrefication I mean an extension of the genre's original definition of a perceived unmediated "roots music" to include a mounting list of newly created hybrid sub-genres. Part of this process is no doubt the result of pressures on genre boundaries in the overall climate of a globalising pop culture. There are commercial pressures at play here too. According to a 2002 Unesco report by the latter half of the 1990s the value of global record sales hit a historic peak. Significantly slipping sales ever since have meant the record and publishing company financial support for world music, has declined. On the one hand this has led, overall, for world music as well as for many other music categories, to a precipitous decline in overall album sales. Paradoxically it may also be directly linked to the vigour of the modest but vital local live world music performance scenes dotted around the planet, and to the touring companies who (hope they will) pack our largest halls, often wrapped up in elaborately costumed and staged extravaganzas.
There are examples of both on display in my column this issue. Happily for all of us, musicians of all stripes continue to make both established and newly minted hybrid kinds of music that someone may choose to dub world music — or not.
I hope I haven't lost you in my overview of some 50 years of world music, because, as you can see from what follows, our GTA concert scene over the next two months reflects and underscores many of the issues I have mentioned.
Parvaz Homay and his Mastan Ensemble present "Love, Wisdom and Human" [sic] at Roy Thomson Hall on December 2. Described as a newly created concert "opera" by Iranian musician Parvaz Homay, this production (in Farsi) is presently touring Canada and the US. Judging from this group's multiple albums and international tour dates they seem to enjoy a sold fan base among the Iranian diaspora. At its Toronto stop, the Mastan Ensemble, a traditional Persian instrumental group, is reinforced by a Western orchestra directed by Toronto conductor Kerry Stratton. A brief trailer video on his website reveals Homay as a singer with a folksy voice. On the other hand, soprano Darya Dadvar sings in a distinctly operatic manner. The dramatic baritone, Soli, rounds out the concert cast.
On December 6, the world music Christmas calendar begins in earnest with the Nathaniel Dett Chorale's concert titled "An Indigo Christmas: Navidad Nuestra" at Koerner Hall. The artistic director, Brainerd Blyden-Taylor has programmed a vibrant mix of Afro-Latin and Andean rhythms and harmonies. The Latin music quartet, Maderaz, and the celebrated dance collective COBA will add to the choir's celebration of Afro-centric dance, music and folkloric traditions invoking the spirit of Christmas. The concert features two choral gems by Argentinean composer Ariel Ramírez (1921–2010). His Misa Criolla (1964), now a staple of the choral repertoire, is spiritually charged and at the same time deeply rooted in multiple music/dance forms from across South America including the chacarera, carnavalito and estilo pampeano, as well as Andean influences and instruments. Here, COBA choreographer BaKari E Lindsay, COBA brings it to life through staged dance representations of the dance rhythms intrinsic to Ramírez's score. Ramírez's signature Yuletide Navidad Nuestra, which serves as the concert's centrepiece, is a suite of Argentinean carols marked by characteristic Hispanic American music. The evening is rounded out by Haitian-born Sydney Guillaume's Dominus Vobiscum interweaving Gregorian melodies with Creole texts and rhythms; a trio of African-American spirituals by Minnesota composer Robert L. Morris; an a cappella interpretation of Go Tell It On The Mountain arranged by Bruce Saylor; and Craig Courtney's impassioned arrangement of Mary Had A Baby.
Music Gallery's concert on December 16 also has a Christmas theme, but one that reaffirms the commitment to experimentation in the Music Gallery's "New World Series." Titled "Asalto Navideño Reimagined: A Latin Christmas Concert," the concert has three layers: a remix of a classic salsa Christmas album, a seasonal celebration and a resolute statement of pan-Latino culture. Originally a statement about New York Hispanic life, Willie Colon and Hector Lavoe's popular salsa Christmas album Asalto Navideño, now 40 years old, is ripe for reinvention. Its lyrics speak of the joy of Christmas, but they also explore themes of home and diaspora and even propose new festive traditions. Today's Latin sounds continue to mix music from across the Americas, increasingly with the intervention of electronics. Therefore it's natural that four "producers" have been commissioned to remix the album's now-iconic material: Toronto's DJ Linterna & Ulladat, DJ Javier Estrada from Monterrey, MX, and Sonora Longoria from Austin, TX. All are known for their individual combinations of music genres, groove and experimentation. Their electronic contributions will be mixed with live instruments including Steve Ward on trombone and vocals. Vocalist Lido Pimienta, who splits her time between Toronto, London, Ontario, and Colombia, is a key voice in the evening; her striking hybrid performance style combining unaffected vocals and electronics.
Moving into the New Year, on January 10, 2012 at noon, the Little Pear Garden Collective presents a different sort of festive entertainment, performing classical and contemporary dance works with Chinese music at the Richard Bradshaw Amphitheatre, Four Seasons Centre for the Performing Arts. The collective, directed by Emily Cheung, is Toronto's Jingju or Peking opera company. That this concert is part of the "Dance Series: Chinese Traditions Then and Now" is yet another reminder that world music performances also sometimes include dance.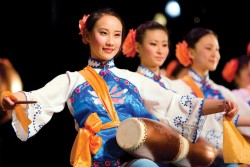 Keeping with the Chinese music and dance theme, on January 12 to 15, Falun Dafa presents "Shen Yu Performing Arts" at the Sony Centre for the Performing Arts. This massive NYC based company certainly aims high. It was established in 2006 with no less a mission than "reviving 5,000 years of divinely inspired Chinese culture." Its mission statement makes an eloquent ideological case, "After more than 60 years of Communist Chinese rule …Chinese traditional culture has been all but completely demolished. However, the deeper spiritual core of the ancient culture, with its values of benevolence, honor, propriety, wisdom, and sincerity, as well as a reverence for the gods and the heavens, cannot be destroyed. In order to restore … Chinese traditional culture, a group of overseas Chinese artists established Shen Yun in New York."
At the core of Shen Yun's performances appears to be a vast staged pageant, with tableaux enacted by dozens of performers clothed in impressive, brilliantly coloured, custom-made costumes and supported by an original musical score performed by a Western orchestra, classical Chinese and regional ethnic dance styles, instruments such as erhu and pipa, and characteristic vocalists. The show's narrative is transparent. It moves audiences from the Himalayas to tropical lake-filled regions, "from the legends of the culture's creation over 5,000 years ago through to the story of Falun Dafa in China today." With over 100 artists "Shen Yu Performing Arts" might be one of the primary proponents of the "go big because you can't go home" school of world music (and dance) performance.
May you all have wonderful Holidays, a stellar 2012 and be able to go home if you want to.
Andrew Timar is a Toronto musician and music writer.  He can be contacted at worldmusic@thewholenote.com.