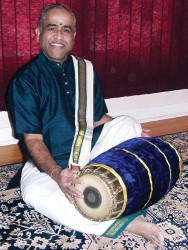 Over the past 30 years, as world music has emerged as a commercial music category, the general audience interest in it has continued to grow and morph. As a meta-genre, it has long jumped the boundaries of its component musics' roots in their ethnic communities of origin. The various kinds of music included in the sea of world music, when observed at close hand, really consist of multiple interconnected pools. And here in Toronto there are many such pools teeming with life. This is the "scene" I try to get a feel for and share with you, dear reader, in each WholeNote issue.
As important as various groups and communities are to the overall vibrancy of the local world music scene, the significance of the contributions of certain individuals pops out occasionally. These individuals are the performers, teachers, producers and programmers without whose imagination, skill and dedication the scene would be a very still pool indeed.
Small World Music is a case in point. This production company is the lovechild of Alan Davis who cut his programming teeth at Toronto's Music Gallery in the 1980s and 1990s. In the ten years since he founded his production company, Small World Music has become, arguably, Toronto's most active and consistent presenter of music from many corners of the globe. It is also a supporter of music that mixes all sorts of genres. I attended the launch of the tenth annual Small World Music Festival on September 22, and got the scoop on this year's lineup.
Having begun in September, the Small World Music Festival continues on October 2 at the Enwave Theatre, Harbourfront, with the Karevan Ensemble performing a concert titled "Homeland Variations." Composed by Reza Moghaddas, the score received a 2011 Dora Mavor Moore Award nomination. Called "multimedia Persian fusion," the music combines gypsy songs accompanied by kamancheh (Persian fiddle), punctuated by saxophone, keyboards and electric bass. Further sections feature R&B rhythms blended with industrial and electronic sounds, dovetailing with melancholy duduk (Armenian reed) melodies and the spirited upbeat juxtaposition of African percussion, kamancheh and tanbour (Kurdish lute). I'm guessing the dancer Bahareh Yaraghi will provide the "multimedia" aspect of the show.
The same Sunday night at the Royal Conservatory, Small World Music, in association with the RC, presents the Bollywood diva Asha Bhosle with Nilandri Kumar on sitar. Bhosle, one of the queens of playback singing, has performed an astounding 20,000+ songs in over 1,000 movies in her epic career. In fact she has the distinction of receiving the "most recorded artist" laurel from the Academy of World Records. Kumar, much the junior of Bhosle in age and experience, is an emerging Indian fusion sitarist with roots in the classical tradition. He has worked in Bollywood as a musician, and recorded with guitarist John McLaughlin on his album Floating Point, as well as on 13 of his own albums. We can expect that popular film songs and ghazals, songs sometimes included among the "light classical" side of North Indian music, will dominate the evening at Koerner Hall.
Another example of an individual who has made a significant contribution to Toronto's world music scene is the mrdangam (South Indian hand drum) master and music professor Trichy Sankaran. It is hard to recall a time when Indian music–classical and otherwise–was not a feature of Toronto's concert and university music education landscape, but there actually was such a time not that long ago.
A noted mrdangam player in India when still quite young, Sankaran came to York University 40 years ago to help build its newly hatched South Indian classical music (Karnatak music) programme. He's still teaching at York, inspiring by example yet another generation of students to study this highly developed percussion art form. He has also inspired some of his two generations of students, myself included, to infuse Karnatak music's language and discipline into their own music and scholarly research.
Sankaran's 40th anniversary at York will be marked on October 4, 7:30pm, at a concert at the Tribute Communities Recital Hall, part of the York University Department of Music's "Faculty Concert Series." In addition to Sankaran's brilliant mrdangam playing, guest musicians will include members of Autorickshaw (Suba Sankaran, piano and vocals; Ed Hanley, tabla; and Dylan Bell, bass guitar), as well as Mohan Kumar, ghatam, and Desi Narayanan, kanjira. Trichy Sankaran's considerable contributions to his field are increasingly being acknowledged. He has recently been short listed for the Toronto Arts Foundation's Muriel Sherrin Award for International Achievement in Music. He will be receiving the prestigious "Sangita Kalanidhi" title from the Music Academy in Chennai, India, in January 2012.
A commemoration of another sort takes place on October 21 and 22 at the Betty Oliphant Theatre. The works of the late Toronto composer and percussionist Ahmed Hassan were imbued with Afro-Caribbean and Middle Eastern influences. Written primarily in conjunction with Canadian theatrical dance, Hassan's works will receive performances in their original staged dance context at the Abilities Arts Festival, produced by Peggy Baker Dance Projects. Renowned dancer Peggy Baker, the curator of this show, is Ahmed Hassan's widow. Titled "The Neat Strange Music of Ahmed Hassan," his music will be performed along with the original dances, by important Toronto choreographers, for which his music was commissioned. The performers include senior students of the School of Toronto Dance Theatre; Hassan's sister, Maryem Tollar, vocals and Mother Tongue, a "world beat" band.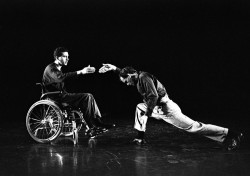 From October 15 to 23 the Music Gallery presents its annual X AVANT New Music Festival VI. The festival typically programmes avant-garde music in its many guises, however on Friday October 21 there is a world music element. That night, three acts represent various shades of contemporary music. The Montreal based sound artist Tim Hecker will play St. George the Martyr Church's pipe organ plugged into a computer, the sound looped, altered and played back through the PA system, while the German pioneer of "glitch" music, Markus Popp, explores modern electronica. (Opening the evening, is a new cross-cultural Toronto music collective Global Cities Ensemble of which, as I mentioned in the June issue, I am a member, playing suling — Indonesian ring flute, and kacapi — Indonesian zither along with Araz Salek (tar — Persian lute); Abdominal (songs and rap) and Professor Fingers (live electronics), and blending instruments, intonation, and modes from Iran, Indonesia, India and Western musics.)
World music also makes several appearances this month further downtown on Front Street at the splashy, renovated Sony Centre For The Performing Arts. On October 21 "Goran Bregovic And His Wedding and Funeral Orchestra" features music from the mixed ethnic centre of Sarajevo, combining a Serbian gypsy band, a classical string ensemble, an Orthodox male choir and two Bulgarian female vocalists. On the 22nd, the Salsa Kings perform music from Cuba including the dance-infused music of the mambo, rumba and the cha cha cha.
Opening its run on October 26 also at the Sony Centre, David Mirvish presents "Bharati: The Wonder That Is India." Judging from the promotions touting a "music and dance spectacle from India, featuring 70 dancers, actors, singers, acrobats and musicians," this production appears to be a big-stage nationalistic extravaganza along the lines of recent Chinese productions and predated by the long-running Irish themed mega-shows "Riverdance" and "Celtic Woman."
Bharati's storyline, on the other hand, sounds compellingly contemporary. A modern day Siddharth raised in the U.S. and cynical of all things Indian returns home to cleanse the Ganges river of its pollution. Despite his contempt, Siddharth is attracted to a mysterious and elusive Indian woman, Bharati, who reintroduces him to the many wonders of India. As the story goes, in the end, Siddharth, appearing to be a sort of diasporic Everyman, discovers a new sense of self in this journey of homecoming, identity and redemptive love.
These are big, ambitious themes. I hope the production delivers them with more than simplistic bombast since I plan to attend.
I especially wish for a nuanced presentation of a sampling of the multitude of Indian traditional performing arts, among the treasures of the music of our world.
Andrew Timar is a Toronto musician and music writer. He can be contacted at worldmusic@thewholenote.com.