Before we get to this month's concerts, I'd like to wade in on the world music component of Canada's music industry awards, the JUNOs. Held from March 26 to April 1 in Ottawa, this year's JUNOs have 41 award categories encompassing nominations of the top-selling singers and musicians you would expect such as Arcade Fire, Avril Lavigne, Drake, Justin Bieber, Michael Bublé and Nickelback.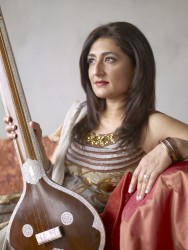 The "World Music Album" category nominations reflect more modest album sales, but no less artistic ambition and achievement. Among the distinguished performers represented is previous JUNO award-winner Kiran Ahluwalia. Her latest album Aam Zameen: Common Ground fuses her own ghazal and Punjabi folk-song approach with the music of the African masters of Malian "desert blues." Montreal based artist Socalled has had a shorter career, yet his latest music, impossible to pigeon-hole, is no less ambitious in its transnationality. His musical mission appears to cross all sorts of musical and media boundaries, all the while embracing a kibitzing attitude toward sound collage inspired by pop, funk, klezmer and rap. Another nominee is the Brazilian-born singer, percussionist and composer Aline Morales, represented by her debut solo album Flores, Tambores e Amores. Her music assays Brazilian song styles such as samba, forró and 1960s tropicalia, and forges them into her own voice with traces of Italian film soundtracks, avant-garde poetry, African percussion and vintage synths.
Now to the month's live offerings: examining world music in a living historical context on March 1, the Royal Conservatory's String and World Series at Koerner Hall presents the multi-Grammy Award-nominated viola da gambist, Jordi Savall, directing two groups, Hespérion XXI and the Tembembe Ensamble Continuo. The Catalan virtuoso of the viola da gamba, "an instrument so refined that it takes us to the very brink of silence," Savall has been among the world's major figures in early music since the 1970s. He is partly responsible for bringing the viola da gamba back onto the world stage. While his typical repertory ranges from the mediaeval to the baroque period, Savall's approach to interpreting this "dead" historical repertoire has always been informed by the performance practices of living oral music traditions of Europe, the Arab world and now the "New" world.
Appointed European Union ambassador for intercultural dialogue in 2008, Savall is passionate about asserting the common roots of human expression. The Koerner Hall concert is titled "Folias Antiguas & Criollas: From the Ancient to the New World." It features Spanish and Mexican baroque music as well as performances from the living Mexican Huasteca and Jarocho music traditions: Savall explores the creole music created from their confluence. You can catch the programme March 2 at the Perimeter Institute in Waterloo if you miss it at Toronto's Koerner Hall.
No less challenging to the music landscape status quo is the March 5 CD launch concert, "Bridges: Jewish and Arabic Music in Dialogue" at the Al Green Theatre, Miles Nadal jcc. Headlining are Lenka Lichtenberg, the Jewish singer with an international career, and Middle Eastern-Canadian singer, dancer, actor and qanun player Roula Said. For over 20 years the inspiring Said has been one of Toronto's leading lights in the belly dance, Arabic and fusion music scenes. While Lichtenberg was born and raised in Prague, she completed her university music education in Canada. Her current music reflects her Yiddish roots and her ongoing study of the Jewish cantorial tradition; in her extensive touring, she pursues a career as a singer-songwriter. Together, their aim with "Bridges" is to establish an inspiring dialogue between Jewish and Arabic cultures grounded on musical commonalities. They are supported in their quest by an outstanding backup band composed of a Toronto world musician "A-team," including John Gzowski on oud, guitars and bouzouki, Kinneret Sagee on clarinet and Ernie Tollar on sax, flutes and clarinet. The rhythm section consists of bassist Chris Gartner, percussionist Alan Hetherington and Ravi Naimpally on tabla and dumbek, all of whom performed with convincing élan on Lichtenberg's sparkling last album Fray, markedly influenced by Toronto's interactive world music scene.
On March 2 the Toronto-born chanteuse Alejandra Ribera performs at the Glenn Gould Studio. Her dramatic singing and genre-hopping eclectic repertoire draws on both her Argentinean and British heritage, and particularly mirrors the grit and magic of Ribera's everyday urban Canadian reality with its darkly lyrical themes.
The Amadeus Choir, directed by Lydia Adams, presents "A Celtic Celebration," March 3, at Toronto's Jubilee United Church. The 115-voice veteran choir is joined by Stratford's five-piece, pan-Celtic fusion band Rant Maggie Rant, led by multi-instrumentalist Mark Fletcher. The Highland dancers also on the bill will undoubtedly further animate the concert.
The Royal Conservatory's World Series presents two outstanding singers early in March. On March 7, in a multi-media presentation, the Latin Grammy award winning Lila Downs will perform her dramatic and highly unique reinvention of traditional Mexican music and original compositions fused with blues, jazz, soul, African root and even klezmer music.
And on March 10, it's another Grammy Award winner's turn: the powerful-voiced Angélique Kidjo performing her brand of Afro-funk fusion with an infectious joie de vivre. Dubbed "Africa's premier diva" by TIME magazine, the West African born Kidjo has been an active member of the international world music scene for over 20 years. Her list of illustrious collaborators including Bono, Carlos Santana, Peter Gabriel, Alicia Keys and Branford Marsalis, gives an idea of the force of her personality and the significant impact of her vocal accomplishments.
On Thursday March 15, at 7:30pm, Nagata Shachu, Toronto's professional Japanese taiko drumming and music group, presents the premiere of Tatsujin Gei (Master Artists) at the Japanese Canadian Cultural Centre in Toronto. Three master performers from Japan — Kodo Drummers' Yoshikazu and Yoko Fujimoto, and the Okinawan dance master Mitsue Kinjo — will join forces with Nagata Shachu directed by Kyoshi Nagata. (This rare chance to see some of Japan's top exponents of taiko, song and dance in Toronto missed our listings deadline so you won't find further details here in the magazine. Call the Japanese Canadian Cultural Centre at 416-441-2345 for details.)
This month, two of our universities showcase the wide-ranging world music activities of their music students and faculty. I've found these concerts are a particularly good way to sample a musical tradition new to me: they're relaxed, the youthful participants are charged with the enthusiasm of new converts — plus they're free.
On March 15, from noon to 8pm, York University's Department of Music presents day one of its "World Music Festival." Performances by the World Music Chorus, Celtic, Ghanaian, Cuban, Klezmer ensembles and the Escola de Samba will fill the halls and rooms of the Accolade East Building with global sounds. The festival continues all next day with Caribbean, Chinese, Korean Drum, Balkan Music, Flamenco and Middle Eastern ensembles. Then on March 19, York's World@Noon series presents the triple platinum, Israeli singer-songwriter Idan Raichel at the Tribute Communities Recital Hall, Accolade East Building. His "Idan Raichel Project" is distinguished by its fusion of Hebrew lyrics, Middle Eastern and Ethiopian music and electronica.
The University of Toronto Faculty of Music presents its own World Music ensembles in concert March 16 and 21 at the MacMillan Theatre, Edward Johnson Building. On March 28, at Walter Hall, the exemplary Vocal Jazz Ensemble is directed in concert by the inspired extended vocalist, conductor and teacher Christine Duncan. They will perform with their guest, Darbazi, our region's first and most accomplished Georgian polyphonic choir.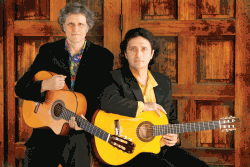 There was a time in the early 1990s when the guitar duo Strunz & Farah virtually defined the emerging world music market. Their very successful albums won Billboard's World Music Album of the Year and a Grammy nomination. With an eclectic sound that has been described as world fusion, their music is a mediated reflection of their cultural roots, including Afro-Caribbean, Latin American folk, flamenco and Middle Eastern music, wrapping it all up in jazz-based improvisation. They're back on the road appearing in venues across Southern Ontario this month. Starting at Hugh's Room in Toronto, March 14, they then appear at the Capitol Theatre in Port Hope, the Molsen Canadian Studio at Hamilton Place, London's Aeolian Hall and at Market Hall in Peterborough, on March 15, 16, 17 and 18, respectively.
Finally, rounding out the month, on March 31 the Royal Conservatory presents "Intercultural Journeys," echoing the intercultural and peace-bridging function of music proposed by some of the other concerts noted this month. Israeli cellist Udi Bar-David leads a group consisting of Lebanese violinist Hanna Khoury and Palestinian percussionist Hafez Ali, digging into repertoire merging European and Arabic classical musics. Their guests, Syrian singer Youssef Kassab, cantor Beny Maissner and Toronto qanun master George Sawa, will add yet more inclusive notes to this cross-cultural concert.
Andrew Timar is a Toronto musician and music writer.  He can be contacted at worldmusic@thewholenote.com.