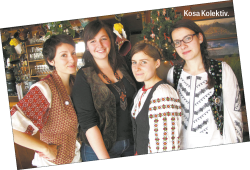 The high park sakura trees are finally in full bud — soon to be in glorious bloom–and spring is in the Toronto air. For Orthodox Christians this time marks Easter Sunday celebrated this year on May 5. And there is a springtide connection here with a new folk music scene with a distinctive pan-Slavic flavour that has been emerging among local young adults in the last few years. It's attracting those of Eastern European, especially Ukrainian, descent but also folks from other ethnicities.
Whether called third wave folk revival, urban folk, or post-folk music, such descriptions are eventually bound to fail, relying as they do on older, shaky, stereotypes. A secure definition eludes even the wiliest ethnomusicologist. One thing is certain though, trained and amateur musicians and OCADU artist grads alike are gathering in private and public spaces in groups such as the Kosa Kolektiv, Lemon Bucket Orkestra and the Fedora Upside-Down, the latter"an urban folk movement, with 11 bands, four art collectives and two performance collectives." As that self-representation illustrates, this scene includes the plastic movement and the often-neglected communal arts, as well as the purely sonic.
The women's Kosa Kolektiv, barely three years old, expands that scope even further, aiming to revitalize and reinterpret the entire web of peasant folklore in an urban context. "We do this by singing songs, sewing, cooking, planting, crafting, putting on workshops and sharing ideas over tea and good food. There's something to be said for the simpler pleasures in life, and Kosa Kolektiv embraces them." Kosa means braid in Ukrainian. Young women traditionally wore long braids, or kosy, before marriage and this group uses it as an effective central image of cultural fusion, the braiding of old and new. "We seek to re-learn forgotten songs, rituals and stories, and to bring them to life in a relevant way within our urban communities," they write on their website.
For the past two years the Kosa Kolektiv has hosted a string of choral folk song workshops focused on Slavic village music.The latest one titled "Vesnianky — Songs of Spring" taught Ukrainian spring ritual songs, as well as the hailky, a group activity which includes songs (haivky)performed while dancing and playing traditional games at (Orthodox) Easter.
You can take part along with the Kosa Kolektiv in the St. Nicholas Church community hailky on Easter Sunday May 5 at 4pm in Trinity Bellwoods Park. They will be joined by the members of the Lemon Bucket Orkestra, collectively leading village-style singing and community dancing. Not to worry if your Ukrainian is rusty, the dances will also be called in English. And one more thing: you're invited to bring a blanket, your Easter baskets and nibbles to liven up the communal picnic. How fitting that the town where Marshall McLuhan coined the phrase is host to an exemplar of the global village.
Musideum around the world: Elsewhere downtown, the cozy venue Musideum continues its multi-genre music programming. This month alone I count at least seven concerts with world and/or folk music credentials. Here are just a few:
May 6 Toronto's Debbie Danbrook performs on shakuhachi with Ottawa's sound shaman Mark Daniel on crystal bowls in a program titled "Healing Music Mediation." This concert reminds us of music's other side: its calming gifts. Danbrook, the first professional female shakuhachi (Japanese end-blown bamboo flute) player to specialize in the healing- and meditation-aiding abilities of her instrument, has recorded 14 CDs specifically for that purpose. Her music, embraced by healers and spiritual practitioners, aims to bring its audience into a calming, peaceful and meditative state. Many of us could benefit from a deep relaxation of the body and mind allowing us, even for the duration of a concert, to let go.
The sitarist Partha Bose performs twice at Musideum, May 26 and June 2, the second time with Indranil Mallick on tabla, a leading student of the renowned Swapan Chaudhuri. Bose represents the newest generation of concert sitar players of the Maihar gharana (school or lineage) of Hindustani music which was propelled onto the international stage and record market by two musical giants, the late Ravi Shankar and his brother-in-law, Ali Akbar Khan.
May 30 local folk fiddle stalwart Anne Lederman leads a fiddle trio with Emilyn Stam and James Stephens called "Eh?!" Acknowledged at the 2011 Canadian Folk Music Awards, Eh?! mashes established fiddle traditions with composed and improvised music. They perform not only with three five-string violins, but also with piano, mandolins, accordion, guitars, kalimba and their voices. As their name suggests, Canadian fiddle music from Newfoundland, Quebec and Manitoba forms the group's musical backbone–but with a twist: frequent detours to incorporate European and African models too.
Asian Heritage Month picks: In 2002 the Canadian government designated May as Asian Heritage Month and Small World Music was quick out of the blocks to mark the occasion. Its 11th Annual Asian Music Series continues May 4 with a concert featuring Rajeev Taranath on sarod (also spelled sarode, an Indian fretless lute) at the Maja Prentice Theatre in Mississauga. Taranath displays a brilliant technique, a wide emotional range and a disciplined strategy in developing a series of raags, the melodic types at the core of classical Hindustani music.
May 12 is Mother's Day and Small World is commemorating it with Ramneek Singh's vocal performances of Indian classical vocals in various genres, khayal, thumri, shabad-kirtan, sufiana and folk, also at the Maja Prentice Theatre. It's a rare treat to have a concert with five such genres represented by a single vocalist who is among the GTA's most accomplished Hindustani classical singers, a representative of the Indore Gharana.
Palmerston Library Community Asian Arts Fusion Festival:
To celebrate Asian Heritage Month, the Toronto Public Library is offering a wealth of live programs at various branches of which the Palmerston Community Asian Arts Fusion Festival on Saturday May 11 at the Palmerston branch just north of Bloor St. is perhaps the largest. It all starts at 11am with a street procession led by SamulNori Canada performing traditional Korean drumming in and in front of the library, animating the Koreatown neighbourhood. Tsugaru shamisen music follows played by Gerry McGoldrick a Canadian expert of this Japanese folk tradition. Choral music from the Republic of Georgia takes the stage at 1:30pm sung by the Darbazi choir representing music from the crossroads of Europe and Asia. They're directed by the tenor Shalva Makharashvili who passes on a deep understanding and passion for the music of his Georgian motherland.
One of the centerpieces of the festival is the 11:40am performance of the 15-member Toronto group Gamelan Kayonan performing Balinese dance accompanied by live gamelan music co-led by the dancer Keiko Ninomiya and John Carnes. It's followed by Javanese masked dancer Wiryawan Padmonojati, while his young son Rafifkana Dhafathi Padmonojati reinterprets the ancient art of Central Javanese shadow puppet theatre for Canadians. The Global Trio follows, serving up world music Toronto style, with a fusion of Persian, North Indian and Indonesian instrumental styles. And to cap off this Asian fusion afternoon Isshin Daiko (One Heart) of the Toronto Buddhist Temple sounds its thundering drums at 3pm to dispel all malevolent thoughts. Visit the Toronto Public Library's website for more details on this and other Asian Heritage Month concerts, activities and reading suggestions.
Other picks: Those wishing to extend their May 11 world music immersion should visit the "World Music Collaborations Concert" at 3pm, presented at SING! The Toronto Vocal Arts Festival at Harbourfront Centre. Suba Sankaran, who among several other roles is the singer with Autorickshaw, is acting as music director for the concert. She's teaching a selection of South Indian-focused vocal music to be interpreted by an eclectic group of participants including the Georgian trio Zari, Judeo-Spanish soloist Aviva Chernick, Tuvan throat singer Scott Peterson and Lizzy Mahashe, a South African singer and gumboot dancer. For the finale Sankaran is preparing an arrangement that draws on the strengths of each of these diverse singers. An insider informs me the new work's provisional title is WorldsKaleid.
On a personal note I am excited to be performing in concerts with one of Toronto's senior world music groups, the Evergreen Club Contemporary Gamelan (ECCG), at Arraymusic's bright new studio on Walnut Street. The concerts on May 18 and 19 are titled "In the Cage," celebrating the group's 26-year-old connection with American iconoclast composer John Cage secured by the group's commission of his Haikai (1986). The concerts also feature Cage student James Tenney's Road to Ubud (1986) for prepared piano and gamelan degung, as well as Gamelan Klavier (2009) for the same instrumentation by this year's Governor General's Award recipient Gordon Monahan. Emerging Toronto composer Elisha Denburg's new work scored for the percussion ensemble TorQ and the ECCG receives its world premiere on May 19. 
Andrew Timar is a Toronto musician and music writer. He can be contacted at worldmusic@thewholenote.com.