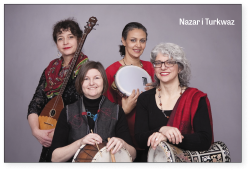 Summer in the city for me also means music in the city. No longer constrained by indoor concert halls and clubs, audiences can now enjoy an expanded range of venues and even performance genres, taking a cue from the rising temperatures shirtsleeve and sandals weather (at last!). That means outdoor venues like those at North York's Cultura Festival, Harbourfront Centre's weekend festivals and Toronto Music Garden, plus those at Roy Thomson Hall's Live on the Patio are animated with relaxed crowds. These and many other outdoor Toronto spaces resound for the summer with globally conscious music.
And that's just a partial urban list. It doesn't begin to touch on the wealth of outside summer folk festivals across Ontario or the curated concerts at city parks. Moreover, music presentations in the summertime include a huge range of genres, presenting an ideal opportunity to sample music you have been meaning to try, or never even knew existed – the latter's always a treat for sonic explorer types like me. This is a sneak peek at just a few.
Luminato at the Hearn: Every year for the last decade, Toronto's warm weather music season seems to begin with Luminato. The festival that set out to animate the city with music in June is ten years old this year. It also happens to be artistic director Jörn Weisbrodt's swansong year, a golden period in the tenure of any CEO. As it is for the present President south of the border, it's a tempting opportunity for Weisbrodt to affix his personal visionary seal on the organization he is about to pass on to other hands. And this year's festival is indeed a radical revisioning.
As opposed to the multiple outdoor venues of past years, music at Luminato will resonate from six sites all located within the caverns of the decommissioned Hearn Generating Station, as well as in one outside site, the Biergarten. Weisbrodt has chosen to program almost all Luminato events at the Hearn, dubbed by one wag "Toronto's concrete cathedral." It's an immense edifice of interconnected industrial buildings most notable today for its imposing mid-century industrial brick and concrete presence on Toronto's waterfront.
At one time the largest enclosed space in the country, the Hearn is three times larger than the Tate Modern art gallery in London. How big is that? The festival promo puts it into perspective: the "Statue of Liberty fits in it upright (or on its side)."
With 17 days of programming under one roof, "creating an exceptionally rich and uniquely integrated global cultural experience" becomes a more achievable lofty aim than past efforts to try to animate the whole downtown core. That being said, finding a world music through-line in their programming this year has proven to be a more difficult task than in some past years. One site however where it does appear is at the Bavarian-style Biergarten, where senior music curator Derek Andrews has programmed a lively mix of daily evening performances at the New Canadian Music Stage. Sponsored by Slaight Music, some of the themes Andrews explores this year in his roster of 14 acts include music from Francophone, Persian, Aboriginal and "roots" artists.
Andrews, in a late May phone interview, drew my attention to a Biergarten performance by the exciting Toronto female vocal quartet Nazar-i Turkwaz (My Turquoise Gaze), Saturday, June 11. The quartet is comprised of Brenna MacCrimmon, Maryem Tollar, Sophia Grigoriadis and Jayne Brown, four remarkable musicians who have, over their careers, immeasurably enhanced Toronto's world music scene, as well as individually performing on numerous video and film soundtracks and theatrical productions. For over three decades they have collected and performed traditional repertoire from the Middle East and Turkey, Greece and the Balkans. In Nazar-i Turkwaz, they collectively explore this repertoire, creating their own arrangements, cultivating in their vocal alchemy a very satisfying sonic union.
Sunday June 26, at the other end of this year's Luminato Festival, Biergarten-goers will find the Toronto-based band Zuze. As far as I could find out, it is comprised of Iranian and Azerbaijani musicians. Relatively new on the Toronto scene, Zuze presents a self-described signature mix of "popular & folk melodies of Iran and Azerbaijan set to Afrobeat rhythms."
The most unusual and perhaps the most inclusive event at this year's Luminato is scheduled for June 22. "Iftar at the Hearn" is billed as a "free, inclusive event welcoming newcomers from Syria." Iftar is the meal served to break the daily fast during the month of Ramadan. A social event involving family and friends, iftar provides an opportunity to share food as an act of kindness and generosity with members of the community. Toronto has recently welcomed thousands of Syrian refugees and Luminato brings together performers from across the city, as well as food and refreshments, to welcome and celebrate the presence of the newest arrivals to our famously multicultural city.
The free event opens with a greeting by the Ojibwe elder Duke Redbird, a journalist, activist, businessman, actor and administrator, followed by music by the Nai Children's Choir, a Toronto community group singing in Arabic, English and French. JUNO nominee Cris Derksen then performs on cello in an artistically edgy set with her trio which includes Aboriginal hoop dancer Nimkii Osawamick and drummer Jesse Baird. Derksen aims to blur genre expectations with her "electro-aboriginally influenced" cello compositions.
Capping the Iftar at the Hearn evening, just prior to the communal meal with traditional Syrian and Middle Eastern food, is a performance by Toronto dancer-choreographer Sashar Zarif. His set features collaboration with two leading young Azerbaijani musicians, the kamancha virtuoso Elnur Mikayilov and award-winning mugham singer Mirelem Mirelemov. Zarif is a multi-disciplinary performing artist, educator and researcher whose "artistic practice…is steeped in the artistry and history of traditional, ritualistic, and contemporary dance and music of the Near East and Central Asia." He has toured widely "promoting cultural dialogue through intensive fieldwork, residencies, performances and creative collaborations." Integrating dance, music and poetry the trio take themes from Sufi poetry in an enactment of sama (sufi ritual of dance music and poetry) for iftar, thereby celebrating the peaceful spirit of Ramadan and setting the mood for the communal supper to come. It sounds lovely.
Harbourfront Centre: Perhaps the granddaddy of all current Toronto summer music festivals happens down at Harbourfront Centre. For more than 40 years it has striven to present a cross-section of the "mosaic of cultures from within our country and around the world." I was among its early-adopter audiences and a frequent visitor, along with my children when they were young, enjoying its eclectic, though typically high quality music programming. Along the way I learned a great deal about diverse musics. It served me well in my various future careers – including this one!
One of Harbourfront's charms is the intimacy of most of its venues. It's where I saw and met many international musicians over the years, some of whom, like the Malian singer and guitarist Ali Ibrahim Farka Touré, subsequently went on to grand international careers. I saw him perform a laid-back but nevertheless memorably musical concert at the 150 to 250 seat Lakeside Terrace within sight of the sunlight glinting off the lake.
This summer's family-oriented themed weekend festivals in July include too many to discuss in detail here. I will however give my picks. Starting with "Ritmo y Color: The Streets of Mexico," July 15 to 17; we move to the Caribbean in "Island Soul" July 29 to August 1. The following month "Habari Africa" co-produced by Batuki Music Society, highlighting the "cultural diversity of global Africa," will take over the Centre's venues August 12 to14. The next weekend "TAIWANfest: A Cultural Tango with Hong Kong" is in the house August 26 to 28.
September 3 to 5 Harbourfront's festival season comes to a close with the "Ashkenaz Festival," produced by the Ashkenaz Foundation in partnership with Harbourfront Centre. It is North America's largest celebration of Jewish music, art and culture and its musical breadth and depth warrants a story of its own, perhaps in the next issue of The WholeNote.
Summer Music in the Garden: Another summertime music success story has been the annual Summer Music in the Garden concert series. It is produced by Harbourfront Centre in partnership with City of Toronto Parks, Forestry and Recreation, with the support of corporate and individual supporters. Located in a pleasant garden setting along the lakeshore, it's free, though donations are welcome. The 17th edition of Summer Music in the Garden runs most Thursdays at 7pm and Sundays at 4pm, weather permitting, from June 30 to September 18 in the Toronto Music Garden.
With Tamara Bernstein returning to her artistic director duties, the 18-concert program this year looks as eclectic and exciting as usual. I won't pretend to be all-inclusive; but here are my picks from the Garden's crop.
July 21: Persian percussion specialist Naghmeh Farahmand and young setar soloist Pejman Zahedian present "Becoming One with Universal Love: Ancient Persian Music for a New Age."
July 24: Toronto-based Subhadra Vijaykumar, violin, Vasudevan Govindarajan, mrdangam, and Ramana Indrakumar, ghatam, present "From the Banyan to the Willow Tree," featuring the melodies and rhythms of Carnatic classical music of South India.
July 28: Tamara Ilana and Ventanas have been making waves in the city's world music scene for a number of years. The six-member group presents a "trans-Mediterranean" program of North African, Balkan, Turkish and Spanish music.
August 7: Multiple JUNO-winning banjoist extraordinaire Jayme Stone, and his friends (Kristin Andreassen, voice; Sumaia Jackson, fiddle; and Joe Phillips, bass) return to the Summer Music in the Garden with "Deep River of Song." They will perform from their impressive album Tabula Rasa, featuring songs collected by American song collector Alan Lomax.
August 11: Sadie Buck and the He hi ye Girls present traditional and contemporary Haudenosaunee (Iroquois) music in their concert, "The Sweet Sound of Our Nature." It's rare to hear these songs cherished by the people who made their homes here before most of us, performed in public in the city. This is one opportunity I'll be sure not to miss.
August 18: Nagata Shachu, Toronto's leading taiko ensemble, returns to the lakeside garden with roaring rhythms and soaring melodies performed on Japanese instruments made of wood, metal and skin.
August 21: The Bachands, consisting of Qristina Bachand, violin/voice, and Quinn Bachand, guitar/banjo, perform "All in the (Celtic) Family." Expect Celtic roots music by the award-winning brother-sister duo.
QUICK PICKS
Lulaworld 2016, presented by Lula Music and Arts Centre, continues its festival into the second week of June with concerts every evening until June 10. Check the listings for details.
Aga Khan Museum: June 12 World Music Series: "Dusk to Dawn" features the renowned dancer Pandit Birju Maharaj in a program of kathak dance and Hindustani music. August 4 the Fanna-Fi-Allah Sufi Qawwali Party perform Sufi devotional music. August 11 The World Music Series presents the Mehmet Polat Trio in a program of Ottoman, Anatolian, Balkan and West African musical traditions played on the ngoni, oud and ney.
Cultura Festival, North York: Mel Lastman Square is home July 8, 15, 22 and 29 to an un-ticketed outdoor community-centric family-oriented arts festival. Each Friday night in July different musicians, buskers, art activities, international street food and films are featured. As of press time the programming hadn't yet been released, so check the festival website or print media closer to the festival dates.
Roy Thomson Hall: Live on the Patio: The concerts, which take place throughout the months of June, July and August, transform the Roy Thomson Hall patio into an outdoor downtown music venue. Groups such as Lemon Bucket Orkestra, Hampaté and Sahel Blues, Salsa y Fusion, Samba e Forró with Flavia Nascimento and World Fusion with the Villalobos Brothers and Alberto de la Rosa help enliven the large space a level down from King Street. Again, the listings hold the keys to the dates.
If you see me relaxing at one of these concerts, please say hello. And may you have a pleasant music-filled summer.
Andrew Timar is a Toronto musician and music writer. He can be contacted at worldmusic@thewholenote.com.