To quote the chorus of a 1980s song, Up Where We Belong,"Love lifts us up where we belong/Where the eagles cry on a mountain high." Substitute the word "Spring" for "Love" and I'm singing along at this season with its onset of new green growth, and with its promise of renewal. All it takes is the first stretch of warm weather to melt even this crusty scribe's professorial attitude. So seasonally activated, my mind wanders easily far beyond my concrete condo to the wilds of the mountain high, to the sound of the soaring eagle's cry – the song's haunting metaphor for human love surmounting obstacles.
Though those lyrics seem to evoke a geo-spiritual alpine terrain far removed from our urban landscape, yet the two-metre wingspans and the morning cries of the majestic bald eagle are making a regional Ontario comeback. Along the vast stretches of the northern shores of the Great Lakes, hundreds of confirmed breeding pairs have been reported in the past decade. It's a heartening sign that efforts to rehabilitate our near-urban local environment appear to be bearing fruit. Mind you, I don't feel compelled to personally witness those high-flying raptors in action; even the thought of their living presence nearby is enough to make this confirmed urban Torontonian's heart soar.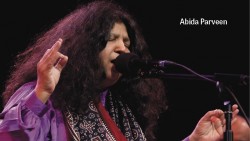 Abida Parveen, "My audience is my God": This season is full of human music too. May 15 the voice of Abida Parveen, unequivocally described by The Guardian as "the greatest female Sufi singer in history" – an opinion shared by many others by the way – will echo in the cavernous aerie of Roy Thomson Hall, her voice expressing the various colours of our species' yearning for union with the divine.
The Pakistani singer is an acclaimed Sufiana kalaam (Sufi music) exponent. Her primary mode of expression is through two poetic song genres, ghazal and kafi (a solo genre accompanied by drums and harmonium that uses a repertoire of songs by Sufi poets in Urdu, Sindhi, Saraiki, Punjabi and Persian). Taught by her father, Ustad Ghulam Haider, and by Ustad Salaamat Ali Khan, she has amassed legions of fans in her four-decade international career. The Icelandic diva Björk, a shrewd judge of both extreme vocalism and passion, counts herself among them.
Co-presented by the Aga Khan Museum and Roy Thomson Hall, this concert is undoubtedly a special one. RTH's director of programming and marketing, Chris Lorway, has dubbed it a "once-in-a-lifetime opportunity for Toronto." In his comments prepared for this column, Lorway emphasized its inter-institutional dimensions. "The chance to present an international icon like Abida Parveen is a thrill for us, and we could not have done it without the partnership with Amir and his team at the Aga Khan."
Lorway also underscored the importance of reaching out to the diverse enthic, national and faith-based communities in the city. "As we strive to make our venues more reflective of the city of Toronto, these collaborative initiatives are the only way forward. They allow us to combine our collective audiences of music lovers and the culturally curious in a way that has long-term benefits for both organizations."
For his part Amirali Alibhai, head of performing arts at the Aga Khan Museum, noted that Abida Parveen "has taken the kafi form of musically rendering the poetry of great mystics to new heights, which is quite significant for a practice that is traditionally dominated by men. Performing in several languages, Parveen's interpretations cross barriers of understanding through her passionate and possessed vocal expression." Making a bold comparative leap across cultural boundaries, Alibhai aptly observes that "she is to Sufi music what Aretha Franklin is to soul."
In addition he makes a well-observed case for the important role concert venues can play, "to bring such presentations out of less-than-ideal stadium and make-do venues into respectful spaces, bespoken for art and possessing exceptional acoustics, as is fitting for esteemed artists such as Abida Parveen."
A respectful space is what Parveen's spiritually motivated performance deserves. "My culture – our culture – is rich in spirituality and love," she told The Guardian reporter Nosheen Iqbal in 2013. "Sufism is not a switch, the music isn't a show – it's all of life, it is religion. If I want to be recognized for anything, if we should be recognized for anything, it's the journey of the voice. And that voice is God's." Parveen has been known to enter an altered consciousness while deep in performance. As The Guardian article observed, "she regularly sends her audiences in Pakistan and India into swaying raptures, swooning and fainting being quite standard reactions."
And her fans admire and adore her as much as they do her fellow compatriot singers, the late Mehdi Hassan (1927-2012) and Nusrat Fateh Ali Khan (1948-1997). She freely returns that love. "Poor people, rich people – we are all God's servants…I'm lucky. My audience is my God."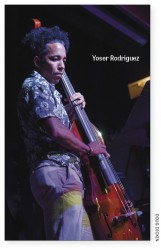 Lulaworld: From June 1 to 11 is the annual Lulaworld festival, presented by and at the Lula Music and Arts Centre. Now in its 11th year, Lulaworld is a showcase for Toronto's world, jazz, blues and Latin musicians, providing them a welcoming stage to present their latest work to local audiences, and encouraging collaboration, this year with more than a dozen celebrated international guests. The goal of the festival is to highlight "the incredible breadth and calibre of the Toronto world and Latin music scenes."
In addition, the festival will also include a day of free outdoor programming as part of Dundas West Fest on June 11, plus family workshops and a Brazilian parade that anyone can participate in. As in years past there's just too much going on during the festival to weigh in on every concert, so I'll just have to be satisfied with providing a little colour swatch of the entire 11-day tapestry.
Kicking things off June 1 is "Lulaworld: Opening Night Party," a night chock-a-block with Latin, jazz, pop, blues and world music, co-presented with the Toronto Blues Society. Added bonus: arrive before 8pm and you're joining the party for free. Headliners include Cuban-born, Toronto bassist, Yoser Rodriguez, whose debut album, Pollen, employs the talents of some of Toronto's finest Latin jazz players. Rodriguez has been touted as "the next generation of genre-defying Cuban singer-songwriters." Taking the stage next is Hamilton-based Laura Cole, her soulful and bluesy voice reflected in her debut album, Dirty Cheat. The album was crafted by Grammy-winning producers Steve Bigas (Taj Mahal), and longtime multiple top-tier album producer Daniel Lanois.
Rounding out the night is the guitarist, singer-songwriter Cécile Doo-Kingué. While her parents were from Cameroon, she was born and raised in NYC. Now based in Montreal, she blends blues, soul and jazz with her African roots with a sure hand, having shared the stage with the Blind Boys of Alabama and opened for Angélique Kidjo and Youssou N'Dour.
June 3 the Gabriel Palatchi Trio and Charangón del Norte take over the Lula Music and Arts Centre. Led by Toronto-based multi-instrumentalist Wilver Pedrozo, his 13-piece ensemble Charangón del Norte fuses Eastern Cuban changüí with other Caribbean music-dance genres including merengue, calypso, soca and Latin jazz. The group boasts a distinctive triple trombone section reflecting bandleader Pedrozo's upbringing in Southeastern Cuba where influences from Colombia, Mexico and Jamaica are part of the region's everyday musical fabric.
Evergreen: Whenever it comes to writing about concerts by the Evergreen Club Contemporary Gamelan, Canada's pioneer ensemble exploring common grounds between world and avant-garde musics, I mention, in the interests of full disclosure, my career-long involvement with the ensemble. There. Just did it again.
That being said, May 19 ECCG celebrates its latest CD, Higgs Ocean: New Music for Gamelan and String Quartet, in performance at the Music Gallery. The concert highlights its artistic director and soloist, Blair Mackay, plus its guest the Accordes String Quartet. Ten years in the making, ECCG's CD is surely among the first albums dedicated to the striking combination of ECCG's tuned percussion-rich gamelan degung indigenous to West Java Indonesia, and the string quartet indigenous to central Europe. The album contains Canadian composer Michael Oesterle's powerful Higgs Ocean (2008) for that instrumentation. Innovative works by Mark Duggan, Ana Sokolović, Peter Klanac and Linda Catlin Smith round out this all-Canadian album by the Toronto ensemble. Audiences will hear samples of that repertoire.
In addition, the ECCG has commissioned a new work for this exciting transcultural sound combination: Canadian composer Linda Bouchard's as yet untitled piece will receive its world premiere at the concert. A work for gamelan soloist and electronics by another Canadian composer Ronald Bruce Smith is also on the premiere docket.
World Fiddle Day: May 21 is the fourth annual World Fiddle Day Toronto, the second held at Toronto's Fort York National Historic Site, at the Blue Barracks. Last year's event hosted 96 players in the Around-the-World Jam – WFD's signature concert featuring music from at least 25 cultures – accompanied by a top-level house band led by violinist, ethnomusicologist and WFD artistic director Anne Lederman.
Aiming to present a global musical perspective, last year's "Fiddles at the Fort" featured both workshops and a concert with South Indian violinist Subhadra Vijaykumar and The Metis Fiddler Quartet, among others. The young violin students of Sistema Parkdale and Rosedale Heights School of the Arts participated in the workshops. This year's roster includes fiddlers Rosalyn Dennett (Appalachia), Dan MacDonald (Cape Breton), Mark Marczyk (Ukraine) and Yosvani Castañeda (Latin America), each representing their own cultural practice as it has evolved in Toronto today. Dozens of fiddlers of all stripes have been practising tunes from around the world for the Around-the-World Jam, some for as long as three months. I expect moments of the jam will take some listeners soaring well beyond the confines of Fort York's Blue Barracks.
Andrew Timar is a Toronto musician and music writer. He can be contacted at worldmusic@thewholenote.com.