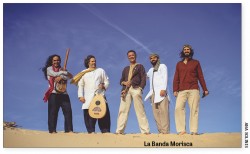 I've been writing this column for almost seven years. Loyal readers will observe that I've approached my World View beat from many different – sometimes even conflicting – points of view. Last month I disclosed aspects of my private life, inviting you to fly with me and my bride to our Hungarian honeymoon, a journey which reconnected me to my culture of origin.
That story, shared from my personal album, segued neatly to a case study of the Toronto musician Richard Moore. He actively pursues a very rare double professional life: as a career percussionist he is also a Hungarian cimbalom and hammered dulcimer player. (Quite coincidentally – or is it? – I'm dipping even deeper into these transatlantic, transcultural waters in my examination of 60 years of musical Hungarians in Canada in a feature elsewhere in this issue.)
In order to mix things up a little, for this column I've decided to undertake a brief survey of what programmers across our great "multi-culti" (in the words of Deiter, my ethnomusicologist German friend) metropolis have planned for our musical entertainment and edification.
North in the South: Inuit throat singing today: Starting things off on Saturday November 5, The Music Gallery along with Native Women in the Arts present the "Inuit Showcase," part of the Kwe Performance Series at the Music Gallery. Three Inuit women share the program, a concert and associated workshop. The focus is pulled tight on Inuit throat singing as practised in various regions of the Arctic by these Inuit performers who seek to both preserve and innovate within their received throat-singing traditions. Throat singing was originally a competitive female-centred game for two which imitated the Arctic land-, sea- and animal-scape. In the last decade, however, this folk performance art form has been taken into new and innovative musical regions and showcased on international stages alongside internationally known musicians such as Björk, by the abundantly gifted Inuk vocalist Tanya Tagaq.
Kathleen Ivaluarjuk Merritt, also known as IVA (ee-vah), is a poet, writer and throat singer from Rankin Inlet, Nunavut. She has collaborated in performance not only with established Inuit singers such as Susan Aglukark and the aforementioned Tagaq, but also with the singer-songwriter Owen Pallett, the American electronic, experimental hip hop musician DJ Spooky and the National Arts Centre Orchestra. Taqralik Partridge, originally from Kuujjuaq, Nunavik, in Northern Quebec is best known as a poet and spoken-word performer. While her English poems illuminate the life of Northern people seldom experienced by Southerners, Partridge is also a throat singer and voice actor, appearing on Canadian and European stages.
Nukariik, on the other hand, consists of two sisters, Karin and Kathy Kettler. An important aspect of their performance is the preservation and sharing of their inherited culture. While the sisters have lived most of their lives in Southern Canada, they have maintained strong connections to their culture as it is practised in Kangiqsualujjuaq, an Inuit village located on the east coast of Ungava Bay in Nunavik, Quebec.
Nagata Shachu and Ten Ten: Toronto taiko and minyo. Also on November 5, Toronto's preeminent taiko group Nagata Shachu presents "Music from Japan and Beyond" at Kobayashi Hall, Japanese Canadian Cultural Centre. Artistic director Kiyoshi Nagata notes that "Nagata Shachu is excited to be collaborating with virtuoso multi-instrumentalist Shogo Yoshii, who represents a new generation of Japanese musicians pushing the boundaries of traditional music." Yoshii, who is coming from Japan for the concert, is an acclaimed taiko (Japanese drums), shinobue (Japanese bamboo transverse flute) and kokyu (Japanese violin) player.
November 8 at 12:30, York University's Department of Music presents the younger Toronto taiko group Ten Ten in a free concert in its Music at Midday series at the Martin Family Lounge, Accolade East Building, York University. Directed by taiko and shamisen player Aki Takahashi – also a member of Nagata Shachu since 2003 – Ten Ten has performed in theatres, concert halls and festivals featuring her own compositions. Takahashi is a specialist in minyo (Japanese folk song) and has published an astounding 200-plus videos of her repertoire on YouTube, hosted on the Bachido channel.
Small World Music presents African and Andalusían hybrids: November 11, Small World Music, in association with Za & Zoey, presents Oliver Mtukudzi and the Black Spirits at The Opera House. Considered a national cultural treasure by many in his Zimbabwean homeland, Mtukudzi, an eloquent vocalist, nimble fingerpicking guitarist and prolific composer (having released some 50 albums), is his county's most successful musician. He began performing in 1977 and has earned a large fan base across the world. A member of Zimbabwe's Kore Kore tribe, he sings in the nation's dominant Shona language as well as in Ndebele and English. He also wears the non-musical hats of businessman, philanthropist, human rights activist AIDS/HIV and UNICEF Goodwill Ambassador for the Southern Africa Region focusing on young people's development and HIV/AIDS prevention. He's the sort of musician I want to be when I grow up.
November 12, La Banda Morisca appears on the Small World Music Centre stage, presented by Small World Music. The septet from Jerez de la Frontera in Andalucía aims to fuse original and re-creative views of traditional regional music. They present attractive vocal-driven mashups of southern Mediterranean genres like Muwashshah secular music, the festival and dance-centric North African Chaabi, flamenco from Jerez, Andalusían rock, as well as several other regional music genres.
ECCG explores the "classical" through musical border crossings and cultural hybridities: December 3, the Aga Khan Museum presents the Evergreen Club Contemporary Gamelan in its Classical Music Series. (As usual I want to flag the fact that I'm 33-year founding member of ECCG – yes it's been that long, and yes I'm still having fun with it!) This concert series has a fascinating curatorial premise which dovetails with ECCG's long-term artistic goals. It's articulated on the AKM's website in the following manner: "Often used to solely describe Western traditions, the term 'classical music' is re-examined within the context of cultural diversity in this special series of performances. Our Classical Music Series presents the sights and sounds of North Indian, Indonesian, Italian and Syrian musical traditions. Redefine your understanding of classical music through performances that explore melodic scales, historical recordings and new interpretations of Western repertoire."
ECCG, a group of eight Toronto-based musicians, has made a career out of commissioning new, often modernist, scores with the end game of performing and recording them on its Sundanese gamelan degung. At the same time the group has always also performed (often in its own arrangements) the core repertoire of the West Javanese (Sundanese) degung, a kind of gamelan music with past aristocratic roots which some may think of as "classical." On the other hand ECCG also performs its own instrumental arrangements of popular Sundanese songs, on occasion inviting Canadian singers to interpret them with English lyrics. It's a complex world of music out there and ECCG aims to present that complication from a Canadian perspective. In its concert it explores various border crossings and cultural hybridities in works by American (Lou Harrison), Canadian (Paul Intson) as well as Sundanese, Indonesian (Nano Suratno, Burhan Sukarma, Ade Suparman) composers.
Quick pick: Also on December 3, the University of Toronto's Faculty of Music presents its annual free, fall World Music Ensembles concert at Walter Hall, Edward Johnson Building. The Iranian Music Ensemble is directed by the Toronto tombak virtuoso, composer and researcher Pedram Khavarzamini, this year's world music artist-in-residence. The guitarist, composer and educator Brian Katz leads the Klezmer Ensemble, while the Japanese Drumming Ensemble is directed by seasoned taiko drummer, group leader and teacher Gary Kiyoshi Nagata.
Andrew Timar is a Toronto musician and music writer. He can be contacted at worldmusic@thewholenote.com.