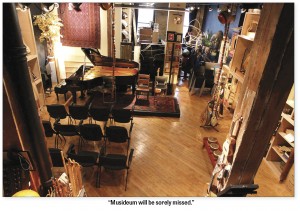 This month I have two tales to tell of musical diversity in this city: a tale of two presenters. One is of beginnings and continuity, while the other of (perhaps temporary) endings. Each story has a different focus, yet they run parallel in their organizers' mission of service to our city's heterogeneous communities of musicians sounding the music of the world's peoples and in their sincere dedication to serve globally curious listeners.
One door closes: The first story began early in March 2016 when I read Donald Quan's post on his "Musideum Performers & Supporters" Facebook group page. I've often written about what happens at Musideum - A World of Musical Instruments in these pages. Quan opened its doors in late 2007. He summed up his retail music store enterprise as a "look at music through the eyes of [ethnically diverse] musical instruments." He explained the name is an amalgam of three concepts: museum, music and deum. Inspired by his own challenging life journey over the past six years, he then morphed the Musideum into a special live concert room, inspired by an inclusive vision in which "everyone, regardless of their beliefs, religion, age or what part of the world they are from, can truly love one another and coexist in peace simply by speaking the magical language of music." And he's kept the place buzzing until today.
For those unfamiliar with its activities, Musideum has been a unique fixture in Toronto's music scene. It serves as a retail world-music instrument store by day. By night, starting about five years ago, it's been the venue for a very dense schedule of concerts in its intimate living room-like space - that's if your living room was chock-a-block with working instruments from around the world.
It's also the only store I can recall where John Cage's seminal score 4'33" was on prominent display, not as a prop but as a potent symbol of musical diversity – and merchandise.
John Terauds put his fingers on the special mojo of Musideum in a May 24, 2008, article The Star. "One customer was so inspired by the movie Kill Bill that he had to go out and get himself a Chinese bamboo flute. Until now, finding an ethnic folk instrument from a culture not one's own […was quite problematic]. But the mix of world cultures in Toronto has finally reached a point where an enterprising local musician thinks it worthwhile to open a store that offers musical instruments from several cultures from around the globe."
Quan's recent Facebook announcement, however, signalled a fundamental change in direction: "As I am extending my personal hiatus until late 2016, I am sad to announce that Musideum will be closing its doors as a store and venue at 401 Richmond on April 2, 2016. The Musideum name will live on and will be parked until a new opportunity arises. It will reawaken when the time is right."
The Toronto-born Quan, a musician and multiple award-winning composer of hundreds of television, film, radio and multimedia productions, stated that he needed to "take a well-deserved break, travel to see family, rest [his] weary brain and formulate some new and exciting projects for perhaps late in the year." He continued that although the impetus for this "change was mostly for health reasons, it is also [because of] the need to watch my kids grow up and to spend more time with family and friends. I also need a few months dedicated to practising to get my playing up to where I was before the [2007] stroke."
Musideum will be sorely missed. From the earliest days, Quan has thrown its doors open across numerous musical genres that thread through the city. I counted over 20 active Facebook pages he set up with straightforward names like "Musideum Invites Indigenous Music." (Long a contributor to the Canadian Aboriginal music scene, Quan was honoured in 2007 with the Music Industry Award at the Ninth Annual Canadian Aboriginal Music Awards.)
Other communities were encouraged to participate too on their own Facebook pages. "Musideum Invites Indian, South Asian Music," "Musideum Invites Experimental/Improvised/New Music," "Musideum Invites Singer-Songwriters" and "Musideum Invites World" are just a few examples of his global embrace. These pages collectively garnered thousands of "likes."
Within a week of his announcement to close, Quan reached out to community musicians, again on social media, to help in programming six concerts during the second half of March. Or as he put it, "to squeeze some final concerts in before Musideum closes up shop." True to form, each show had a different genre focus. I was invited too, and that's how I found myself on the pocket-sized stage playing Indonesian suling (bamboo ring flute) with Iranian drummer Naghmeh Farahmand and cavaquinho player Nuno Cristo on the designated World Music night, Thursday, March 17. About 14 other Toronto musicians took their turns too, including flutist Ron Korb, recently nominated for Best New Age Album at the 2016 Grammy Awards.
Fittingly, Quan served as MC. He spoke passionately about his dream space where he had tirelessly programmed well over 1,600 concerts in the last five-or-so years. Given that pace, and the fact that Musideum has been a hands-on manifestation of one man's passion, it's no wonder he needs an extended break.
Though closing his store/venue was "one of the most difficult decisions in my life to make," Quan nevertheless views it as a "decision that heralds a new positive, healthful, personal and creative direction for me." As a parting gift to the larger Musideum community of musicians and store customers, he has announced a "special inventory sale" for performers on April 3 and for the public on April 4.
I already miss Musideum. I, for one, will treat Quan's wish to "awaken [the space] when the time is right" as a promise, not just a hope.
Another door opens: From April 6 to May 29, in some 14 staged concerts and many more events at several venues across the GTA, Small World Music presents its 14th Asian Music Series, with the financial support of the TD Bank and in partnership with an array of other presenters. Fittingly, this year the series marks Asian and South Asian Heritage Month.
This year's AMS program features "a strong female presence, with two of the most significant artists in South Asian music - Anoushka Shankar and Abida Parveen - performing." As well as Indian and hybrid Indian music on stage, GTA audiences will also have the opportunity to witness leading performers of Japanese, Chinese, Pakistani and Iranian music, along with Latin, ethnic chaos and "telematic music." The latter is described on the Small World Music website as "live performance via the internet by musicians in different geographic locations, celebrating the notion of a smaller world."
In a bid to reach core audiences, AMS concerts take place at venues big and small, in and out of town. Roy Thomson Hall and Koerner Hall alternate with the Flato Markham Theatre, Japanese Canadian Cultural Centre, Aga Khan Museum Auditorium and Lula Lounge. The charming, intimate Small World Music Centre holds down home base.
New this year, Small World Music Society executive director Alan Davis and his team have cooked up an intriguing way to bundle concerts for audiences. These curated concert sets are conveniently tagged City, Fusion, Soul, Global, Classical and Legends. Those buying into a set of concerts also receive additional coupons for South-Asian themed self-improvement activities such as yoga, tabla or bansuri lessons, in addition to more typical bundle benefits of a coupon (e.g. admission to the Royal Ontario Museum) and of course discounted prices. It's an interesting way to systematically extend the tools of partnership, a presentational and marketing skill that Davis and Small World has honed to a keen edge over the years. It is perhaps a key ingredient in the company's success, a success which in turn enriches our entire community. It echoes a central aspect of Small World's mission: "to promote understanding between cultures."
Equitably reflecting such a sprawling mosaic of concerts is certainly beyond my means here. Probably the best tack is to put the spotlight on a select few April AMS concerts, leaving the later May shows to the next issue of The WholeNote.
April 6 AMS launches with a Koerner Hall presentation of the reigning diva of the world music sitar, Anoushka Shankar. About eight years ago, I reviewed her last appearance there with her late father, Ravi Shankar, for readers of this magazine. She has emerged since with increasing assurance not only as a sitar player, but also as as a composer in her own right, and as a collaborator with djs, dancers, flamenco musicians and singers and with Western orchestras. In her commercially successful albums, she has explored the interstices between Hindustani music and other genres, plus paying musical tribute to her father's vast legacy. Her fourth album, Land of Gold, is slated to be released just days before the concert, so I have no details to share of it yet. I am, however, sure that the audience will hear Shankar and her accompanists featuring music from the new album.
The next day on April 7 the venue switches to the Japanese Canadian Cultural Centre which presents a concert titled "Tsumugu." Featuring Japanese musicians, Keita Kanazashi, Anna Sato and Chie Hanawa, it's a mixed program: folk songs from Amami Island along with "bluesy" Tsugaru shamisen of Aomori prefecture, and coming to a thunderous climax with taiko drumming aimed to evoke the Japanese spirit.
Saturday April 9 Wu Man and the Shanghai Quartet take the stage of the Flato Markham Theatre, just north of Highway 7. That's unfortunately well beyond the reach of the TTC for those who love "The Better Way," but judging from pipa virtuosa Wu Man's moving performance last year with the Silk Road Ensemble at Massey Hall, it's a journey this downtown music lover will want to make. Presented in association with Flato Markham Theatre, the concert headlines Wu Man; abundantly gifted as a musician she has been called a "force of nature" by Gramophone magazine. Dusted magazine also praised her performance, describing it as deftly combining "earthly energy and celestial delight." Her masterful musicianship has also inspired several composers, including Terry Riley and Tan Dun. The Shanghai Quartet, among today's leading string quartets, will join Wu Man in a program of music composed or arranged by Chinese musicians called "A Night in Ancient and New China." Perhaps I'll see you there.
Our last peek into the Asian Music Series this issue: Indian master sitarist Shujaat Khan and Toronto vocalist Ramneek Singh take us deep into North Indian cultural poetics and centuries-old mystical traditions. Presented by Aga Khan Museum on April 29, the double bill concert, titled "Reflections on Kabir and Khusrau," is presented in the museum's Great Poets Series. Kabir was an important fifteenth-century Indian mystic, poet and saint. Amīr Khusrau (or Khusraw, CE 1253–1325) of Delhi was a Sufi musician and is often regarded as the father of Qawwali. His contributions to the advancement of poetry and music were immense and place him at the heart of the cultural history of the Indian subcontinent. In music, Khusraw is credited with the introduction of Persian, Arabic and Turkish elements into Hindustani classical music, as well as with originating khayal and tarana forms, features still central to the music today. It's a pretty safe bet we will hear vivid performances in both forms by Shujaat Khan and Ramneek Singh.
From Anoushka Shankar, one of the newest and most syncretistic voices in Hindustani music today, we get to sonically travel to one of the tradition's oldest innovators, represented by Khusraw - all in the space of one Toronto festival!
Like Donald Quan's Musideum, that's some story too!
Andrew Timar is a Toronto musician and music writer. He can be contacted at worldmusic@thewholenote.com