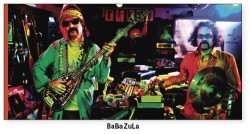 In my summer 2016 WholeNote column I mused on Luminato's repurposing of the cavernous decommissioned Hearn Generating Station. Would it work as a venue for symphony orchestra, for community cultural engagement, visual art, for Shakespeare? In the end, the capacious, though out-of-the-way, venue turned out to be a gamble that paid off handsomely for Festival organisers as well as for concertgoers. It appears to be part of the continuing recognition in our collective urban zeitgietst of the importance of reclaiming, revitalizing and honouring Toronto's industrial-commercial past.
In September it's the turn of another large scale 20th-century man-made structure to be repurposed as an artistic venue. Originally opened on May 22, 1971, Ontario Place, the government of Ontario-owned amusement park, was imposed into Lake Ontario, sited on three artificially constructed and landscaped islands. The futuristic buildings and entertaining amenities along Toronto's shoreline included the world's first IMAX theatre, the geodesic-domed Cinesphere, and the province's first waterpark.
Some of us old enough to have attended concerts there might fondly recall the spacious, leisurely rotating stage of the Forum. It's where I took my young kids for free summer concerts, including the memorable time we saw jazz great Miles Davis and his band. We bonded over cool jazz with attitude that sunny afternoon. Then early in 2012 most of the public sections of the park were closed for redevelopment – its 2017 projected completion date aimed to celebrate Canada's sesquicentennial.
in/future: After the venue has been shuttered for four years, Art Spin in partnership with Small World Music is re-animating Ontario Place's scenic 14-acre West Island. They've cooked up an ambitious menu consisting of 11 days and nights of arts programming from September 15 to 25, dubbing the festival in/future. Wishing to dig deeper, I spoke to Small World's executive director and in/future co-curator Alan Davis one hot sunny summer day.
"It's the 15th anniversary of Small World's fall festival," Davis began, "and we're delighted that Art Spin invited us to showcase part of our current season at in/future." Art Spin – Layne Hinton and Rui Pimenta's brainchild – has been active as a presenter for over seven years, re-activating decommissioned venues and public spaces to produce group exhibitions along with curated bicycle-led art tours.
"The festival will host site-specific projects by over 60 visual and sound artists," Davis continued, "with close to 50 music acts on the Small World stage (presented by Exodus Travels)." Films and videos will also be presented in the Cinesphere, as well as dance performances, a lecture series, and kid-friendly programming and activities at various sites.
"We're excited by this opportunity to connect with the larger community. Nostalgia for Ontario Place's illustrious musical past is one part of the draw, but so is engaging with young audiences. For example, site DJ activations will encourage a party vibe."
"We have also tried to squeeze the envelope with regard to genres, to mix things up, to embrace the entirety of the global musical spectrum. Cross-fertilization is one of the things we're aiming for. Though it's easy to say, it's hard to do," he added with a knowing smile.
I asked Davis to pick a few highlights. "We are leaning toward high-energy, festive acts suitable for an outdoor stage. An example would be BaBa ZuLa, Istanbul's legendary psychedelic dub band, which takes the stage Friday September 16 with a wide variety of influences and a truckload of instruments. They are followed by Mariachi Flor, a feminist Mexican mariachi group based in New York" he explained.
Saturday September 24, at the other end of the festival, is a day so chock full that space here permits only a partial mention. Headlining is the Dhol Foundation, a leading bhangra band making its Canadian debut. It's led by the U.K.- born master-dhol drummer and artistic director of the group, the "bhangra king" Johnny Kalsis. His London-based 12-piece band, which he first established about 17 years ago, places the musical focus tightly on the massive sound of closely miked multiple dhol drums, those icons of Punjabi bhangra music. Kalsis has since waded into transnational waters by fusing bhangra with a mixed bag of popular global genres including Afrobeat, reggae, hip-hop, EDM, and Bollywood with a Celtic fiddling twist. The resulting thumping beats are designed to lift audiences' spirits, moving everyone to dance.
Also performing on September 24 is the Shanbehzadeh Ensemble. It was formed in 1990 by Saeid Shanbehzadeh, a virtuoso of the neyanbān (Persian Gulf bagpipe) and the ney-e jofti (Persian Gulf double reed pipe). He is well known as a forceful performer of the traditional song, music and dance of the southern Iranian province of Bushehr, on the Persian Gulf. It's a region of Iran strongly influenced by African as well as Arabic culture, and its music and dance amply demonstrate those influences. Shanbehzadeh is no stranger to Toronto. In 1996 he taught a world music studio course at the University of Toronto and at the time I was impressed with his brilliant and charismatic solo performances, full of the feeling of his culture of origin. Now a resident of France, in recent videos he's increasingly playing alto sax, and including an electric guitarist and a DJ in his sets, in addition to the regional acoustic instruments he made his reputation with. It looks like in/future audiences can expect a mix of trance-y traditional dance music of the Persian Gulf merged with contemporary beats from Shanbehzadeh.
Much of the rest of the ambitious festival music program likewise appears to echo Alan Davis' dictum of high-energy, populist leaning, multiple genre-inclusive and at the same time genre-smearing music performances. While there is a place for nostalgia, this is perhaps the sort of non-nostalgic au courant musical cross-fertilization needed to re-activate the 45-year-old old Ontario Place and make it fun and relevant again – at least for 11 days this September.
Follow Your Heart: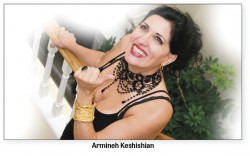 My second story is about a single production, but one which is no less ambitious in the size of its cast and the scope of national cultural elements and themes portrayed.
Four years in the making and workshopped at the Fleck Theatre in 2014, Toronto's Evolution Dance Theatre presents the premiere of Follow Your Heart, a "Broadway-style Middle Eastern multimedia extravaganza." The multimedia and multidisciplinary production runs September 22 to 25 at the Richmond Hill Centre for the Performing Arts. Follow Your Heart was conceived, written and directed by EDT founder and artistic director Armineh Keshishian. Rooted in the rich traditions of Middle Eastern dance and culture, the production tells its story with sound design, lighting, actors, dancers and three sets of musicians, 45 performers in all.
The production has both pre-recorded sound design cues, as well as live music, the latter provided by three culturally distinct groups of three musicians each. The Middle Eastern section is led by Persian percussionist Naghmeh Farahmand, the African section by master drummer Amadou Kienou and the Indigenous Canadian section by singer Sue Croweagle. In the show's finale, the three groups perform together, directed by Kienou accompanying dancers who likewise represent ethnic, cultural and gender mutual respect and harmony.
I spoke with Keshishian in between rehearsals about her show. "Follow Your Heart is a tale of love and struggle, with a special emphasis on the empowerment of women," she told me. "Our story centres around Almaza, a modern Middle Eastern woman, who falls in love with Jivan, a traditional Middle Eastern man – in contemporary Toronto. It's the journey of a woman who fights for love against all odds, a love story marked by both taboo and tradition." She concluded, "the story in the end explores unity and mutual understanding between peoples, a relevant theme in these troubled times," particularly in the Middle East.
Whether or not a "Broadway-style multimedia extravaganza" is your cup of tea, Follow Your Heart's inclusive and optimistic vision of a world where people born three continents apart can share their indigenous music and dance – even if it's only modelled for us briefly on stage – is cause for celebration.
Andrew Timar is a Toronto musician and music writer. He can be contacted at worldmusic@thewholenote.com.