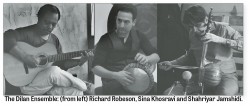 There's a new music presenter on the block which also chooses to keep details of its concerts on the down-low. It's the Toronto iteration of the Sofar Sounds international franchise, begun in 2009 in London, UK, a sort of a Meetup for music concerts. It initially came to my attention because the series has significant world music content, and it's the primary reason I'm visiting it in this column.
Meet Jonathan Campbell of Sofar Sounds Toronto (SST). He began to organize covert alternate space concerts in the city's core last year. "SST has regular concerts twice a month. Our secret, intimate shows in alternative locales showcasing the talent and diversity of the city aspire to bring the magic back to live music. We advertise online a [concert] date and the neighbourhood in which it will take place. Yes, we keep the artists secret but [I feel] they will definitely be up the alley of many WholeNote readers." SST intends to stay: "We're booked well into 2017."
I asked about SST's mission. Campbell explained, "It's the local branch of the global Sofar Sounds movement, now in nearly 300 cities worldwide. We produce our concerts in alternative locales – offices, studios, galleries, living rooms, backyards and more – celebrating the wealth, diversity, breadth and depth of the artists working and living in or passing through our city."
By choosing hyperlocal venues with individual curators - they sign up on the SST website for the experience of "hosting a gig"– rather than more typical mainstream halls or commercial pubs, Campbell identifies an important feature of his endeavour: the honouring of cozy "spaces, neighbourhoods and places." Rather than being a secondary element, a lifestyle soundtrack, he argues that in such intimate, personalized settings, music can be savoured for its own sake. He explicitly referred in our interview to placemaking, a multi-faceted approach used by urban planners and human geographers to the planning, design and management of public spaces with the intention of creating spaces that promote people's health, happiness and wellbeing.
Placemaking is a philosophy and a process with political resonance due to its close relationship to the notion of place identity. Place identity is not purely a theoretical issue, however. It informs a worldwide movement to protect places of significant local heritage in the face of the powerful forces of cultural globalization. Interestingly, it has direct parallels themes in musical themes I occasionally explored in this column: local and regional vs. transnational identities as reflected in music performance, production, mediation, and in audience and critical reception. SST is exploring aspects of this in Toronto. It's about the room and how the audience feels in it, as much as about the music being performed.
I asked Campbell about SST's core audience and its incorporation of various global musics. He referred to programming goals including a commitment to ethnically diverse music and raising SST's profile among world music audiences.
"I think these two issues are deeply related. Geographically, we've been downtown directed, but that reflects the nature of our core demographic. The typical person that has signed up [to attend our concerts] is a hip young urbanite in their 20s or 30s, a person whose experience of live music [has been mainly relegated] to the bars, clubs and other venues of the indie, rock, punk and folk scenes. On one hand we love the idea of having performers of every colour, shape, size, musical style, form, discipline. But, because the bulk of our audience feels at home in the indie, rock, punk and folk genres, it's been a harder sell to book artists outside of those scenes. On the up side, I think that the more people hear about or experience what our rooms feel like, the more that's going to change, leading to greater variety in the music genres on offer."
Campbell's programming, in line with most Sofar Sounds events around the world, as reflected in their numerous YouTube videos (more on that later), primarily appears to reflect mainstream vernacular music. Great Lake Swimmers, Royal Wood and The O'Pears have presented polished sets. On the other hand, SST has also sought to stretch preconceived hipster notions of the live music experience by expanding what's on offer. For example, Pocket Concerts presented an authoritatively played program of J.S. Bach string trios. Last December, indigenous cellist/composer Cris Derksen, a 2016 Instrumental Album JUNO nominee, singlehandedly built from layers of powwow-ready sounds with her cello, Western classical music chops and new school electronics.
To ramp up audience anticipation, SST has fun holding back the names of the musical acts it presents, yet it does something few other presenters do: it sends follow-up messages to individual ticket holders. Titled "Thanks for Coming! You were watching..." the email messages offer a thumbnail of each artist on the roster. Campbell notes that "we also track alumni artists' future gigs and link to them on our Facebook page for the benefit of our followers."
I'm not at liberty to disclose the identity of future performers – remember the lure of the "secret" concert, the cultivated air of mystery and the element of exploration in SST's mandate? I can, however, speak about a few of the world music performers who have animated its low-keyed venues. On a hot July 2015 evening in the backyard of a private Toronto home, the Rajasthani Barmer Boys raised their voices in praise to perform songs steeped in the Manganiyar Sufi music tradition. Earlier this year Burkina Faso griot Amadou Kienou animated the dreary March weather in a downtown walkup with songs accompanied by kora and jembe. Sections of all these sets can be viewed on the SST YouTube channel.
A few weeks ago the Dilan Ensemble directed by kamancheh specialist Shahriyar Jamshidi played a program of Kurdish music. On another show, the ten-piece Toronto band Zuze, mashing up Iranian folk melodies with Afrobeat rhythms, shared the snug Small World Music Centre space (eschewing its modest stage for floor space under the spacious windows) with IVA, aka Kathleen Ivaluarjuk Merritt. The Inuk singer-songwriter was accompanied by the Southern Ontario indie-folk band Ptarmigan in a set combining Inuktitut song and poetry.
In another concert, the accomplished Toronto-based Arabic and Jewish musician-singers Maryem Tollar and Aviva Chernick joined Iranian percussionist Naghmeh Farahmand in a new music project dubbed Walking East Trio. In addition, sharing the bill with two other acts, singer-songwriter Dieufaite Charles sang, accompanying himself on guitar, music reflecting a mix of Haitian roots and African rhythms. That concert, held in a private home in the Trinity Bellwoods neighbourhood (yes, marked "secret!" in the invitation), was also part of Toronto's Third Annual Festival of House Culture, yet more evidence of several layers of placemaking in action.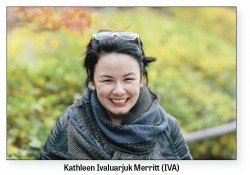 Campbell confirms that "of the three or four acts at every show, at least one will be a surprise to many in our audience – and that's our intention. I can't emphasize enough how awesome it's been to watch audiences react to something clearly completely out of their wheelhouse. Whether it's Bach played by a chamber trio, a griot singing traditional Burkina Faso songs accompanied by a kora, a rapper backed by live musicians, experimental electronic post-rock, or a solo singer-songwriter, audiences recognize that these are amazing musicians. Before SST, they might see a listing in a magazine or walked by a venue with a sign, but would never imagine going to their concerts. But the in-person experience is a powerful one. It says 'this is for anyone who wants to hear it.' It's been so rewarding for us to be able to introduce artists who don't generally have access to audiences outside of their own ethnicities. We [imagine that we] live in a city that houses every ethnicity, culture, or tradition on earth, yet we [nevertheless] tend to live in our own local worlds. What's been amazing to behold is that by creating an air of mystery around audiences not knowing who they're going to see, we're able to demonstrate how silly it is that we're not [culturally] more intermingled. Because great music is great music. Period."
That's why, he says, a well-known artist like Lena (aka Anastasia Tchernikova) of Musica Reflecta can entrance a room full of people with a program of solo minimalist piano pieces by Philip Glass and Arvo Pärt as much as a well-known folk group like Great Lake Swimmers, who followed that performance. "There is so much going on in this city, and, to use the old adage, there's so much that people don't even know they don't know about. We want to help change that."
While Campbell makes a strong case for an era of post-genre concert experiences, what's in it for the individual musician or group? SST promises an attentive audience, an unusual, unexpected, fun, intimate venue with social media follow-ups on Facebook and Instagram. Each act gets a very modest honorarium. More valuable perhaps, SST provides a high-quality edited video of an item in their performance, uploaded directly to the international Sofar Sounds YouTube channel.
For newly formed groups, it's an opportunity to connect with an enthusiastic young adult audience in an attentive listening "quiet room" environment. For bands used to gigging in noisy bars where the focus is not necessarily on the music they're making, the latter is a precious quality. For more established musicians, SST facilitates a connection with a young adult audience demographic, to listeners who may not be familiar with their careers, repertoire or even the genre of music they play.
While mum's the word on the identity of the global musicians appearing in SST's December and January concerts, I can divulge two of the locations it has already announced. One is the hip Boxcar Social at Harbourfront Centre overlooking Lake Ontario and the other is "a secret location" in Evergreen Brick Works nestled in the neo-bucolic post-industrial setting of the Don River Valley.
After speaking with SST producer Campbell, I am confident that SST's programming will continue towards its goal of genre diversity. Gongs, ukuleles and dulcimers will undoubtedly share future SST rooms with guitars, drum kits and keyboards.
Andrew Timar is a Toronto musician and music writer. He can be contacted at worldmusic@thewholenote.com.