Every February I focus my column's lens on Black History Month as it is musically celebrated in our midst. And with each year it becomes easier to assume that it has always been thus. It's worth noting however that this is a relatively recent commemoration in our province, one with an evolving history.
The City of Toronto became the first municipality in Canada to proclaim Black History Month in 1979 in recognition of "the past and present contributions that African Canadians make to the life of Toronto in such areas as education, medicine, art, culture, public service, economic development, politics and human rights."
Official provincial and national recognition of this aspect of cultural pluralism trailed far behind however. It wasn't until 1993 that Ontario first proclaimed February as Black History Month citing as one of the reasons: "To mark the 200th anniversary of a law banning the importation of slaves into Upper Canada." While people have been marking Black History Month throughout the province ever since, official status was not been granted until very recently. It was only last January that "Ontario passed legislation to formally recognize February as Black History Month on a continual annual basis," according to the Ontario government website. The 2016 legislation "…gives Black History Month official status in law, ensuring that the uniqueness, vitality and continuing contributions of the Black community in Ontario will be celebrated for generations to come."
I want to start by focusing on a single theatrical production. It's a show with strong Afro-Caribbean musical roots that resonate throughout popular culture. It showcases Canadian creators and performers interpreting the life and career of an iconic nonagenarian, equally known for his rich contributions to the commercial entertainment landscape of the second half of the 20th century and for his social-political activism.
Harry Belafonte at 90: A Tribute Celebration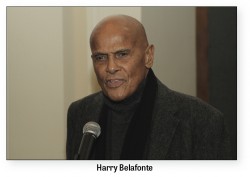 February 28 at the Fleck Dance Theatre, Harbourfront Centre, Culchahworks Arts Collective presents "Harry Belafonte at 90: A Tribute Celebration," sponsored by TD Bank Group. Featuring leading African Canadian talent, including jazz-and-blues diva Jackie Richardson, singers Jay Douglas and Darryl Huggins and Stratford actor David Collins, the show's choreographer Melissa Noventa weaves the numerous thematic and performative strands together with movement and colour.
Tribute Celebration's writer, director, producer and music director is Andrew Craig. This prominent Toronto-based multi-instrumentalist, producer, composer, broadcaster and impresario is also the founder and artistic director of Culchahworks. Founded in 2013, Culchahworks is a not-for-profit arts organization that "aims to celebrate and proliferate compelling stories, principally drawn from the Caribbean-Canadian, African-Canadian and African-American cultural legacies, yet having universal resonance, through the arts. Historical, didactic and cutting-edge all at once, Culchahworks endeavours to entertain, educate and inspire a broad range of audiences, using all manner of traditional and new media."
It's not easy to think of a living, successful entertainer with a more deeply held commitment and lengthy dedication to the cause of social justice and change than Harry Belafonte. The NYC-born African American has been at various times in his 60-plus-year career, a singer, actor, producer, and a leading international political and humanitarian activist who often challenged the power orthodoxy of the day.
Craig's chronologically driven narrative traces Belafonte's nine decades in a tribute filled with music, theatre, dance and screen-role excerpts. Starting with his formative years in NYC and on the island of Jamaica, the show follows his rise to stardom in the 1950s with performances of some of his best-selling recordings including Matilda, Jamaica Farewell and Day-O (The Banana Boat Song). The latter song originated as a Jamaican work song. Mento elements were incorporated in Belafonte's hit recording.
These and several other records were highly successful commercially. The influence particularly of Belafonte's early recordings on North American and European popular culture was immense. His Calypso (1956) is the first LP album to sell over one million copies, spending 31 weeks at number one on the recording industry Billboard charts. Belafonte received two Grammy Awards in the 1960s plus a Grammy Lifetime Achievement Award in 2000 for his outstanding work in the studio. With over 55 stage, film and TV credits, he has won both Emmy and Tony Awards and has received numerous major honours for his outstanding work on stage and screen, all the while accepting roles which exposed and explored prevalent racialized issues of the day.
Culchahworks' Tribute Celebration next assays the other major thread in Belafonte's life: his lifelong social and political activism. Inspired in his political orientation by his mentor, the renowned singer, actor and Communist activist Paul Robeson, Belafonte played an important role in the 1960s Civil Rights movement as both supporter and confidant of Dr. Martin Luther King Jr. Belafonte played an active role in the anti-apartheid movement and has since 1987 served as UNICEF goodwill ambassador. Performances include songs from his live 1972 album recorded in Toronto, and the 1988 Live in Zimbabwe concert.
Belafonte has challenged many social and political barriers in both his off-stage and singing and acting careers. Tribute Celebration re-enacts scenes from his signature film and TV roles dramatizing these themes.
Having retired from active performing in the 2000s Belafonte has more time these days to advocate for political and humanitarian causes. Rather than slowing down in his senior-plus years, he founded Sankofa the year he turned 86. That social justice charity organization "enlists the support of today's most celebrated artists and influential individuals in collaboration with grassroots partners to elevate the voices of the disenfranchised and promote justice, peace and equality." ("Mission" on Sankofa.org.)
Belafonte continues to take his civic responsibilities seriously. He currently serves as the American Civil Liberties Union celebrity ambassador for juvenile justice issues.
Tribute Celebration rounds out its program acknowledging Belafonte's political engagement and recounting his continuing influence on the development of young artists and activists. I'm not sure if the show will touch on his passionate critique of the policies of both the George W. Bush and Barack Obama presidential administrations. Speaking as ever truth to power, Belafonte has also chosen – in his 90th year – to serve as honorary co-chair of the Women's March on Washington held on January 21, 2017, the day after the inauguration of President Donald Trump.
Other Picks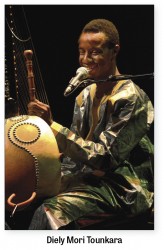 February 7 the Isabel Bader Centre for the Performing Arts presents the pioneering Toronto world music ensemble Evergreen Club Contemporary Gamelan in its Global Salon Series. The concert takes place in the Centre's acoustically warm, 560-seat concert hall, dubbed The Isabel. Opened in the fall of 2014, the Centre has positioned itself as a "new home for the creative arts at Queen's University and a new hub of artistic study, creation and exhibition" in the greater Kingston region. I toured The Isabel during its very early days. All I can say is that it's worth the drive to Kingston.
Before I discuss ECCG's music, I feel obliged to mention to new readers of this column that I'm a 34-year founding member of the group. I'm getting a bit long in the tooth, I know, but I still thoroughly enjoy each of our concerts, especially meeting new listeners with adventurous ears.
ECCG has based a three-decade career on commissioning new scores with the end game of performing, recording and touring them on its superb bespoke Sundanese gamelan degung, a kind of gamelan indigenous to West Java, Indonesia. At the same time the group also performs music which can be heard in its West Javanese homeland, though in ECCG's own idiosyncratic arrangements. As I wrote in this column last fall, "It's a complex world of music out there and ECCG aims to present that complication from a Canadian perspective."
In its concert at The Isabel, ECCG explores various border crossings and cultural hybridities in works by Canadian composers Mark Duggan, Paul Intson, Andrew Timar, Linda Catlin Smith and John Wyre. Works by the composer American Lou Harrison and Indonesians Nano Suratno and Burhan Sukarma round out the program.
February 11 Alliance Française de Toronto and the Batuki Music Society co-present a "Concert of Malian Music" by Diely Mori Tounkara, kora and vocals. Hailing from a large family of Malian griots, Tounkara followed his father's profession, becoming a young master of the kora. Among the leading griots of his generation, his knowledge of the role Mandingo musical tradition plays is profound. His virtuoso playing on the kora brilliantly supports his flexible vocals which convey a wide range of subtle feeling that can be appreciated by Malian as well as Canadian audiences. Tounkara's appearance aptly connects with the celebration of Black History Month.
February 14 the Royal Conservatory presents Ladysmith Black Mambazo in its World Music Concert Series at Koerner Hall. As a reader of this column, I assume you've heard this all-male South African choir. Singing and recording for over half a century, they helped make Paul Simon's album Graceland (1986) a huge hit with sales of 16 million units. LBM has long been considered South Africa's musical ambassador. At Nelson Mandela's request LBM accompanied Mandela to his 1993 Oslo Nobel Peace Prize ceremony, as well as singing at Mandela's landmark inauguration as President of South Africa the following year.
Having made its first record in 1973, LBM has since recorded over 50 albums, many of which have garnered gold and platinum disc certification. Their most recent CD, Walking in the Footsteps of Our Fathers, has been nominated for Best World Music Album of 2016 by the Recording Academy, marking the group's 17th Grammy Award nomination. (A rollcall of awards and honours received would take up an entire column.)
The album's title accurately reflects the intergenerational makeup of the a cappella choir; most current members are descendants of the original 1960s singers. LBM is a world music institution, touring regularly to bring their uplifting, joyful message to a broad international fan base.
"May the Fourth Be with You"
March 4th, that is. It's going to be a day of tough concert choices. If you feel in the mood for a raucous, dance-in-your-seat-worthy Balkan wedding band you can catch Goran Bregović and His Wedding and Funeral Band at Massey Hall. The concert is co-presented by Massey Hall and Small World Music.
In another fascinating March 4 concert – this one by two very different choirs, Schola Magdalena presents the joint program, "Weaving the World" with Schola Magdalena and Darbazi at the Church of St. Mary Magdalene. Schola Magdalena's guest, Darbazi, is Toronto's first choir specializing in the performance of the polyphony indigenous to the peoples of the Republic of Georgia. The resident choir will sing Georgian chant, for which they are justly respected, and medieval choral works by Hildegard and Dunstable. Darbazi will perform selections from its extensive Georgian repertoire. The listing also mentions the performance of the intriguing but as yet undesignated "new music." Will the two choirs jointly sing a new work or two? My advice is to go and find out, along with me.
Finally, also on March 4, the Jubilate Singers connect with the Black History Month theme, bringing our column full circle. In a program titled "The African Connection" the choir celebrates the influence of African music in Christian liturgy, spirituals and vernacular songs, "as written and arranged by Western composers." Isabel Bernaus conducts the Jubilate Singers while Sherry Squires accompanies on the piano at St. Simon-the-Apostle Church. It's a felicitous way to wrap up the month.
Andrew Timar is a Toronto musician and music writer. He can be contacted at worldmusic@thewholenote.com.