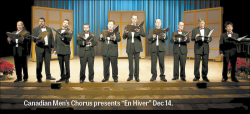 The concept of the musical "guilty pleasure" is a dumb notion that needs to be permanently retired. Guilty pleasures, of course, are things you enjoy that aren't especially healthy for you. The holiday season gives you an opportunity to indulge in, oh, one or two of them. So a (not especially convincing) case can be made for feeling guilt about taking pleasure in things that, in excess, can lead to ill health — food and drink certainly fall into this category.
But the idea of guilty pleasure is also commonly and perniciously associated with music, though as of this writing science has yet to establish the link between listening choice and terminal disease.
The idea is a powerful one. If your self-image is somehow shaped by your musical preferences — for many people, it is — then anything that apparently contradicts that image must be listened to on the sly, becoming a "guilty pleasure": the Bach expert who likes to kick back with Italian pop ballads by Bocelli (while her unsuspecting husband snoozes upstairs); or the thrash metal enthusiast whose eyes mist up listening to a heartbreak ballad on his daughter's Taylor Swift album.
During this holiday season, in which pretty much every choir around presents a program with the intent to delight and enchant, perhaps we can agree that guilt should have no place in our musical choices — no matter what the time of year.
I'll write more about this curious but widespread phenomenon in the next column — it's entirely relevant to our ongoing discussion of new music. In the meantime, having focused almost exclusively on the Britten centenary last month, I will turn the column over to December concerts.
Toronto has a wealth of excellent children's choirs, and two of the most accomplished present seasonal programs in December. The Bach Children's Chorus and Bach Chamber Youth Choir present "This Frosty Tide" on December 7; and the Toronto Children's Chorus presents "A Chorus Christmas: Fanciful Fantasies" on December 21.
A newly formed children's choir, the ASLAN Boys Choir of Toronto, presents their debut performance "Now is the Time!" on December 15.
The Nathaniel Dett Chorale, a choir devoted to music of the African diaspora, performs "An Indigo Christmas" on December 3. Inspired by the famous "Nigra Sum" text from the Song of Songs ("I am black but comely, O ye daughters of Jerusalem"), the concert is a collection of "Songs to the Black Virgin" — music inspired by Madonna figures from around the world.
Messiah concerts: you're on your own. Do I really need to talk up this piece at this stage in human history? Go and support the many excellent choirs who have made it a central part of their concert season. Here's my suggestion — throw a dart at a page of the listings, chosen at random; then go see the Messiah performance that you hit. (Or if you prefer, there's a handy Messiah Quick Picks at the end of this column!)
Handelian alternatives:For those who want to hear works by composers from the classical canon (other than Handel), there are several other good choices.
On December 7 the Cantores Celestes Women's Choir performs Vivaldi's Gloria as well as other seasonal favourites. This concert celebrates the ensemble's 25th anniversary.
The day before, December 6, the Upper Canada Choristers also perform the Vivaldi work, as well as music by Praetorius and Handel.
Poulenc's Gloria is the highlight of the Oakville Choral Society's "A Christmas Celebration of English and French Music" on December 13.
J.S. Bach's setting of the Magnificat text, jubilant and haunting by turns, is also a good seasonal choice for choirs and audiences. The VOCA Chorus of Toronto performs this work on December 7.
For another Bach choice, also on December 7, the Etobicoke Centennial Choir performs Cantata BWV140 "Sleepers Awake" (Wachet auf, ruft uns die Stimme), as well as Jewish-Canadian composer Srul Irving Glick's tuneful Kedusha.
More Bach: On December 14 the Toronto Chamber Choir presents "Christmas with J.S. Bach," a concert that combines works for Advent and Christmas.
On December 8 the Toronto Beach Chorale performs a Christmas concert that features some tasty and unusual early 20th century British works: Finzi's In Terra Pax, Holst's Christmas Day and Vaughan Williams' moving Fantasia on Christmas Carols.
One of the great virtues of Christmas music is its multicultural depth. On December 14 the Canadian Men's Chorus presents "En Hiver," a concert that includes the premiere of Toronto composer/conductor Norman Reintamm's Three Estonian Carols. In the same spirit, on December 7, Chorus Niagara performs "A Canadian Christmas Carol," a concert combining Canadian carols, poetry, prose and images.
For those who want to balance their carol intake with music from another world festival, the Toronto Jewish Folk Choir presents Chanukah concerts on December 9 and 11.
Looking ahead to January: A special choral event is taking place in Hamilton on January 19. Our city's best choral gospel ensemble, the Toronto Mass Choir is performing a joint concert with the McMaster University Choir. Karen Burke, the TMC's conductor, is actually a graduate of McMaster University, and the concert will be a culmination of a series of workshops in which the two choirs will collaborate and develop repertoire. This is a rare opportunity for people in the Hamilton region to enjoy a visit from this terrific ensemble.
One final thought:The print run of this December/January issue of The WholeNote will likely have disappeared well before the beginning of February, but I wanted to make note of a Soundstreams choral concert celebrating 60 years of professional choral singing in Canada. Three of Canada's top professional chamber ensembles, Elmer Iseler Singers, Pro Coro Canada and the Vancouver Chamber Choir will perform individually in three concerts February 1 and then combine on February 2, conducted by Kaspars Putniņš, the leader of the renowned Latvian Radio Choir.
Soundstreams will also sponsor an intriguing sounding lecture on January 17, "New Directions in Choral Music." The event will explore innovations in the use of the voice in modern choral writing and performance.
In the meantime, check out the rest of the listings, enjoy the season, and remember that when it comes to music, no pleasure should be a guilty one. Still, I could be wrong. I'll ponder it over some whiskey and chocolate. 
Benjamin Stein is a Toronto tenor and lutenist.
He can be contacted at choralscene@thewholenote.com.
Visit his website at benjaminstein.ca.
Concert Note: Feb 01 7:30: Metropolitan United Church. True Colours. Bach Children's Chorus, Linda Beaupré, conductor; Metropolitan Church Choir, Patricia Wright, conductor and organ; Northern Lights, Steve Armstrong and Jordan Travis, conductors; and others. 56 Queen St. E. 316-363-0331 x26. $20; $10(18 and under). Proceeds benefit the restoration of the Metropolitan United Church organ.