The end of March and beginning of April mark a special time for anyone in the post-secondary education sector. The term comes to a close, the academic school year settles into its final exams, papers, and for music students – final concerts. This month we're exploring the end-of-term concerts at Western University, University of Toronto (my alma mater), and York University.
University of Toronto is lucky in its breadth of ensembles and guests. The program is also very large with four major choral ensembles and over 200 students across the various ensembles. As conductors Mark Ramsay, Elaine Choi, Lori-Anne Dolloff, and David Fallis share, this work begins the previous year before the students even start classes.
It's a delicate balance to program works that are familiar while challenging; pedagogical, but fun. Not all the music needs to be new, because as Ramsay shares, "Working with a new conductor and/or singing with new colleagues can bring a fresh perspective to a familiar work. Singers also sometimes note [by revisiting familiar works] that their own skills have improved. Elements such as break management, vowel unification and dynamic control that were challenging the first time, may now be easier." But they note, "It's important to have some challenging music late in the season to keep a goal to strive for." The MacMillan singers, under David Fallis also have the pleasure of singing a composition written by one of their own, Katharine Petkovski's The Angels.
For many singers, some songs they are singing may be familiar, some may not. John Holland at York University's music program notes that he strives to "work towards finding a mix between unique music and music that will challenge the singers to raise their level of musicality." It can't just be all choral masterworks or the most popular music out there. The challenge is part of the work, and for Holland, "keeping choral students interested and excited, first and foremost, comes from the repertoire." Holland's approach is to create a welcoming and productive atmosphere that helps set the stage for a positive musical experience. "The students learn that they will be treated as professionals and are also held accountable for their work outside of the rehearsals, and that has helped foster a choral program that has produced many first-class choral musicians."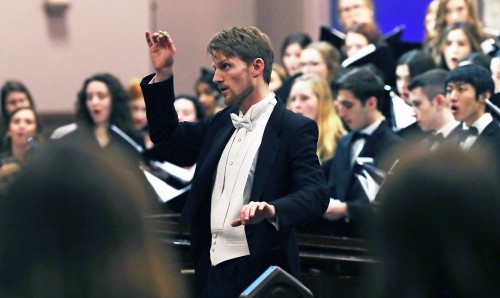 The Value of Music Education
"Choir provides our students with crucial opportunities to explore and develop their professional musical selves," shares Patrick Murray about the choral faculty at the Don Wright Faculty of Music at Western University. I asked him about the importance of setting students up for success as they graduate. "Be that through solo singing opportunities, furthering their ensemble skills, mentoring younger singers, leadership roles producing concerts and social events, or opportunities to connect with the community through concerts off-campus and on regional tours, ensemble singing sets our singers up to value their own musicianship and the role they want to serve in the community in their future careers."
Many of them will go on to sing in choirs for years to come, lead ensembles of their own and teach a new generation of musicians. (Murray's colleague, Gloria Gassi, was my one of my high school music teachers.)
The impact of solid music education is essential to a vibrant cultural landscape that enhances and vitalizes our communities. Murray continues, "It's important that a musical education develop students' critical thinking skills to question the canon, value works by living composers and other musical traditions, and think about what they will teach their own future students."
The Bittersweet End
These concerts do mark a graduating point for some of the students. It's hard not to feel a little sad at the end of the endeavour. "With the second semester concerts, there is that terminal thought – that 'This may be the last time we all sing together,' shares Holland. "Especially for graduating students, the second semester concerts have a very powerful energy."
This is a common sentiment, shared by Patrick Murray at Western. "There's always an energy of accomplishment after this concert. Each choir performs harder music and has grown in their sound and skill as an ensemble. It's also always a bittersweet moment as we wish our graduating singers goodbye and they sing their final concert with us." Some of these singers have sung together for four years, developing and challenging themselves as they've grown not only academically, but personally and professionally.
Mark Ramsay agrees: "It is always exciting to experience the growth throughout the semester. Singers are performing with greater confidence and comfort. Each concert throughout the year showcases a new level of skill and refinement."
"The number one thing that I would want choral students to take with them is the concept of musical professionalism and all that entails" John Holland concludes. "The ideas of preparedness, accuracy, courtesy, pride, camaraderie, artistry and a high level of performance, are all part of being a professional musician. This can be challenging due to the high expectations of performance, so leaving an undergraduate music program with a strong skill set, understanding of repertoire and styles, and a high level of professionalism helps singers leapfrog their competition when it comes to audition time."
In the end, as Mark Ramsay says, it's about "a love of ensemble singing and a desire to continue singing for as long as [one] wishes throughout their life."
Graduation isn't just the end, it's also the start. Catch these new beginnings at the end of March.
March 22, 3pm: The York University Concert Choir concludes its season with Vivaldi's Gloria, Mozart's Te Deum, and Dvořák's Psalm 149. Conductor John Holland describes this program as "the blending of the popular classics with unique works … something not to be missed, and the fine singing of the students will make you realize what a hidden gem the York choral program is." (And it's just across the street from the York University subway stop!) Tribute Communities Recital Hall, Accolade East, York University.
March 27, 7:30pm: The might of the Western University Don Wright Faculty of Music choral program combines for "United We Stand" under the batons of Gloria Gassi, Patrick Murray and Kathleen Allan. The end of the university school year concert features the four UWO choirs separately and en masse: The Chorale, Les Choristes, St. Cecilia Singers and the Western University Singers. On the program are the men in James Erb's classic arrangement of Shenandoah and 200 singers performing the Sanctus from Duruflé's Requiem, and the Hallelujah from Beethoven's Christ on the Mount of Olives. St. Peter's Cathedral Basilica, London, which conductor Patrick Murray calls "one of the finest acoustics in southwestern Ontario."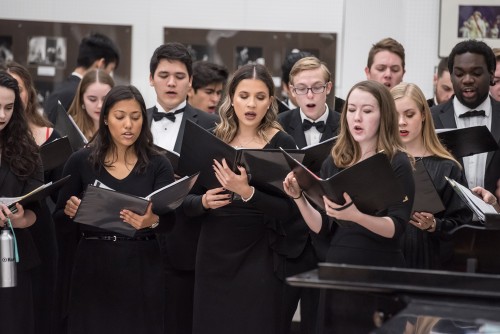 March 29, 2:30pm: With the largest choral program in Toronto, the University of Toronto Faculty of Music Choirs combine for their term finale, "Wake Into Voice." The Tenor/Bass Choir will be led by Mark Ramsay. Elaine Choi leads the Soprano/Alto Chorus featuring
我身騎白馬 I Ride a White Horse by 高竹嵐 Gao Zhu-Lan and I Arise Today by local composing powerhouse, Matthew Emery. David Fallis leads the MacMillan Singers with Britten's Hymn to Saint Cecilia, and a composition by one of their own singers, Katharine Petkovki's The Angels. Lori-Anne Dolloff rounds out the quartet of conductors with a smaller set of the sopranos and altos in a treble chorus. MacMillan Theatre, Faculty of Music, University of Toronto.
CHORAL SCENE QUICK PICKS
There is a robust selection of fantastic choral programs across the region (many of them, doubtless, featuring alumni of university choral programs). There's absolutely no excuse for not catching some of these performances in the next month and a bit. Let me know what you think and how you felt about the experience.
MAR 7, 7:30PM: Grace Church on-the-Hill, Toronto. MAR 14, 7PM: Royal View Church, London. The Canadian Celtic Choir, based in London, Ontario makes a visit to Toronto with guests Anne Lindsay on fiddle and Sharlene Wallace on harp. A slightly different lineup joins the program for the London performance, including Dan Stacey on fiddle and Kyle Waymouth on guitar, both with step dance.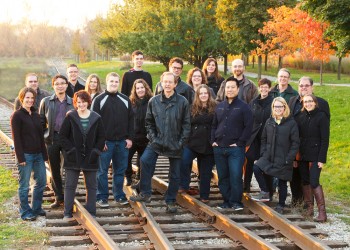 MAR 7, 8PM: St John the Evangelist Anglican Church, Kitchener. MAR 8, 3PM: Trillium Lutheran Church, Waterloo. DaCapo Chamber Choir presents "Life and Love and Wings." The signature piece of the evening is a new commission by friends in memory of Margaret Janzen. From a Distant Star. composed by Jeff Enns and featuring mezzo-soprano Jennifer Enns-Modolo.
MAR 26 TO MAR 28, 8PM; MAR 29, 3:30PM: Tafelmusik Baroque Orchestra and Chamber Choir take on one of the greatest choral masterworks, the Bach St John Passion. Check out my colleague Matthew Whitfield's Early Music column for a preview. Koerner Hall.
MAR 27, 8PM; MAR 28, 2:30PM & 8PM: The Kitchener-Waterloo Symphony presents "The Magical World of Harry Potter." This bit of magic will include action on stage from the Carousel Dance Company. And to bring that extra bit of whimsy, the Grand Philharmonic Youth Choir are along to bring all the magic of the Wonderful Wizarding World of Harry Potter alive. Centre in the Square, Kitchener.
MAR 28, 7:30PM: The Guelph Chamber Choir presents John Rutter's Requiem. The first part of the program includes Katerina Gimon's beneath/sound, which conductor Charlene Pauls describes as "an homage to nature and earth – a theme that is particularly important in our current climate [crisis]. Orpheus Choir of Toronto commissioned the work for a concert last year featuring all female composers." Pauls is happy to program the composition, giving the work a chance to be heard again after its commission in 2019. River Run Centre, Guelph.
APR 4, 7:30PM: The Etobicoke Centennial Choir takes on a beautiful task with Luigi Cherubini's Requiem Mass in C Minor, known for its beauty and its beloved stature. Played at Beethoven's funeral at his personal request, the Requiem Mass continues to be a well-loved staple of refined choral connoisseurs. Humber Valley United Church.
Follow Brian on Twitter @bfchang
Send info/media/tips to choralscene@thewholenote.com.