On June 22 at 8pm, Luminato presents Triptych (Eyes of One on Another), a new multidisciplinary work composed by Bryce Dessner with libretto by Korde Arrington Tuttle, inspired by the controversial and revolutionary work of Robert Mapplethorpe; at the Sony Centre (soon to be Meridian Hall), Toronto.
A consistent throughline at Luminato has been introducing local audiences to the international array of interesting, challenging collisions of storytelling and performance. In this year's festival we have this multidisciplinary work inspired by Robert Mapplethorpe's art. His stark black and white photography, often focused upon unapologetic queerness in a striking visual way, here collides with an equally striking vocal ensemble called Roomful of Teeth. Hand-picked by Triptych composer Bryce Dessner to bring his score to life, Roomful of Teeth is not quite a choir, not quite a band, not quite what you'd think of for an eight-voice ensemble. Their number includes bass-baritone Dashon Burton, founder Brad Wells, and Pulitzer Prize-winning composer Caroline Shaw.
Triptych's subject is Robert Mapplethorpe himself. His photography of provocative people was challenged in American courts under obscenity laws in 1990. To this day, Mapplethorpe's work is controversial, but his unique approach has left an indelible impact in the intersection of photography and viewer. The composer, Bryce Dessner is an accomplished orchestral writer but is mostly known for his work as guitarist in the American band, The National. Interestingly, he is a native of Cincinnati, the city where Mapplethorpe's exhibit was shut down under obscenity laws. At the world premiere in Ann Arbor, Michigan, in March of 2019, Dessner and librettist Korde Arrington Tuttle participated in an hour-long talk with NPR's Neda Ulaby. Their interview, available on Youtube, is a fascinating look into the creative process of collaboration and informed this month's column.
"The images were always core to the work," shares Dessner to Ulaby. "There are so many images that stand out … there are the images you can find which have been in exhibitions or on books or on their website and then there's 1000 times that; his archives [in the Getty Institute] are extensive … [But] if he didn't himself publish a photo, we're technically not allowed to show it." So for Dessner and Arrington Tuttle, they were able to see so much more than the public has, and this personal look has shaped Triptych.
"Mapplethorpe's work gets deep into the heart of all kinds of issues around our identity and how we see one another," continues Dessner. "The images are so powerful; and his art is so powerful in that way. The conflict within it is always unfolding." Thirty years after the death of Mapplethorpe, there are still discussions around what art is, the lines of art and obscenity, and how to respond to it all. Many still call the work obscene and profane, but there is a persistent draw in the work that continues to make Mapplethorpe popular.
"I came to Mapplethorpe's life and work in college... For me, it had something to do with how he saw," shares Arrington Tuttle. "It had something to do with precision, it had something to do with an attempt at how to grasp at what he describes as perfection. But also a kind of transcendent beauty and a kind of love that might not look like love. It might not look like how I'm used to perceiving love or tenderness. There's something about coming to terms with and spending time intimately with discomfort and placing myself in that discomfort … It was provocation that asked me and required my presence …the way Mapplethorpe is mixing the sacred and the profane and elevating images that some people might call pornographic but are actually great works of art."
"There's been intense discomfort and reckoning," says Dessner. "Almost every day we'll have a discussion or confront something new in terms of the bigger work of what this is. I think for me the piece has become the process of making the piece." That process included working with Roomful and writing the music knowing it was going to be them performing it. In fact he can't think of anyone other than Roomful performing the work. As it travels, so too does the ensemble.
"They're really like a band, Roomful, they bring a kind of intent. They can't just sing something, they have to know why they're singing something."
Roomful of Teeth as an ensemble name sounds crass and jarring., and their music can sound like that as well. There is a lot of sound and a lot of different techniques all being thrown at listeners at once. There is something dynamic about listening to a female voice sing in the style of Bulgarian women. It's another feeling altogether to hear Tuvan throat singing droning away. Sometimes it is just plain weird to listen to –an example of "spending time intimately with discomfort" that Arrington Tuttle referred to. Roomful constantly seeks to find all the various ways that voices can make sound and confront you with them. The seductive sound of Sardinian cantu, for example, provides a fullness and constant envelope of sound much like a bagpipe. Higher tones can then play around on top of the solid bass provided by the style. Many of the singers in Roomful are composers; they understand the interplay that art has between presenting, listening, invoking, and creating. "They've been quite involved in shaping the work … it's made the piece much stronger," says Dessner.
Roomful's intersection with Dressner and Mapplethorpe in Triptych (Eyes of One on Another) is just that – an intersection. It's worth checking out, and it will also be interesting to see what lies next on their own path.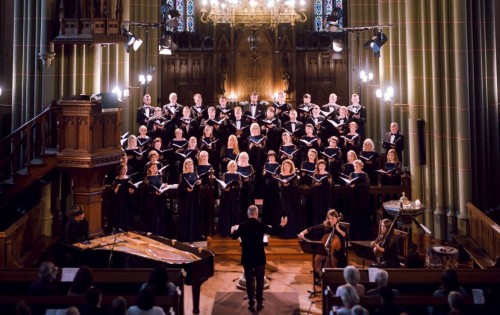 The 15th Latvian Song and Dance Festival
Latvian culture has a strong choral tradition of massive ensembles in summer festivals. Here in Canada, many Latvians have made indelible marks in the Canadian choral landscape. As part of the 15th Latvian Song and Dance Festival, the State Choir LATVIJA comes to Canada for the first time.
The Latvian Song and Dance Festival occurs every five years in Latvia. A distinguishing feature of the festival is the massed power of thousands of voices. These huge summer gatherings devoted to music are cultural gems in Latvia. The Toronto version of the festival includes choral, instrumental, and dance performances all centred around the significant contributions of Latvians to choral art.
In their concert of Latvian sacred music on July 4 at Trinity St. Paul's Centre, State Choir LATVIJA performs a host of beautiful works written by Latvian composers including Canadians Imant Ramnish, George Juris Ķeniņš, Tālivaldis Ķeniņš, Arvīds Purvs and Ērika Yost. Raminsh's stirring Ave Verum Corpus is a well-loved standard of Canadian choral programming. Ķeniņš' work, Miss Brevis Latviensis was commissioned by the Choir and had its premiere in 2017 to celebrate the 500th anniversary of the Reformation.
On July 5, the State Choir LATVIJA – now in its 77th season – comes to Koerner Hall, the grandest of spaces for this fine choir. Featuring music from Latvian-Canadian composers Jānis Kalniņš, Tālivaldis Ķeniņš and Imant Raminsh, the choir is joined by violinist Laura Zariņa, pianist Arthur Ozolins and members of the Canadian Opera Company Orchestra.
Finally, in keeping with the Latvian large choir tradition, on July 6 at 3pm, State Choir LATVIJA conductor Māris Sirmais will lead a Mass Choir Concert – an expected 800 choristers – in a program of all-Latvian composers at Mattamy Athletic Centre.
CHORAL SCENE QUICK PICKS
JUN 13 TO 22: Asah Productions and Luminato present Obeah Opera. An a cappella, all-female cast explore the Salem witch trials in a work conceived, written and composed by Nicole Brooks. Tituba, a young Caribbean slave was the first woman accused in the trials. This is her story amidst the paranoia that gripped colonial Massachusetts between February 1692 and May 1693: at the Fleck Dance Theatre, Toronto.
JUN 19, 20, 22, 8PM AND JUN-23, 3PM: The Toronto Symphony Orchestra presents Carmina Burana conducted by Donald Runnicles. James Ehnes performs Korngold's Violin Concerto to open the concert. For the signature work of the evening, Nichole Haslett, Sunnyboy Dladla and Norman Garrett anchor the solos. The Toronto Mendelssohn Choir will be joined by the Toronto Youth Choir and the Toronto Children's Chorus in performing one of the greatest pieces in the choral canon. It may well be the biggest presentation of Carmina Burana Toronto has ever seen at Roy Thomson Hall.
JUN 23, 8PM: The closing event of Luminato 2019, Maada'ookii Songlines, composed by Cris Derksen, will bring together the power of over 200 performers, including almost a dozen choirs, plus soloists and instrumentalists, in a free performance meant to bridge the time between evening and night; at Harbourfront Centre.
JUL 19, 7:30PM: The Festival of the Sound's Opening Gala features the Elmer Iseler Singers. With a host of guests including soprano Mary Lou Fallis; narrator Colin Fox; the Penderecki String Quartet; and instrumentalists Guy Few, Suzanne Shulman, James Campbell, Beverley Johnston, and Bob Mills. A huge assortment of choral excerpts mark and evoke performances from the 40-year history of the Festival. Excerpts include Handel's Messiah, Bach's Mass in B Minor, Carmina Burana, Mozart's Requiem, and the world premiere of The Sound: A Musical Evocation of Georgian Bay by Eric Robertson and Gary Michael Dault. Lots of other musical experiences can be found throughout the festival. Stockey Centre, Parry Sound.
AUG 17 TO 25: Wellington Water Week is a celebration of the water in the idyllic Price Edward County community of Wellington. Husband-and-wife duo Johannes Debus, COC music director, and Elissa Lee, violinist, curate the musical offerings for the celebration, including August 17, at 5:30pm, Opus 8 presenting an a cappella program of folk songs titled "How Can I Keep from Singin'?" at Wellington United Church, and, on August 23 at 6pm, Debus and singer/songwriter Sarah Slean presenting SING!, a crowd-sourced mass choir event. The two will co-direct songs for everyone to participate in; also at Wellington United Church.
Follow Brian on Twitter @bfchang Send info/media/tips to choralscene@thewholenote.com.