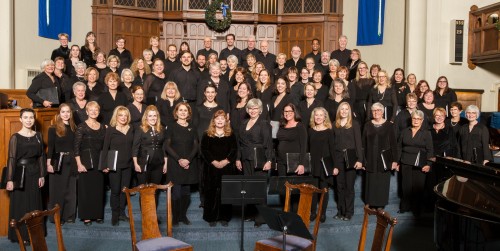 Fall workshop: Once in the fall and once in the spring, artistic director Jenny Crober brings in an artist to work with the VOCA Chorus of Toronto in an intensive workshop. Matthew Emery was the clinician for the fall, working on his song Still Colours, Velvet Shoes. At the very end Crober asked, "Do you mind if we take a little peek at Sing your Song? Would you mind telling them something about who you've dedicated this to and why?" Emery agreed and spent the time explaining his reason for writing this song – to honour one of his musical mentors, Ken Fleet, when Fleet retired from Amabile. (Fleet has been living with dementia for many years now.)
"I first met Ken Fleet as a young singer in the Amabile Choirs of London, Canada," Emery shared by email with The WholeNote. "My first memory of him was thinking "Wow he is so tall, will I ever be that tall?" (Fleet stood six feet five inches. Those who have met Emery in person can attest that yes, he did get to be almost as tall).
"I was a young boy in Grade 4 or 5 at the time," Emery continues. "It was his presence and influence from singing with Amabile that led me to attend Medway High School where Ken taught music for nearly 30 years. Ken was one of the early mentors I had in composition. He was always encouraging me to write. He also introduced me to the music of Stephen Chatman who I later studied with at UBC."
The story was impactful for the choir. Crober is reminded "when you look out at the choristers and you see their faces soften; some tears in the eyes. It's obvious when you hear Matthew speak, the fondness he has for Ken." That fondness is felt by Crober too, who studied music with Fleet at Western University. "We were at Western together," she shared. "He was three years ahead of me. And everyone knew who he was, partly because he was very tall, but he was a gentle giant. An extraordinarily lovely human being, a wonderful person."
"The refrain used in this song is built on the text 'sing your song' which is taken from a short documentary about Ken," shares Emery. "His wish in life was that no matter what "just sing your song" – a beautiful image to be yourself and to be proud of who you are." For Crober, that message "means get to the heart of it, right now. Get right into it. Don't waste time. Just do it. In a gentle and supportive way." The choir has loved learning and singing the song.
"The song uses a verse-chorus type framework to increase its accessibility," shares Emery. "Ken worked with musicians of all levels, so I wanted to honour that philosophy in some way. There are phrases where the voices enter in canon, a metaphor for life. After the contrapuntal middle passage, the voices join in unity on the text "come home, come home." This is intentional, to suggest that through grief, strife – anything – music is our refuge."
"The song has to be very active, very positive, very buoyant," says Crober. "It really is bubbly. But not flip. There's nothing flippant or trivial about it … It's jubilant and tender at the same time. It's a really lovely piece."
Emery put significant thought into creating this outcome. "I wanted to create a poignant work," he said. "The meaning is deeply felt, but kept light-hearted with the syncopated melodies and pulsing piano gestures. To me, I am reminded of the lessons Ken taught me about life and the values he passed on when I hear the song. He was always full of joy and generosity. I tried to capture his genuine full spirit in the work." The notion that music can bring us "home" – a perfect image to end a concert celebrating a beloved conductor and mentor to thousands of singers."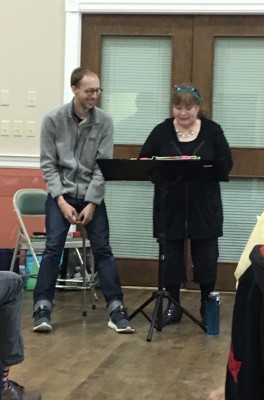 Upcoming concert: The signature work of VOCA's upcoming April 27 concert is the Paul Winter Missa Gaia/Earth Mass. "It has been a while since we last did the Missa Gaia/Earth Mass," says Crober. "We did it in 2012, when the East York Choir first became the VOCA Chorus of Toronto. This was the first performance of the choir under our new name." Crober didn't revisit the piece until two years ago when she had to step in at the last minute to conduct it for the Achill Choral Society in Orangeville. She admits, "I had kind of forgotten how much I loved the piece." The revisiting is the reason for the "II" added to the concert title – "Earth, Seas & Sky."
Joining the choir is vocalist Alana Bridgewater who has done the Missa Gaia on several occasions. "I've known about her a long time so it's just a joy to finally be able to work with her," says Crober. "We're also doing three pieces by Paul Halley: Freedom Trilogy, Sound Over All Waters and The Rain Is Over and Gone. Alana will be really featured in some of these as well. There's a moment in the third movement of the Missa Gaia, for example, the Beatitudes. It starts off slow and contemplative and by the end it's a rocking gospel choir. Alana's a powerhouse."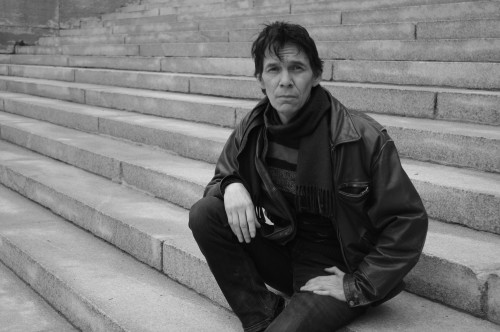 Spring workshop: At the end of March, the choir had its spring workshop with Andrew Balfour. (The choir has been learning his piece Ambe for their upcoming concert.) "The first time I heard the piece we were at Podium 2018 in Newfoundland," says Crober. "It was being performed by Chronos Vocal Ensemble from Edmonton. It was so hypnotic and driving and compelling and powerful and beautifully sung. The minute it was done, I marked in my program 'Do this!'" Crober approached Balfour later during that conference. She booked him for the VOCA spring clinic this year, so the choir would have a chance to workshop the song directly with Balfour.
Going through the experience of Balfour's thought process and listening to him give life and meaning to the music he's written was important. Recently, the Indigenous Performing Arts Alliance (IPAA), of which Balfour is a part, released a statement on Indigenous Musical Sovereignty. The statement is an invitation to participate in the full experience of the music created by Indigenous peoples while simultaneously acknowledging that much of what has passed for Indigenous music or Indigenous themes by outsiders has been traumatizing. The statement asks hard questions of presenters who seek to perform Indigenous music: "to non-Indigenous composers who seek to tell 'Indigenous-inspired' works: be honest with yourself and ask why you feel compelled to tell this story and whether you are the right person to do so."
The statement acknowledges that there is a place for non-Indigenous musicians in partnership, but there is an added weight and depth of responsibility that Indigenous creators have to their communities. To do this work well, the IPAA says, "We seek to hold ourselves to the highest ethical standards of Indigenous community engagement, and request that our collaborators in the Canadian music community work to the same level of accountability."
For Crober, through the opportunity to learn directly from Balfour, the choir will have a better chance to bring life to his musical offering while respecting its Indigenous nature.
See all of this in action in "Earth, Sea & Sky II" presented by VOCA Chorus of Toronto under artistic director Jenny Crober featuring guest artists Alana Bridgewater (vocalist); Colleen Allen (saxaphone); Shawn Grenke (organ); Roberto Occhipinti (bass); Mark Kelso (drums); and Juan Carlos Medrano (percussion). April 27, 7:30pm. Eastminster United Church, Toronto.
CHORAL SCENE QUICK PICKS
APR 17, 18 AND 20, 8PM: The Toronto Symphony Orchestra is joined by the Amadeus Choir and the Elmer Iseler Singers for the superlative Mahler Symphony No.2 "Resurrection." A stunning masterpiece of choral music caps off this transformative symphony. Under the baton of Spanish conductor Juanjo Mena, the iconic organ of Roy Thomson Hall shall shake thee to thy bones with the full force and power of orchestra and choirs blended together in a way that only Mahler could. With three options to catch these performances, do it! Roy Thomson Hall, Toronto.
APR 19, 7:30PM: The Grand Philharmonic Choir performs Bach's St. Matthew Passion joined by the Kitchener-Waterloo Symphony Orchestra and a stellar line up of soloists: Isaiah Bell, Daniel Okulitch, Esteli Gomez and Allyson McHardy. Centre in the Square, Kitchener.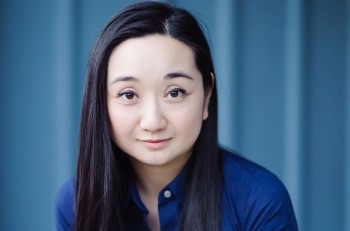 APR 27, 4PM: Reaching Out Through Music presents "Spring Breezes." ROTM provides free music education to children in the St. James Town community. Their hallmark is the Choral Program run by Cheryll Chung. Their Spring fundraising concert features Asitha Tennekoon. With a varied programme, this event will help ensure that the program can continue to provide accessible music education for future generations. Grace Church, Toronto, 383 Jarvis St.
Follow Brian on Twitter @bfchang. Send info/media/tips to choralscene@thewholenote.com.