Two upcoming choral concerts promise to take some of the chill out of winter. The Nathaniel Dett Chorale, joined by alumni, premieres a new work, Hosea, to perform what artistic director Brainerd Blyden-Taylor calls a concert of "wonderful, inspirational, moving music." This concert continues the Chorale's 20th anniversary season. And two of the finest chamber choirs in Canada join forces to present a joint concert; the Vancouver Chamber Choir (VCC) is hosted by the Elmer Iseler Singers on their 92nd and last tour with Jon Washburn at the head of the VCC.
The Nathaniel Dett Chorale takes the Koerner Hall stage to perform a new work, Hosea. "This year we have a composer-in-residence, Dr. Stephen Newby," shares artistic director Blyden-Taylor. "He has written a mini-oratorio based on the Old Testament Book of Hosea. It is a fusion mashup of the classical, jazz and gospel genres."
"When the Book of Hosea was written, it was a metaphor for God's relationship with the children of Israel," shares Blyden-Taylor. "Initially God tells Hosea he should marry a prostitute and take in her children." Figuratively, Hosea invokes wayward Israelites, who have turned their backs on God, to turn back to God. "He calls them to repentance with an open heart of forgiveness should they return to him." That path to repentance is one of inclusion, opening doors and hearts to the denigrated and lowly.
The Book of Hosea is controversial, more so now, for its disparaging depictions of "wanton women." The metaphoric reading, though, is more nuanced than the literal text taken at face value. For Blyden-Taylor, "looking at it from our point of view today, it's essentially the theme of unconditional love, reconciliation, and compassion."
Composer-in-residence Newby is professor of music at Seattle Pacific University, a Christian college rooted in the Wesleyan Methodist tradition. He conducts the University's Gospel Choir and teaches composition. Blyden-Taylor describes Hosea as "a combination of Newby's two passions: music and theology."
Hosea will be performed by the current Chorale. The other half of the concert will include alumni across the 20-year history of the ensemble. Blyden-Taylor says "there are about 18 to 20 alumni who are coming back to sing with the current ensemble. We're doing a series of favourite spirituals in the other half of the concert. We're doing pieces by Nathaniel Dett and Moses Hogan." Added to this, Blyden-Taylor has programmed songs from young American composer, Brandon Waddles, making three generations of composers spanning 100 years.
It is a banner year for the Chorale, celebrating its 20th anniversary. It is also, Blyden Taylor shares, "a big year for Nathaniel Dett too. This season marks the 75th anniversary of his death, and the 90th anniversary of the school of music he founded in Hampton University, Virginia. Dett was also one of the founding members of the National Association of Negro Musicians in the US, and they'll be celebrating their 100th anniversary in Chicago in the summertime."
The ongoing process of exploring Afrocentric music has become a life's work for Blyden-Taylor. "This ensemble is not just to commemorate Nathaniel Dett, but also his belief in Afrocentric music in its entirety," he says. "It's been a rich 20 years, and we've done a lot of things over that time, always striving to provide wonderful, inspirational, moving music."
February 13, 8pm. The Nathaniel Dett Chorale presents Voices of the Diaspora… Hosea & Friends. Koerner Hall, Telus Centre for Performance and Learning, Toronto.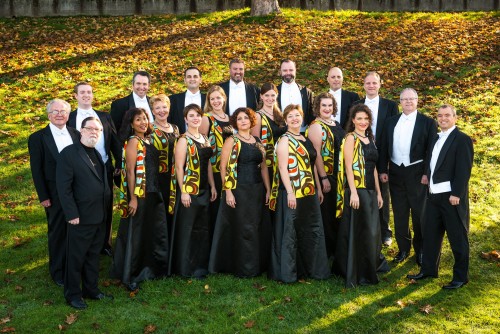 Two of the Finest; One Beautiful Concert
The Vancouver Chamber Choir comes to Toronto on its final tour with Jon Washburn as artistic director. "We're singing the top-ten-performed pieces from the choir's history," says Washburn, who keeps meticulous lists of performances and songs performed. "A lot of this repertoire is repertoire that has been toured quite a bit over the years. For example, we're doing Trois Chansons de Charles d'Orléans by Debussy; we've done 113 performances of that piece. The Imant Raminsh Ave Verum Corpus we've given 64 times."
The concert will also feature many of Washburn's beloved, often-performed arrangements including music of Stephen Foster and Rise! Shine!, his setting of four spirituals. "There are so many concerts at home and they kind of fade into each other over time," shares Washburn. "But when you're on tour, you associate a concert with a certain hall in a certain community in a certain season of the year. They are very vivid memories. For instance, the Schafer A Garden of Bells, was written for us many years ago. I remember when we did our tour of the Soviet Union in 1989, the incredible reception we got for this piece. We travelled the Baltics (Estonia, Latvia, Lithuania), the Ukraine, and Moscow, Russia. We finished that tour with the Moscow Chamber Choir in the Great Hall of the Moscow Conservatory." The Choir has performed A Garden of Bells 82 times over the years since it was first written in 1984.
Washburn has named the tour and the performances "Music Sea to Sea: The Farewell Tour." The tour is taking them from their usual home on the Pacific across the country to the Atlantic. Starting in Edmonton, then to Calgary, Lethbridge, Regina, Toronto, St. John's, Halifax, Antigonish, Wolfville, Truro, Lunenberg, and back to Vancouver over 18 days. This will be the 92nd tour in the last 48 years and Washburn has been on all but one of them. This is his last as the artistic director of the VCC as they continue their search for a new leader.
The Elmer Iseler Singers are hosting this particular visit. "[Artistic director] Lydia Adams and I go way back and we've just always had a wonderful friendship and so it's very special to do my last official event as artistic director in Toronto," says Washburn. "I think there will be a lot of feelings that night."
Adams feels the same. "For me, I'm really looking forward to this time together. I've known Jon since the early 90s when I played for the Ontario Youth Choir and he was the conductor. We hit it off. I was so taken by his work with the Youth Choir and the results he was able to get; his focus and attention. He was able to make great music with them, and that's the case every time we work with him."
The Elmer Iseler Singers, for their portion of the concert, will perform a selection of choral works new and familiar. For the new, Adams has chosen The Spheres, which is the opening movement of Ola Gjeilo's Sunrise Mass. For the old, William Byrd's Sing Joyfully. Rounding out the program is Healey Willan's anthem, Gloria Deo, and James MacMillan's The Gallant Weaver.
"It takes a lot to hand over a choir that you've taken care of for so long," shares Adams. She knows herself what it is like to give up the reins; this is her final season at the helm of the Amadeus Choir. "There's something about coming to the end of something. Things become more intense; every moment becomes very precious and there's not a moment wasted. There's nothing thrown away; everything has meaning."
Washburn notes the long history of the two choirs: "We have a great working relationship that has gone back decades. It's really nice that we have been able to work together on a regular basis." Adams appreciates this history as well. "The choirs are so meshed," she says, "when they come together, it's old friends, with immediate friendship and music making."
March 1, 7:30pm. The Elmer Iseler Singers present the Vancouver Chamber Choir "Music from Sea to Sea: The Farewell Tour." Eglinton St. George's United Church, Toronto. See elmeriselersingers.com for more information.
CHORAL SCENE QUICK PICKS
FEB 16, 8PM: The Guelph Chamber Choir presents "Glory: Music of Light and Joy." The search continues for a new artistic director with candidate Charlene Pauls taking the reins for this concert. Earlier in the season, Patrick Murray tested the baton. Pauls has programmed Leonard Bernstein's Chichester Psalms, Somewhere from West Side Story and a host of smaller works including Sid Robinovitch's Prayer Before Sleep, and Morten Lauridsen's Sure on this Shining Night. St. George's Anglican Church, Guelph.
FEB 16, 8PM:The Living Arts Centre presents "O Happy Day: Ben Heppner and the Toronto Mass Choir." The Mass Choir has joined Heppner on a few of these concerts over the last few years. Blending the power of Heppner's renowned tenor with the powerful Mass Choir, this collab is surefire. Living Arts Centre, Mississauga.
FEB 21 to 24, various times: York University, Accolade East Building. Finale Concert FEB 24, 7:30PM, Bayview Glen Church. The Toronto Mass Choir and guests run the annual PowerUp Gospel Music Workshop. The workshop features an entire gamut of classes from vocal technique, to keyboards, to running a choir, to gospel technique and masterclasses. The Workshop week culminates in a Finale Concert featuring the Workshop Mass Choir, Gospel Chorale and Gospel Youth Choir. Check out the full line up at powerupgospel.ca
FEB 27, 7:30PM: The Toronto Mendelssohn Choir presents "Handel and Haydn." Featuring the iconic Handel Coronation Anthems and Haydn's Mass in Time of War. St Andrew's Church, Toronto.
MAR 2, 8PM: The Toronto Chamber Choir presents "Convivencia: Music Across Three Faiths." With funding from the private Pluralism Fund, artistic director Lucas Harris has assembled a host of music to invoke the multi-religious period in medieval and Renaissance Spain. Grace Church on-the-Hill, Toronto.
Follow Brian on Twitter @bfchang. Send info/media/tips to choralscene@thewholenote.com.