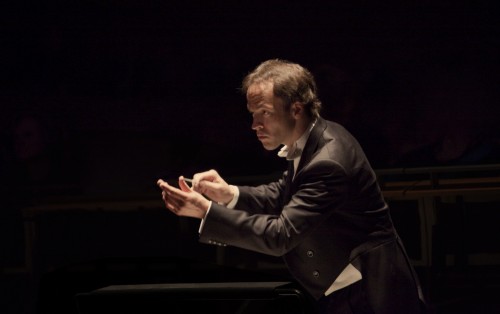 Toronto Symphony Orchestra CEO Matthew Loden and I are chatting about the beloved cultural phenomenon that is Messiah in Toronto. Sitting in his office overlooking Roy Thomson Hall, I can see the iconic webbing of the edifice, a physical nest that cradles the music hall. In a few weeks, the Toronto Symphony Orchestra and guests, under the baton of Johannes Debus, will present a major six-performance run of Handel and Jennens' masterpiece.. (Full disclosure: as regular readers of this column know, I sing in the Toronto Mendelssohn Choir and will be on stage for these performances.)
"We live in a very disjointed and fractured time right now. I think that the human condition is to long for a kind of togetherness, to find your place with people," says Loden, speaking about the need for a space for an event like Messiah. "Increasingly, we keep finding ways to disintegrate relationships. When you have a moment where you can come together collectively and still have an individual experience while feeling the music coming off the stage with a couple thousand other people – that is really powerful." With these TSO performances alone, 15,000 people will experience the majesty of the most iconic of Toronto classical-music traditions.
"People are moved to tears not just because of the artistic nature of what they're listening to," Loden continues, "but because they are doing it with other people, live. It's raw talent from 150-plus people on stage. There's a kind of magic that happens when you get everybody together to be a part of that."
Johannes Debus leads the Toronto Symphony Orchestra and the Toronto Mendelssohn Choir with soloists Claire de Sévigné (soprano), Allyson McHardy (mezzo-soprano), Andrew Haji (tenor), and Tyler Duncan (baritone). Surprisingly, over his significant career, Debus has never conducted the entire work. "This is my first time conducting it," he tells me in a phone call from his home in Berlin. "But when I was in my early teens, I sang it. This was one of the strong, long-lasting musical impressions I have from my childhood. Afterwards, I made my mother buy the John Eliot Gardiner, Monteverdi Choir recording. It's a dream come true for myself to be able to conduct this piece."
Debus is a fixture in the classical world in Toronto, serving as the music director for the Canadian Opera Company (COC), a post he has held for almost a decade. In that capacity he isn't often on the stage, though, in Toronto, and this marks only his second time with the TSO. He is mindful that the music lovers of Toronto are very particular about their Messiahs. "[Conducting] might come with certain expectations," he says. "On the other hand, you can rely on the experience of the musicians and hopefully bring something new. Not to reinvent the wheel but to inspire us all and bring all forces together. Make it an event that nourishes us and prepares us for the Christmas Day. In the case of Messiah, like every other masterpiece, you discover something new every time. Like a statue, you turn it around and look at it from the back or the side. You discover new angles. That's what makes music so brave – you perform it in the moment and it can be new every time." Audience members can safely expect a charismatic, flowing storyteller, and for once will be able to see his whole body in action from the stage, not just the top of his head and hands from the orchestra pit.
Debus is aware of other interpretations of Messiah. He mentions Sir Andrew Davis' 2016 recording, for one, but promises something a little more literal. "In the beginning we're dealing with prophecy, birth, and then redemption, like chapters. It's like a novel, three big parts," says Debus. "If we manage to bring out a distinctiveness in character and expression of all those aspects, I will be very pleased and happy."
The dramatic edge of Messiah can easily be lost faced with the technicality of the music. For a master musical storyteller like Debus, it is at the core. Handel's music uses the assembled text in an emotive fashion that creates a thread of luscious descriptiveness in his music. There is the venomous roar of choir in "He Trusted in God," remarking in great anger and frustration. "And with his stripes" plainly invokes the whip marks covering Jesus' body. The playfulness and athleticism of "All we like sheep" finishes with the introspective acknowledgement of the faithful's iniquity. The solos carry this emotional energy as well. The emotional tenor sings "Thy rebuke has broken his heart," a call from the deepest depths of despair, for help. The mezzo-soprano maintains a humble supplication with "He was despised." All of this is underpinned by the orchestra. Handel's music carries many emotional messages over a short period of time.
"It's part of Handel's success in general, that he can unfold and have this incredible impact on your emotional soul, your emotional centre," says Debus. "It can really shake you and elevate you, make you weak and so on. Among the great dramatists and operatists, Handel knew how to establish this and make it work. He knows very well how to set the mood and his talent for writing ear-worm-like melodies."
"As a composer of Italian opera, Handel was always drawn to the ideal of theatrical, operatic writing. In terms of drama, we will work to apply that here." Bringing to life the dramatic solos is a quartet of Canadian talent who have all worked with Debus before: in fact De Sévigné, McHardy and Haji have all been members of the Ensemble Studio, a key part of Debus' programming direction at the COC.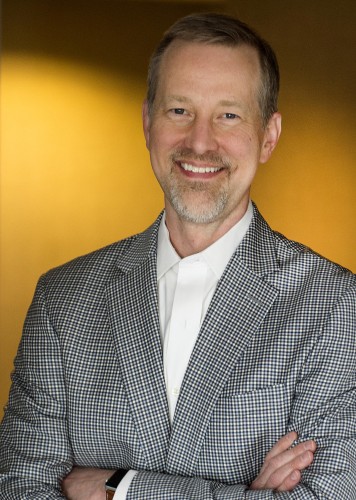 Matthew Loden is particularly keen on this set of soloists as well, knowing that three of them have been members of the COC Ensemble Studio. "[This performance] represents a very strong partnership with the COC," he says, "with Johannes on the podium and three of four of soloists connected to the Ensemble Studio. The fact that there are these remarkable development opportunities for these professional singers on their way into the world, and that the TSO can be one of the stops on their trajectory, is really fulfilling. And Canadians really appreciate when they can celebrate their homegrown talent."
The Ensemble Studio is part of a musical ecosystem encompassing the University of Toronto, Royal Conservatory of Music, and the COC, incubating, supporting and celebrating new generations of talent. Through performances such as these on the biggest symphonic stage in Canada, the TSO becomes part of that ecosystem.
Messiah is a core programmatic element of the first half of every TSO season. "We do Messiah every year is because one of the roles we play in Toronto is to gather people together into a space that allows them to feel like they are part of something that is bigger than themselves. Bigger than they are individually," shares Loden. "There's a ceremony around getting together with friends and family and other musicians on an annual basis that allows people to both reflect and look forward. Messiah is a perfect opportunity for that kind of gathering."
Messiah isn't part of any regular subscription package on offer from the TSO. Annually, ever seat sold is an add-on to a subscription, a create-your-own subscription package, or individual concert sale. Sure-fire Messiah sales are important to the TSO when balanced against new works or unfamiliar ones to audiences. Loden acknowledges that these are concerts that sell and sell out. "Whenever we open the phone lines and the next season goes on sale, Messiah is often at the top of people's list. It tells us that this is something that is working," says Loden. "Messiah is a highlight and focal point from a financial standpoint, but also within the rhythm of the season. I think if people want to come and be proud of being in this great city, being Canadians and experience this monumental piece of music that has withstood the test of time; to do it in this concert hall, it's a very special thing; and I think that's why people keep coming back."
"The images we get through Handel's music – with all its weaknesses, the compassion, empathy, glory, exuberance – with all these aspects, you can find them concentrated in this theatre called Messiah. I hope that many people will come to these concerts," Debus says, adding "and that there won't be any snowstorms."
CHORAL SCENE QUICK PICKS
MESSSIAH IS EVERYWHERE
From the November edition of HalfTones, The WholeNote's mid-month digital newsletter (subscribe online!): Messiah is near-synonymous with choral community-building: with festivity, with meaningful memories of classical music, with standing and singing along. Something about Messiah, and the way it unites community initiatives with musical professionals, gives it a special place in the city and scene's musical fabric.
Just an example - this year's "Messiah for the City" (Dec 22) presented by Toronto Beach Chorale in partnership with St. Andrew's Presbyterian Church, features singers from the Toronto Beach Chorale, MCS Chorus Mississauga and the Georgetown Bach Chorale, and players from the Toronto Symphony Orchestra. Founded by the late Jack Layton, "Messiah for the City" is a project dedicated to providing seasonal concert opportunities to people who otherwise might not have access to such events. Tickets are distributed by United Way and its partner agencies.
And then all over the map, and in order of appearance (details in our listings):
DEC 1, 4PM: Pax Christi Chorale's special Children's Messiah performance for children and families; Church of St Mary Magdalene, Toronto.
DEC 4-6, 8PM: Soundstreams' Electric Messiah IV at the Drake Underground, Toronto.
DEC 11, 8PM: "An Evening of Choruses and Arias from Handel's Messiah." The debut performance of B-Xalted! a new choir founded by Barbara Gowdy and Whitney Smith, at the Church of St. Peter & St. Simon-the-Apostle, Toronto.
DEC 8, 7:30PM: Cellar Singers. Handel's Messiah. Orillia Opera House, Orillia.
DEC 8, 7:30PM: Grand Philharmonic Choir. Handel's Messiah. Centre in the Square, Kitchener.
DEC 8, 7:30PM: MCS Chorus Mississauga. G. F. Handel: Messiah. First United Church, Mississauga.
DEC 8, 7:30PM: Orchestra Kingston. Handel's Messiah. Kingston Choral Society. The Spire/Sydenham Street United Church, 82 Sydenham St., Kingston.
DEC 9, 3PM: Dufferin Concert Singers/New Tecumseth Singers. Handel's Messiah. St. John's United Church, Creemore.
DEC 15, 7:30PM: Chorus Niagara. Handel's Messiah. FirstOntario Performing Arts Centre, St. Catharines.
DEC 15, 8PM: Mississauga Symphony Orchestra. Highlights from The Messiah. Living Arts Centre, Hammerson Hall, Mississauga.
DEC 15, 8PM: Orchestra Grey Bruce/Saugeen County Chorus. Messiah. Knox Presbyterian Church, Kincardine.
DEC 16, 3PM: Menno Singers. Sing-along Messiah. St. Jacob's Mennonite Church, St. Jacobs.
DEC 17-22, 8PM AND 23, 3PM: The Toronto Symphony Orchestra and Toronto Mendelssohn Choir, Roy Thomson Hall, Toronto.
DEC 17, 7:30PM: Peterborough Singers. Handel's Messiah. Emannuel United Church, Peterborough.
DEC 18-21, 7:30PM: Tafelmusik's Messiah at Koerner Hall, with their famous Sing-Along Messiah on DEC 22, 2PM, at Roy Thomson Hall (while Massey Hall is being renovated). Toronto
DEC 22, 7:30: Guelph Chamber Choir. Messiah. River Run Centre, Guelph.
NOT THE MESSIAH
Just a sampling …
DEC 5, 7:30PM: Nathaniel Dett Chorale. "An Indigo Christmas: Black Virgin…Great Joy."
DEC 7, 7:30PM: Surinder Mundra. "A Choral Christmas from Across Europe."
DEC 7, 8PM: Exultate Chamber Singers. "Winter's Night with You."
DEC 8, 2PM: "Annual City Carol Sing." Alex Pangman & Her Alleycats; Hogtown Brass Quintet; Yorkminster Park Baptist Church Choir; VIVA! Youth Singers of Toronto; That Choir; Hedgerow Singers; Kevin Frankish, host; and others.
DEC 8, 7:30PM: Forte – Toronto Gay Men's Chorus. "All Is Calm, All Is Bright."
DEC 9, 2PM: Duly Noted. "Toronto vs. Everybody." All a cappella music celebrating Toronto.
DEC 11, 7:30PM: City Choir. "Cakes & Ale."
DEC 16, 3PM: Pax Christi Chorale. "England's Golden Age." A cappella masterpieces from the reign of Henry VIII and Elizabeth I.
DEC 18, 7:30PM: Orpheus Choir of Toronto. "A Child's Christmas in Wales." With Geraint Wyn Davies.
DEC 22, 7:30PM: Quintessence Ensemble. "Buon Natale: A Multilingual Christmas."
JAN 13, 3PM: Vesnivka Choir. Ukrainian Christmas Concert. With Toronto Ukrainian Male Chamber Choir and a folk instrumental ensemble.
JAN 13, 7:30PM: The Royal Conservatory of Music presents "We shall overcome: a celebration of Dr Martin Luther King Jr." Damien Sneed and the Toronto Mass Choir: jazz, gospel, classical, blues, music theatre and spirituals – Sneed and guests will mark the 90th anniversary of MLK's birth.
JAN 22 & 23, 7:30PM: Kitchener-Waterloo Symphony. "KW Glee."
JAN 26, 3PM: Toronto Mendelssohn Choir. "Spotlight on North America." A free community concert celebrating great composers from Canada and the United States: interim artistic director David Fallis' first fully programmed concert
JAN 26, 7PM: Newchoir. "The High Society Soir-eh."
JAN 26, 8PM: Confluence. "Centuries of Souls."
FEB 2, 2PM & 7PM: Amadeus Choir of Greater Toronto. "Songs from a Celtic Heart."
Follow Brian on Twitter @bfchang Send info/media/tips to choralscene@thewholenote.com.