In this month's column we have two arts organizations taking on Slavic traditions and history. Pax Christi Chorale presents "Slavic Devotion" and Vesnivka Choir leads a commemorative concert for the 85th anniversary of the Holodomor.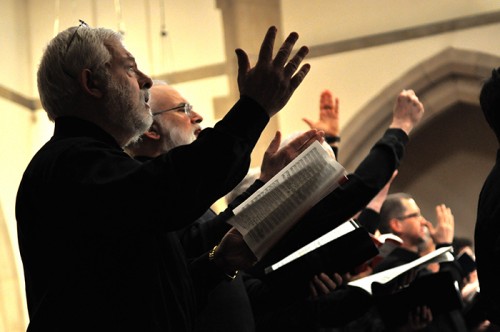 Pax Christi Chorale: Slavic Devotion
Inseparable from Slavic history is the relationship of Orthodox Christianity in the region. The traditions of Slavic Orthodoxy are distinct from those of Western Europe, with the sphere of influence having been Constantinople rather than Rome. In the deep ritual and spirituality of the Orthodoxy, we find many of the great Eastern European composers. Two are featured by artistic director David Bowser: Stravinsky's A Symphony of Psalms; and Rachmaninoff's Vocalise and All Night Vigil.
"Slavic Devotion' refers to the spirited expression of sacred and secular Slavic music," replies Bowser in response to a few of my questions. "We are presenting Russian, Ukrainian and Bulgarian music to demonstrate a rich variety and beauty in contrasting styles."
This is not a religious concert in the typical spiritual sense. Bowser has assembled these works to display the rich musical history of Slavic music and the languages, which he describes as "beautifully fluid and melodic."
"The Symphony of Psalms is the perfect musical pairing for Rachmaninoff's All-Night Vigil," says Bowser. "They are both conventional works in some ways, but the bright spark of personality and unique genius shines through. Like Rachmaninoff and Tchaikovsky before him, Stravinsky rejected much of the Orthodox Church's teachings and generally did not attend church in his adult life. But these composers found a unique musical voice to express their personal spiritual culture and artistic link to tradition."
Many choral composers, while not overtly religious, have worked within the space of the spiritual. Of the grand choral works that one can name offhand, a good bunch of them are masses or requiems. "Just as there is no political statement in this program, there is no religious one either," shares Bowser. "It's about the impact of beautiful art and vocal vibration on the audience. We are performing sacred and secular works not to recreate their social function but to reveal their beauty in a new light."
With a strong Ukrainian tradition in Toronto, there are many descendants and members of the diaspora who continue to shape and influence music. Pax Christi Chorale is joined by Natalya Gennadi, a popular presence in the Toronto opera scene. Gennadi and Bowser have collaborated before. He shares: "I have known Natalya for many years ever since she was a selected soloist in the Toronto Mozart Vocal Competition, now called the Toronto Mozart Master Class Series. She is a stunning singer with incredible technique and wonderfully expressive investment in the text."
Gennadi made a name for herself as the lead in the Tapestry Opera production of the new opera Oksana G. in May 2017. A Russian language and literature specialist, Gennadi's thorough comfort in the Russian and Ukrainian languages and tradition will be well-suited to this concert. For Bowser, this is a chance to work together again" "We have been looking for a project and her expertise in Russian and Ukrainian repertoire and language gave us an opportunity to highlight the great works from this part of the world," he says.
Rachmaninoff's Vocalise contains no actual words. The ethereal sounds on beautiful open vowels allow Gennadi to evoke, inspire and create a narrative of her own making through the music. Unlike instrumental music, which exists without consonants and vowels, the physical function of singing is usually a carefully articulated rhythmic roadmap of deftly shaped words. Allowing yourself the indulgence of experiencing gorgeous vocal lines free of the constraints of words has a universality of the effect that may surprise even the most experienced choral listener. Paired with the stunning All-Night Vigil, listeners will find themselves transfixed. "These are extraordinary works for the human voice," says Bowser. "The synchronized vibration of 100 voices makes this experience all the more satisfying.
October 17 at 7:30pm and October 28 at 3pm. Pax Christi Chorale performs Slavic Devotion. With guest soprano Natalya Gennadi. Grace Church on-the-Hill.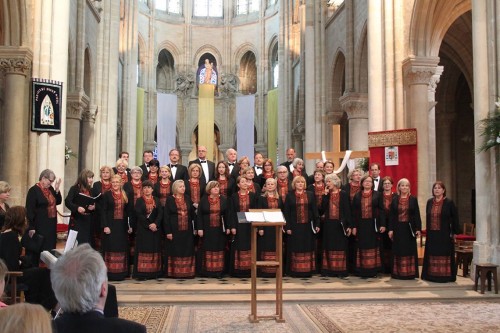 Vesnivka Commemorates the Holodomor
Under the iron fist of Stalin's Soviet Russia, millions of Ukrainians died from government-sponsored famine, neglect and isolation during peacetime. Restricting people from escaping famine-stricken communities, imposing total government control of food production, confiscating food and restricting community access to it, the Soviet government created the conditions for famine and millions died.
Writing together, artistic director Halyna Kondracki and executive member Lesia Komorowsky responded to a few of my inquiries about the commemorative concert. Chorister Valentina Kuryliw also provided comments. Their knowledge and gracious sharing of history show a connection and thoughtfulness bridging the important acts of memory, religion and music.
In 2003 and 2008, the choir commemorated the 70th and 75th Holodomor anniversaries, respectively. As Kondracki and Komorowsky share: "It is important to keep the memory of this event alive so that future generations learn about it and understand what can happen under the rule of tyranny and media censorship."
(Compare the frightening reality of our current world in the genocide of Yazidis, the ethnic cleansing of the Rohingyas, and the targeting of women and children by Boko Haram in Nigeria. Many of the horrors we wish would stay in the past continue forward into our present and future.)
Of the Holodomor, Kuryliw notes that for Ukrainians who survived, "No one was allowed to mourn for these people. It was forbidden to mention the famine in Soviet Ukraine for generations. The memory of it was erased from history under the Communists." As Kuryliw notes, Ukrainians are particularly sensitive to the annexation of Crimea, properly Ukrainian territory, by Russia. For those still in the Ukraine and for the diaspora, remembering events like the Holodomor is "a testimony of the resilience to survive despite starvation, deportations and executions – all attempts to destroy [us]."
Music has been a way to keep many of those traditions alive. "Music is an integral part of Ukrainian culture and, in particular, a strong choral tradition," say Kondracki and Komorosky. "From the very beginning when Ukrainian pioneers came to Canada, they organized in order to keep their cultural traditions alive in the diaspora. In almost every Ukrainian-Canadian community throughout Canada you will find choirs, bands, orchestras and dance groups. The Ukrainian community in and around the GTA has long been a strong bastion of Ukrainian culture with its many community and church choirs."
It is no accident that Vesnivka is celebrating its 53rd year of music making.
For this commemoration, Kondracki has programmed an entirely Ukrainian concert. Many Ukrainian composers have written works to commemorate the Holodomor. Evhen Stankovych's Requiem will be performed as well as Hanna Havryletz's My God, why have You abandoned me? The late Ukrainian-Canadian composer Zenoby Lawryshyn's Tryptych: In Memoriam to the Victims of Holodomor will also be performed. Lawryshyn was a dear friend of the choir and created many works for Vesnivka over the years. And treasured local Ukrainian-Canadian composer Larysa Kuzmenko's Voice of Hope will be performed with soprano solo by Antonina Ermolenko accompanied by the Gryphon Trio.
Recognizing the Slavic Orthodoxy is inseparable from the Ukrainian-Canadian experience. Sacred music composer Roman Hurko is of Ukrainian Canadian descent. Educated at the University of Toronto and Yale University, his speciality has been composing for the Byzantine Rite, still the major form used by Slavic Orthodoxy. The historical rootedness of his composing was brought forth in his major work Requiem/Panachyda, written to commemorate another Ukrainian historical moment – the nuclear disaster at Chernobyl. The choirs will sing Eternal Memory, an excerpt from the Requiem.
This commemorative concert fits into the musical tradition of the community who have long marked important moments with music. "In addition to previous concerts commemorating Holodomor," Kondracki and Komorosky write, "Vesnivka Choir has spearheaded or taken part in four concerts commemorating the Chernobyl disaster. Following the Chernobyl disaster in Ukraine in 1986, many Ukrainian musicians in Canada and abroad wrote music, including requiems, commemorating this event. Other commemorative concerts have included remembering the Ukrainian Army of WWI, the arrival of Ukrainian pioneers in Canada, the 100th anniversary of Ukraine's independence in 1918, and several concerts in tribute to various Ukrainian composers and literary figures."
The church continues to be an important part of the Ukrainian-Canadian tradition and Vesnivka continues that work. And never far form their work is the Orthodox Rite. At their religious home of St Nicholas Ukrainian Catholic Church, Vesnivka bring forth all the history and memory of what it means to be Ukrainian and Canadian.
On October 21, 2018, Vesnivka will join other dignitaries and guests at the unveiling of the Toronto memorial to the victims of the Holodomor. Led by the Toronto Ukrainian Association, the new memorial will stand just north of the Princess Gates to Exhibition Place.
October 28, 5pm. Vesnivka and the Toronto Ukrainian Male Chamber Choir present "Commemorating Holodomor." With special guests the Elmer Iseler Singers, the Gryphon Trio and soprano Antonina Ermolenko. Runnymede United Church, Toronto.
CHORAL SCENE QUICK PICKS
OCT 10, 7:30PM: Chorus Niagara presents Brahms' great work: Ein Deutsches Requiem (A German Requiem). With the Avanti Orchestra and soloists. Chorus Niagara, under Bob Cooper, is a fantastic ensemble bringing fine choral music to the Niagara region. FirstOntario Performing Arts Centre, St Catharines.
OCT 27, 7:30PM: The Orpheus Choir of Toronto performs the music to the 1924 silent film Peter Pan. This is a new film undertaking for the choir and will prove to be an exciting addition to the oft-performed Phantom of the Opera. Eglinton St. Georges United Church.
NOV 4, 4PM: The Amadeus Choir presents "The Great War: A Commemoration." Featuring Gabriel Faure's Requiem and joined by guests, the Eglinton St. George's Choir and soloists. This is an earlier option for those looking to catch commemorations for Remembrance Day. Eglinton St .George's United Church.
Follow Brian on Twitter @bfchang Send info/media/tips to choralscene@thewholenote.com.