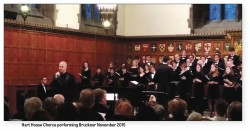 Mozart's Requiem has captured the imagination of singers for centuries and continues to be a staple of choral repertoire the world around. It is wrought with emotion and feeling. Instrumentalists appreciate the compositional techniques and the understandable, intuitive flow of the music. Singers love the shape, grandness and dynamism of the music. Listeners love how it all fits together. But the Requiem is unfinished, which makes it the greatest piece of unfinished music ever written.
There is so much to like with the Requiem, from the powerful choral exclamation of "Rex Tremendae" and the gentle fragility of "Lacrimosa," to the energetic fugue that finishes the written portion with "Cum Sanctis." Many a chorister has fallen in love with this piece while hearing it or singing it for the first time. Many choristers are choristers because they heard and fell in love with this piece at some point in their life. Such is Mozart's enduring legacy and ability. There is an extraordinary number of Requiem performances in the month ahead. It is also quite remarkable that none of these performances conflict; you could, in theory, see every single performance.
March 4, 7:30pm, the MCS Chorus presents Mozart's Requiem. The program will also include Salieri's Te Deum and short dramatic excerpts from the play Amadeus by Peter Schaffer at First United Church, Mississauga.
March 11, 8pm, Cathedral Bluffs Symphony Orchestra along with the Hamilton Bach Elgar Choir, Saint Joseph's Church Parish Choir and the Grand River Chorus presents a requiem double bill with Fauré's Requiem and Mozart's Requiem, both in D Minor at P.C. Ho Theatre, Chinese Cultural Centre of Greater Toronto, Scarborough.
March 25, 8pm, Voices Chamber Choir presents "Tallis and Mozart." Ron Cheung conducts Mozart's Requiem and Tallis' Lamentations of Jeremiah. Church of St Martin-in-the-Fields, Toronto.
March 26, 2pm, David Bowser, artistic director of the Mozart Project, and newly appointed conductor of Pax Christi Chorale, presents "Requiem and Farewell to a Soul Ascending." Featuring a world premiere of Bowser's own work, Farewell to a Soul Ascending, it will also include Mozart's Requiem performed by the Toronto Mozart Players and the Hart House Chorus at the Church of the Redeemer.
April 1, 7:30pm, the Etobicoke Centennial Choir takes on the Mozart Requiem under conductor Henry Renglich. Other smaller works will be performed from Brahms, Rutter, Poulenc, Duruflé and Schubert at Humber Valley United Church, Etobicoke.
April 2, 2pm, the Hart House Chorus presents Mozart's Requiem. This wonderfully unique, storied choir continues to be a high-quality ensemble made up of students, faculty, staff and community at the University of Toronto. David Bowser conducts at Hart House, Great Hall, University of Toronto.
April 2, 4pm, the Eglinton St George's United Church Choir presents "Magnificent Mozart," featuring a host of smaller works including Handel's Zadok the Priest, Whitacre's Alleluia and Mozart's Requiem under conductor Shawn Grenke.
Get thee Hence, Elijah! Another great choral staple is Felix Mendelssohn's Elijah. As some readers will recall, in November last year, three of the largest choral groups in Ontario performed it on the same weekend, Pax Christi Chorale, Chorus Niagara and the Toronto Mendelssohn Choir. This work is larger and more grand than Mozart's Requiem; as such, it is hard to marshal the necessary forces to perform it effectively.
When sufficient power, technique, rehearsal and judicious artistic interpretation combine, there is nothing quite like a full performance of Elijah. It is discomforting with its praise and worship of Baal, it is exalting with its "Thanks Be to God," it is comforting with its hymns "He Watching over Israel," the ethereal "Lift Thine Eyes," and the heartbreaking "Cast Thy Burden upon the Lord." Elijah has, in my opinion, the most beautiful musical setting of the Beatitudes ever composed with "Blessed Are the Men Who Fear Him." Elijah also has one of the most significant bass solos of any grand oratorio, "It Is Enough; O Lord, Take My Life." It is the song of a broken man, lost in the wilderness, in need of guidance and love set to an evocative string accompaniment featuring a solo cello. Mendelssohn accomplished a unique success with Elijah. Once more popular than Handel's Messiah, it is easy to see why the piece is so loved.
March 5, 2:30pm, the Georgetown Bach Chorale will be presenting "Choruses from the Great Masses and Oratorios." The performance will include Haydn's "The Heavens Are Telling" from the Creation, "Qui Tolis" from Mozart's Mass in C Minor, "He Watching over Israel" and "Thanks Be to God" from Mendelssohn's Elijah, as well as selections from Brahms' A German Requiem. Though not an entire presentation of Elijah, it will be a treat to hear this work presented along with other great songs from signature oratorios and masses across the choral canon.
March 25, 7:30pm, the Stratford Concert Choir presents Mendelssohn's Elijah. With a host of soloists and a full orchestra, the ensemble will be led by Ian Sadler at St. James Anglican Church, Stratford.
QUICK PICKS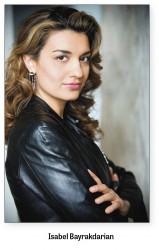 If Mozart's Requiem or Mendelssohn's Elijah isn't enough to satisfy your thirst for the great symphonic choir, there are a host of other grand options ahead. I've further highlighted a selection of other interesting choral performances throughout the region.
Mar 3 and 4: The Toronto Consort has been providing some exceptionally captivating music of late. For "Triptych: The Musical World of Hieronymus Bosch," they are welcoming Dutch early music group Cappella Pratensis to Toronto. Conducted by Canadian Stratton Bull, the eight-member, all-male ensemble specializes in the music of Josquin des Prez amongst other composers of Renaissance polyphony. For this particular concert, they are presenting Triptych: The Musical World of Hieronymus Bosch.Typical for the ensemble, they will perform around one large book using original notation as well as the Brabant pronunciation of Latin; at Trinity-St. Paul's Centre.
Mar 19: York University's Concert, Chamber and Men's Choirs present Carmina Burana. This big, bombastic, iconic choral work of Carl Orff is well-loved for its eccentricity, technical breadth, and satisfying aural experience. Lisette Canton conducts at Tribute Communities Recital Hall, Accolade East Building, Toronto.
Apr 1:The York University Gospel Choir performs with Karen Burke at the helm at the same venue.
Mar 19: Music At St. Thomas' presents the "Choir of Men and Boys from Christ Church Cathedral, Ottawa." Matthew Larkin is the conductor of this all-male choir that was founded in 1891 and remains the only remaining all-male choir in service of an Anglican Cathedral in Canada. Here they perform a run-out show at St. Thomas' Anglican Church, Belleville.
Mar 25: The Elmer Iseler Singers help celebrate renowned soprano Isabel Bayrakdarian's new CD. "The Journey to Canada from Armenia" will feature Armenian sacred music of the 13th to 20th centuries with Lydia Adams at the helm; St. Anne's Anglican Church.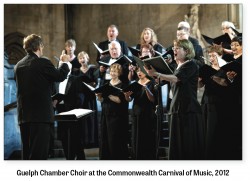 Apr 1: The Guelph Chamber Choir presents Bach's St. John Passion. This is another great staple of grand symphonic choral works, but like any Bach, notoriously difficult to prepare and execute. The Guelph Chamber Choir under Gerald Neufield will present this concert with tenor James McLean in the lead as the Evangelist; at River Run Centre, Guelph.
Apr 1 and Apr 2: Masterworks of Oakville Chorus and Orchestra present Brahms' German Requiem. Another great choral symphonic work, Brahms' Requiem is a musical setting of several passages from the Bible selected by Brahms. It is not a Latin requiem mass like Mozart's or Verdi's setting, but rather, a requiem in the German language; at St. Matthew's Catholic Church, Oakville.
Apr 4: Take advantage of this opportunity to see the University of Toronto Faculty of Music's "Annual High School Choral Festival." Local high schools like Unionville H.S. and Lawrence Park C.I., among others, will be joining director of choral activities, Hilary Apfelstadt and other faculty for a one-day intensive. Featuring individual performances and workshopping, the various choirs will also workshop a combined piece which they will perform together at the end of the day with Faculty of Music ensembles including the Men's Chorus, the Women's Chamber Choir and members of Young Voices Toronto. The workshops are free to attend and run from 9am until 12pm and then 1pm to 3pm at the Faculty of Music, University of Toronto.
Follow Brian on Twitter @bfchang Send info/media/tips to choralscene@thewholenote.com